You may have noticed that many vegan recipes contain soy, but not on my food blog! All of my recipes are soy-free vegan – as well as gluten-free! Here are 12 favorites for you to enjoy.
Thai Noodles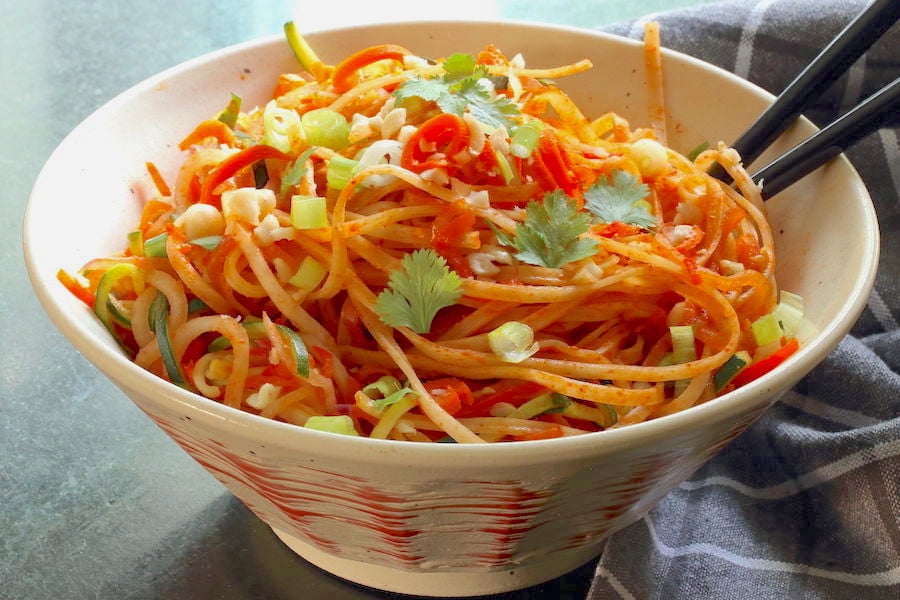 This vegan Thai noodles recipe is my take on traditional pad Thai. What makes it different? It's soy-free and packed with an array of colorful veggies that are either spiralized, grated, or thinly sliced. Vegetables prepared in this way cook fast and toss easily with pad Thai noodles and sauce – plus the presentation looks beautiful.
Thai Green Curry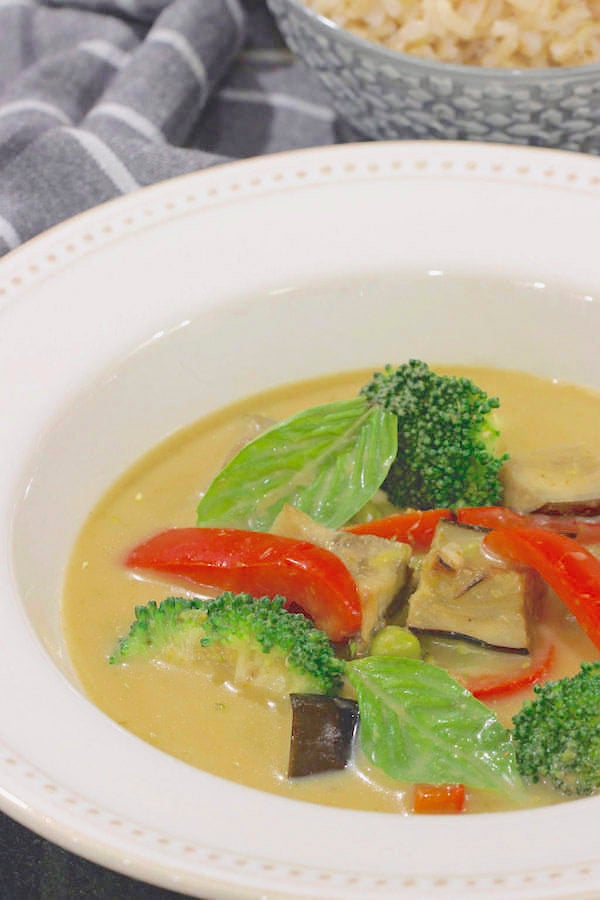 Thai green curry is basically vegetables cooked in coconut milk flavored with green curry paste, served with rice. If you're eating oil-free you'll be glad to know that Thai curry dishes are usually prepared without oil; however, they are not no-fat because of the coconut milk/cream.
Thai curry pastes come in yellow, red, or green and thus create yellow, red, or green curry dishes. They flavor the coconut broth and their quality can make or break the recipe. Yellow is typically the mildest and green is usually the hottest; red falls somewhere in between
Healthy Ramen Noodle Bowl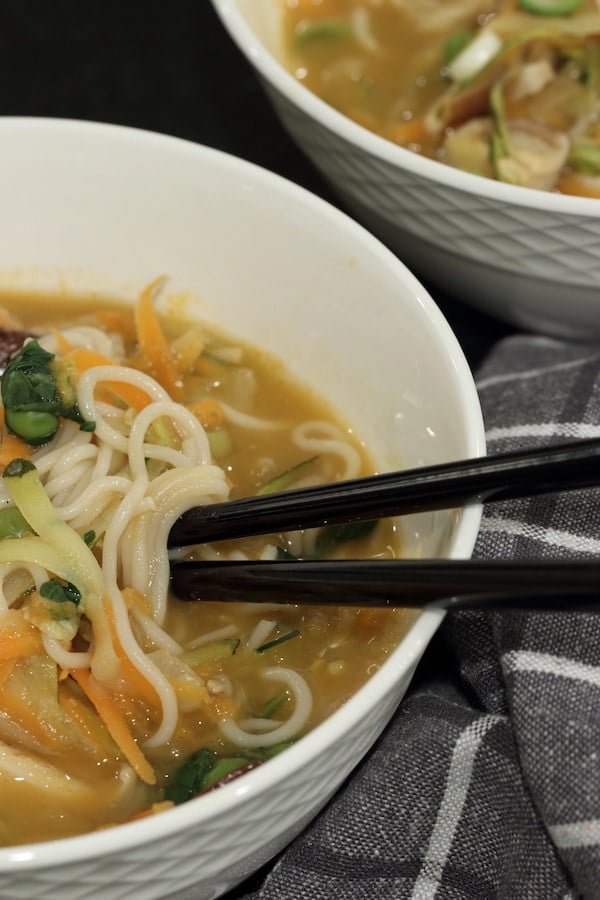 This healthy ramen noodle bowl recipe is made with healthy broth ingredients – no MSG! The broth includes coconut aminos (sweet), soy-free miso (salty), Sriracha (spicy), and lime juice (sour) for a balanced and delicious flavor. Packaged MSG-laden ramen has gotten a bad rap, and rightfully so. This version is on the opposite end of the spectrum but is almost as quick and easy to prepare as the instant cup-a-soups. It's perfect for work nights when you don't have as much time to spend in the kitchen, but you still want to provide a delicious home-cooked dinner.
Grillable Veggie Burgers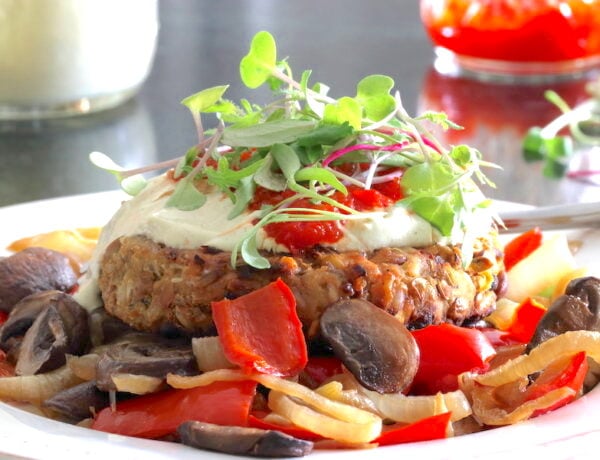 Being an au natural gluten-free soy-free kind of gal, I've never been attracted to imitation meat burgers with or without the fake blood. Their ingredients tend to be highly processed, with too much fat and sodium. On the other hand, homemade veggie burgers – containing real ingredients – rock my world. Recently I took my burger passion to a new level and created these bunless grillable veggie burgers. Be still my heart!
Chickpea Pasta with Sautéed Veggies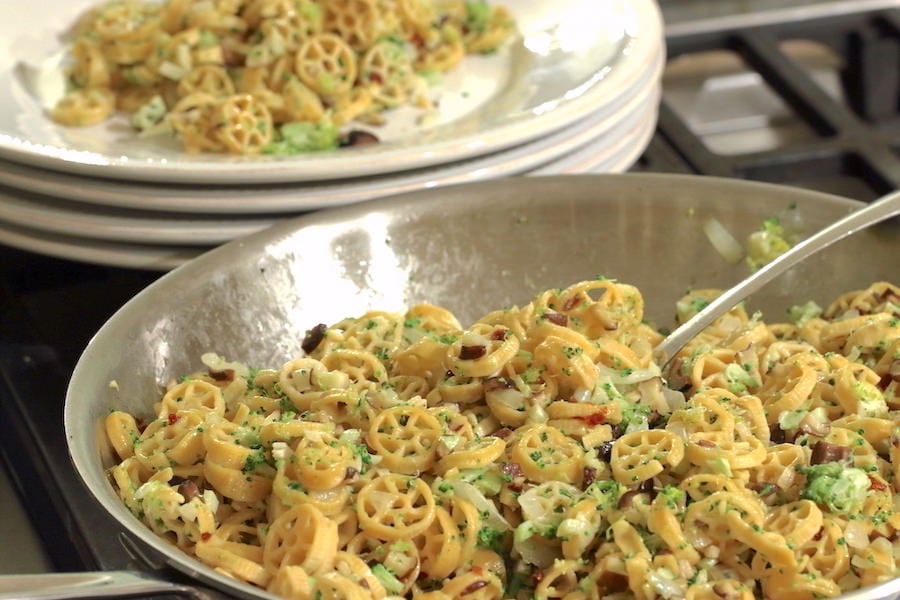 Wagon wheel pasta and small-diced sautéed veggies are meant to be tossed together! Have you ever noticed that sometimes veggies end up at the bottom of the pasta dish? Well, that doesn't happen with this recipe. The small-diced veggies cling to the open spokes of the wheels, and voila – you have a delicious and evenly dressed pasta! It's a sneaky way to get kids to eat more veggies too – kids love wagon wheels!
Southwest Bowl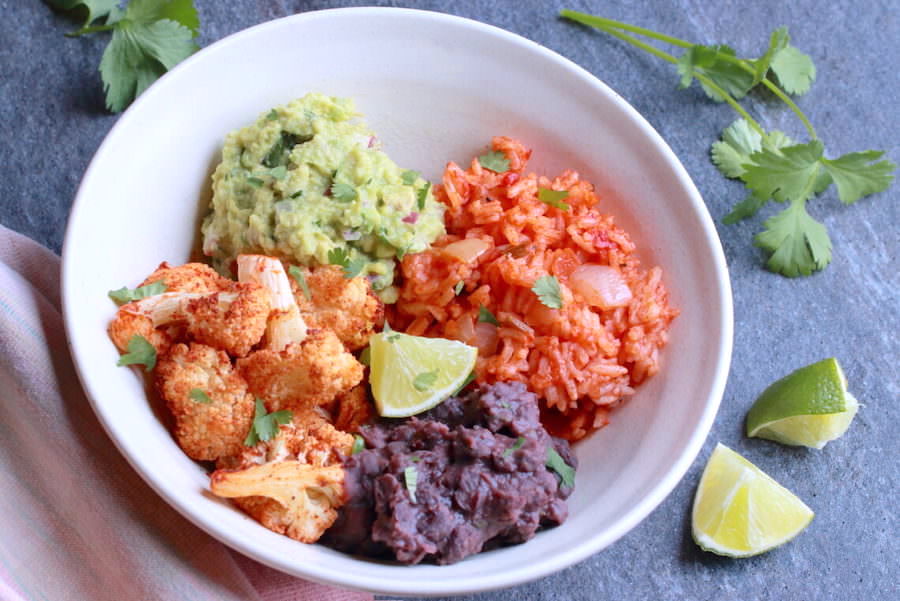 This vegan southwest bowl is healthy, flavorful and fairly easy to put together. The combination of rice, spiced cauliflower, black beans, and guacamole is sure to please. I prefer to make red rice (arroz rojo) for this bowl – but you can substitute with other rice recipes, if desired, such as lime and cilantro rice.
Misir Wot (Ethiopian Spicy Red Lentils)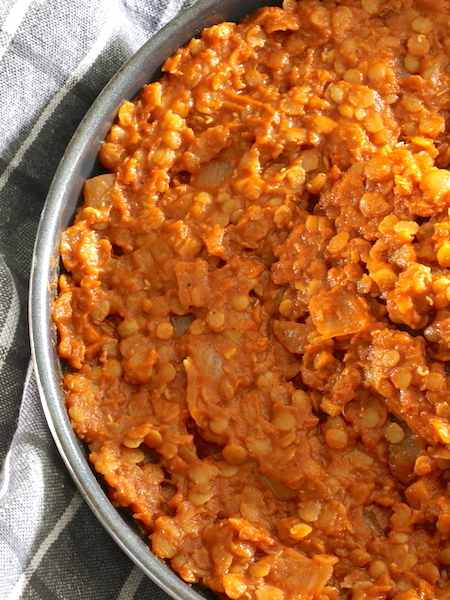 Misir Wot is a very spicy Ethiopian red lentil stew that's not only healthy and delicious – it's also FAST and EASY to prepare. This dish can be put together quickly for those nights when you need to make dinner in a flash. It's seasoned with a complex spice blend called "berbere." It contains paprika, sea salt, cayenne, fenugreek, coriander, cumin, black pepper, cardamom, cinnamon, clove, ginger, and turmeric.
Creamy "Clam" Chowder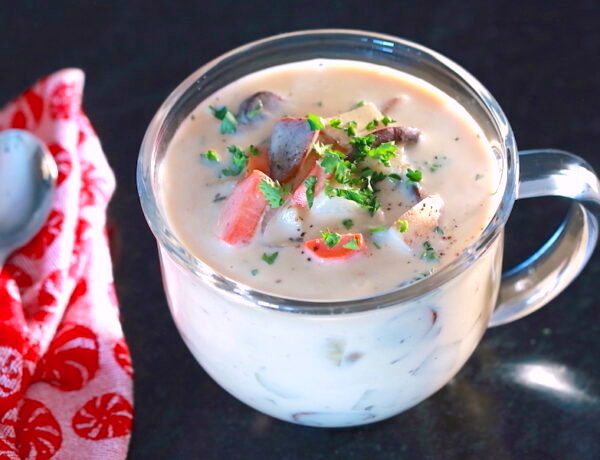 Who knew vegan "clam" chowder could taste so authentic? Cashews, coconut milk, and cauliflower are blended together to create creamy and delicious goodness. A medley of typical chowder veggies, herbs, and spices – plus a bit of kombu seaweed completes the recipe. The end result is a tasty chowder with or without the clams.
Pizza with Shredded Brussels Sprouts and Shiitake Mushrooms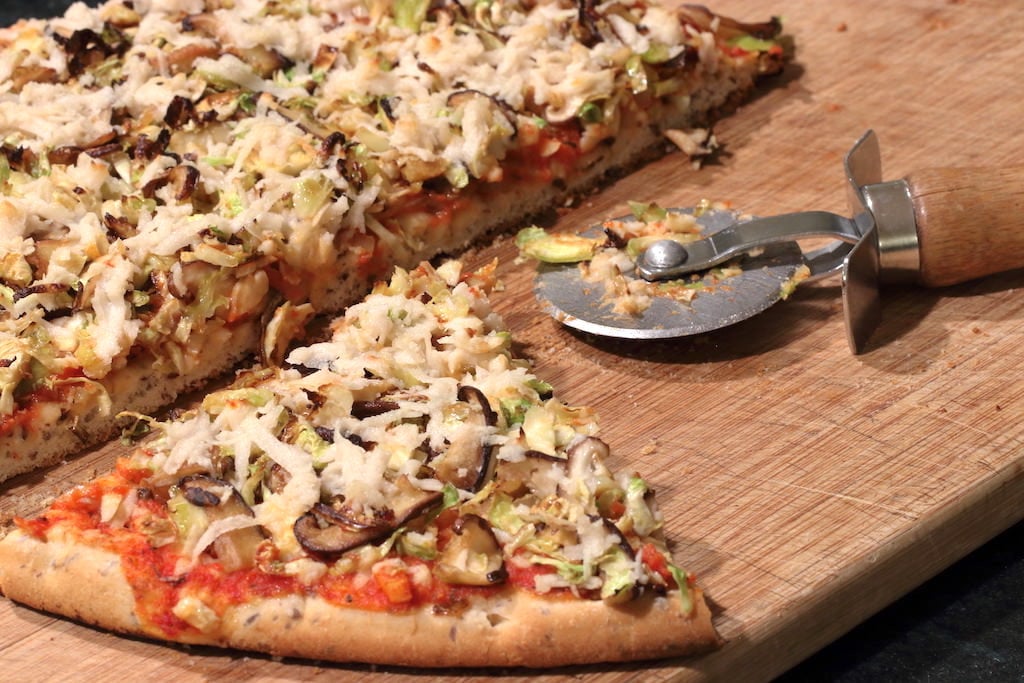 I make this easy gluten-free vegan pizza at least twice a month. It's one of those recipes that I keep in my back pocket for when I want to make something quick and simple. Assembling pizza is something little hands can help with, making this a family fun meal. Who doesn't like a good pizza?!
Pasta Poblano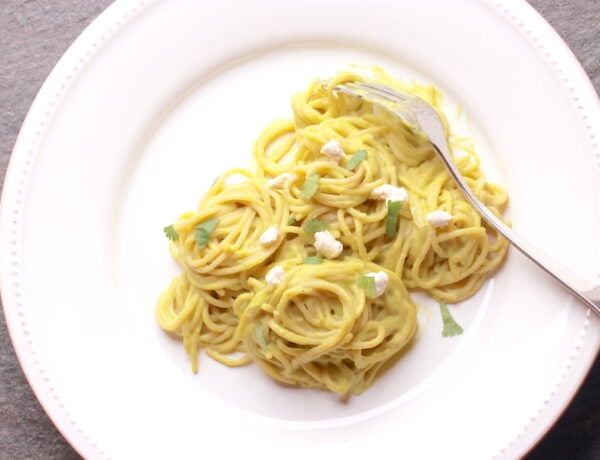 I love trying new dishes 🙂 When I recently tried pasta poblano, it was love at first bite. I couldn't help thinking, "how did I not know about this dish all these years!" My version is soy-free gluten-free vegan. In addition to being delicious, this meal is quick and easy to throw together even on a busy week night.
Butternut Squash Chili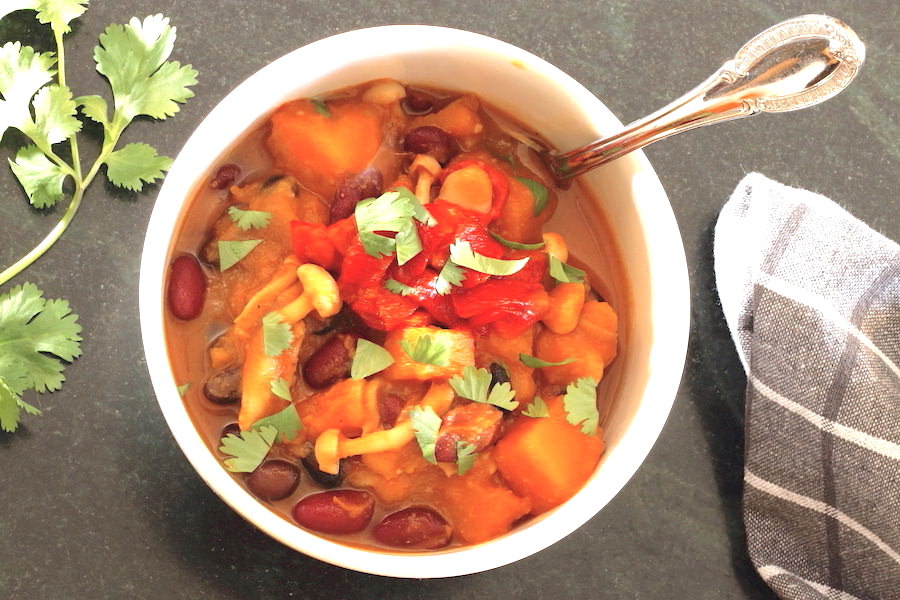 This three bean vegan butternut squash chili recipe is sweet and spicy and ohhh so delicious! The spicy comes from chopped jalapeño and warming spices. The sweet comes from butternut squash, fennel, onion, and roasted red peppers.
Heavenly Quesadillas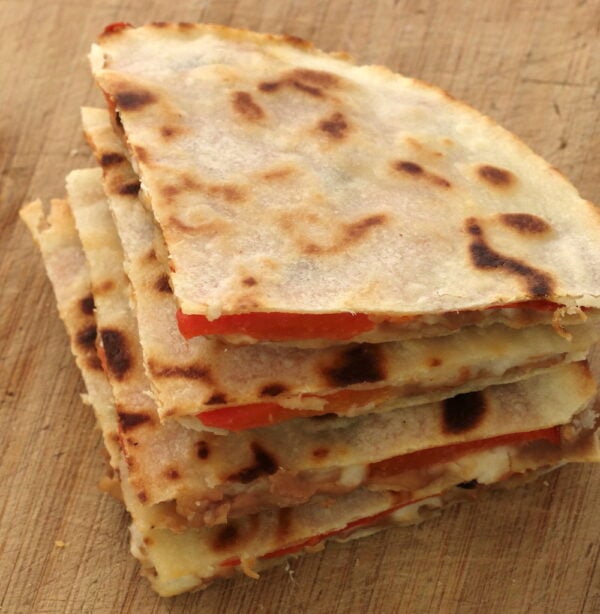 Yes, you can make gluten-free vegan quesadillas that taste heavenly! I stopped eating quesadillas years ago because I didn't realize how easy they are to make gluten-free vegan (and soy-free). Then it hit me – they can be made with ingredients I already stock in my panty, refrigerator, and freezer. Eureka, I've we've struck gold!
Check the main recipe index for my ever growing list of soy-free vegan mains, sides, desserts, sauces, dips, and dressings.