This Vegan Thai Noodles recipe is my take on traditional pad Thai. What makes it different? It's soy-free and packed with an array of colorful veggies that are either spiralized, grated, or thinly sliced. Vegetables prepared in this way cook fast and toss easily with pad Thai noodles and sauce – plus the presentation looks beautiful 🙂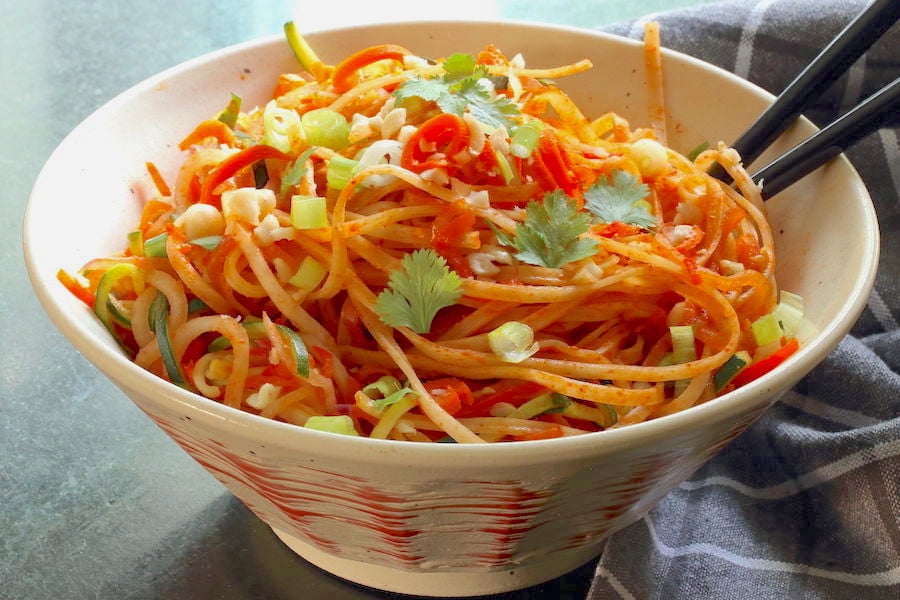 How do you cook Thai rice noodles?
For this recipe the noodles aren't cooked in a pot of boiling water like you would normally do. Instead they are soaked in water for 20 to 30 minutes, then briefly stir fried.
How do you make pad Thai sauce without soy or fish?
Most pad Thai sauces contain soy and fish; this recipe contains neither. Instead it's made with raw honey, coconut aminos, rice vinegar, Thai curry paste, and veggie broth. To ramp up the umami flavor, I suggest soaking a bit of kombu sea vegetable and dried mushrooms in hot water. The resulting dark broth is then added to the sauce. This is an optional but easy and useful step.
---
Method Overview
Soak the noodles; also soak the kombu and dried mushrooms if using
Spiralize, grate, or slice the veggies
Make the sauce
Stir fry the veggies briefly, then stir fry the noodles briefly
Toss everything together with the sauce
---
Preparing veggies for Vegan Thai Noodles
Spiralizers easily transform vegetables into healthy and delicious "noodles" that pair wonderfully with this dish. Long strands of impressive noodles flow out in just seconds. Cut extra-long noodles with kitchen shears or a knife to make them easier to eat.
No spiralizer? No worries. Simply grate the zucchini, carrot, and daikon using a box grater; thinly slice the pepper and onion.
I've been spiralizing zucchini, carrots, and daikon radish for years, but this is the first time I tried spiralizing peppers. They came out great – and it was fast and easy! As you can see I spiralized the pepper whole. When I got to the seedy part – I removed the pepper from the unit, rinsed away the seeds under running water, then finished spiralizing.
This was also my first time spiralizing onion. I spiralized it whole, and believe me when I say it was incredibly effortless and quick – and oddly fun!
Look at all of these gorgeous veggie noodles (and soaking rice noodles) ready to be stir fried in a bit of oil. Or, if you prefer, skip the oil and stir fry in veggie broth. I wrote another post recently entitled Cooking without Oil which you may find helpful.
Feel free to add additional veggies such as snow peas, green beans, or sweet peas.
Vegan Thai Noodles (Soy-Free)
Equipment
spiralizer or box grater

large skillet
Ingredients
8

ounces

pad Thai rice noodles,

such as Explore Cuisine brand

1-inch

square of kombu seaweed,

optional

1 or 2

dried shiitake mushrooms, or other dried mushroom variety,

optional

1

medium

zucchini

2

medium

carrots

1

medium

daikon radish

1

medium

red bell pepper

1

medium

red onion

2

Tablespoons

olive oil,

divided
For the Sauce
1

Tablespoon

raw honey or agave syrup

2

Tablespoons

coconut aminos

2

Tablespoons

rice vinegar

3

Tablespoons

red curry paste,

such as Thai Kitchen brand (this is a mild curry paste; others such as Maesri are much hotter so adjust accordingly)

1/4

cup

low-sodium vegetable broth
To Garnish
2

Tablespoons

ground peanuts

1/8 to 1/4

cup

chopped scallions

1/8 to 1/4

cup

basil chiffonade (see below), or chopped cilantro

1

lime

cut into 6 wedges
Instructions
Soak the noodles in water so they soften; this will take between 20 to 30 minutes.

In the meantime, put the kombu, dried mushroom(s), and 1/4 cup of water into a small pan. Bring almost to a boil then turn off the stove. Leave the kombu and mushrooms soaking in the hot water.

Spiralize the vegetables.

If you don't have a spiralizer, grate the zucchini, carrots, and daikon radish using a box grater. Slice the pepper into thin strips. Thinly slice the onion.

Strain the kombu and mushroom(s) from the broth using a fine mesh strainer. Put this broth and the rest of the sauce ingredients into a small bowl and whisk or stir.

If you don't make the kombu/mushroom broth, simply add an additional 1/4 cup of low-sodium vegetable broth to the sauce.

Heat up 1 Tablespoon of oil in a large skillet over medium-high heat with a bit of the veggies. When they begin to sizzle, add the rest of the vegetables and stir-fry for just a few minutes; don't overcook. Remove the veggies from the skillet and set aside.

Drain the water from the noodles.

Add another Tablespoon of oil to the skillet and cook the noodles over medium-high heat for about a minute while tossing.

Pour the sauce over the noodles then continue to stir/toss until the noodles soften and become al dente. In other words, cook until the noodles are neither hard nor soft – until they give some resistance to your teeth but aren't chewy.

Return the vegetables to the pan and toss everything together. Stir and cook until everything is heated through. Again don't overcook. You don't want the noodles or the vegetables to become mushy.

Garnish each bowl with ground peanuts, scallions, herbs, and a wedge of lime.
Nutrition
Calories:
260
kcal
|
Carbohydrates:
44
g
|
Protein:
4
g
|
Fat:
7
g
|
Saturated Fat:
1
g
|
Sodium:
254
mg
|
Potassium:
383
mg
|
Fiber:
4
g
|
Sugar:
8
g
|
Vitamin A:
5332
IU
|
Vitamin C:
47
mg
|
Calcium:
52
mg
|
Iron:
1
mg
How to Chiffonade Basil
Chiffonade is an easy technique for cutting basil (and other herbs) into ribbons. These ribbons make a lovely and tasty garnish.
Evenly stack 4 or 5 basil leaves, then roll into a "cigar".
Slice into ribbons with a sharp knife or kitchen shears; a dull knife will bruise the basil. Repeat until you have the desired amount.
Omnivore Variation
Add 3 to 5 cooked shrimp to the omnivore's bowl before serving.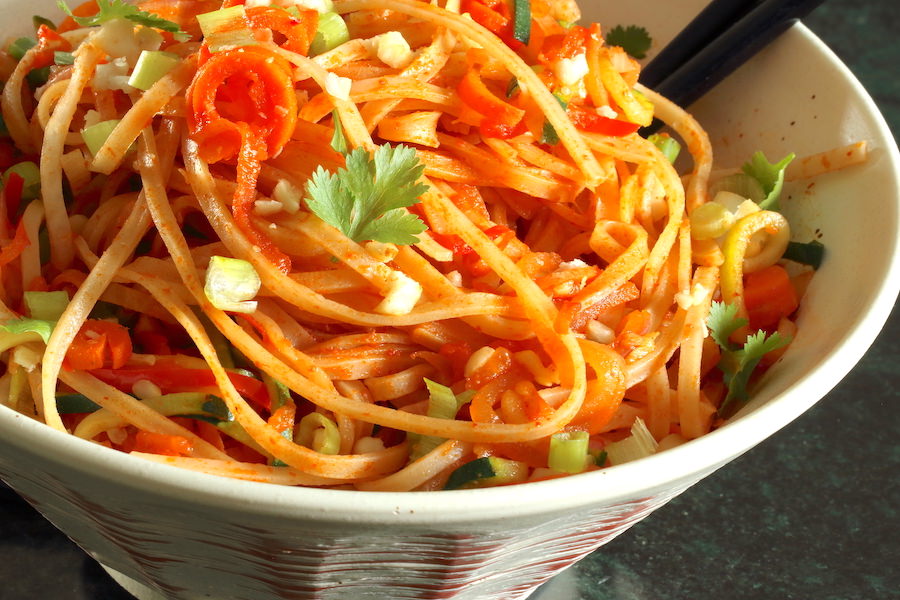 More Soy-Free Vegan Recipes
If you enjoy this recipe, you should also try my Vegetarian Thai Green Curry Recipe and Healthy Ramen Noodle Bowl.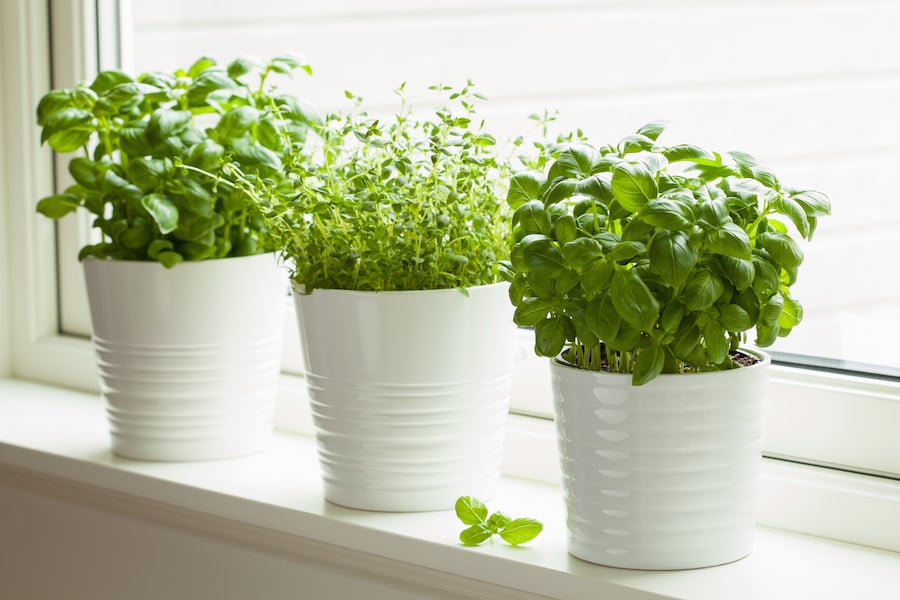 Judy offers holistic nutrition coaching (and more) in-person or remotely. Learn about her services and credentials here.