This oil-free vegan pesto tastes just as good as a Nonna's traditional version – honest! My husband is of 100% Italian heritage and he and his taste buds agree. The creaminess of this pesto is due to the addition of cannellini beans which also adds a boost of protein. The smooth garlic flavor comes from roasted garlic (and optional garlic scapes).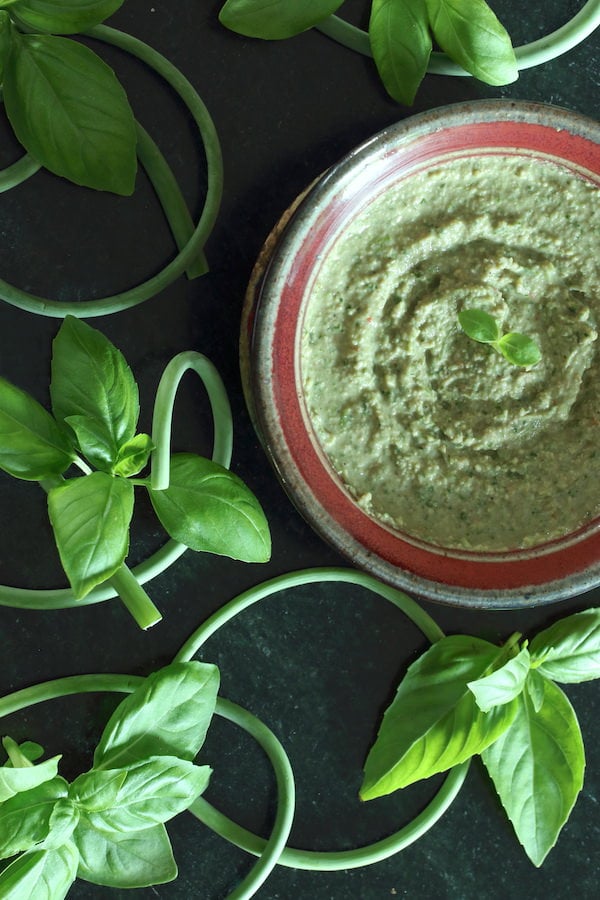 If you read my Growing Herbs in Containers post, you already know that we have A LOT of basil right now – and also garlic scapes. I've been making pesto every which way and using it on pasta, slabs of tomatoes, as a sandwich spread, to dress rice, and more. At my daughter's suggestion, I also started adding small dollops to my garden salads and using it in lieu of tomato sauce when making pizza.
Pesto Inspiration
My oil-free vegan pesto version came out even better than I expected; it was inspired by one of Angela Liddon's earlier posts called High Protein Oil-Free Basil Pesto. As I said before, the secret ingredient is cannellini beans. Most vegan pesto recipes rely on nutritional yeast for flavor. I don't eat nooch so my pestos are always packed with flavor using other ingredients.
Roasted Garlic in Pesto
You can be heavy handed when using roasted garlic for pesto. It adds a welcome smooth garlicky flavor. Use the same amount of raw garlic and yuk, you'd be in for a sharp nasty surprise! That's why when using raw garlic, recipes typically only suggest one or two cloves per batch.
This pesto recipe uses both roasted garlic and garlic scapes. The result is divine. No scapes? No worries, just add more basil and roasted garlic to taste.
Pesto FAQs
What is a serving of pesto? How many calories?

A single serving size of traditional pesto with oil is 2 tablespoons and contains about 120 calories with 18 grams of fat.

Since this version is oil-free it contains half the calories and fat! Feel free to indulge in larger servings. You'll notice that the recipe card calculates the calories and nutrition for a 1/4-cup serving.

This recipe makes 2 cups, which is enough to dress 16 ounces of pasta with plenty leftover to refrigerate or freeze (see tips below). If you want to reduce or increase this recipe, simply move the slider bar on the recipe card and the ingredient amounts will automatically adjust.
How long does fresh pesto last?
The National Center for Home Preservation's guideline is three days when refrigerated.

I suggest cutting a circle of parchment to fit inside the jar or container; place it directly on the surface of the pesto. This will prevent the top layer of pesto from oxidizing and discoloring.
Can you freeze pesto?

Yes! Pesto freezes well for long-term storage. It's a wonderful way to put up a bumper crop of garlic scapes, basil, or other herbs. Here are the National Center for Home Food Preservation recommendations.

Pesto can also be frozen in ice cube trays; some have snap on lids. After the pesto is frozen into cubes, bag them in freezer bags, taking care to press out all of the air. Or even better, use a Food Saver to vacuum seal the pesto cubes; this will prevent them from oxidizing. When ready to use, simply thaw two or three cubes per serving.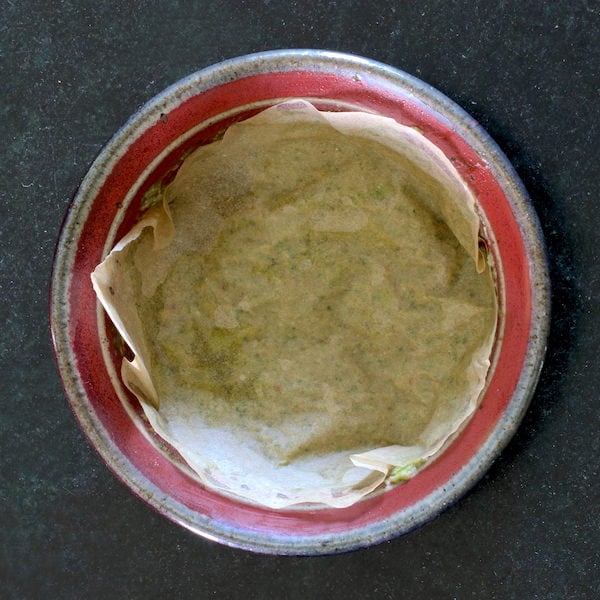 ---
Method Overview
Roast garlic
Toast walnuts and pine nuts
Use a food processor to blend all of the ingredients together
---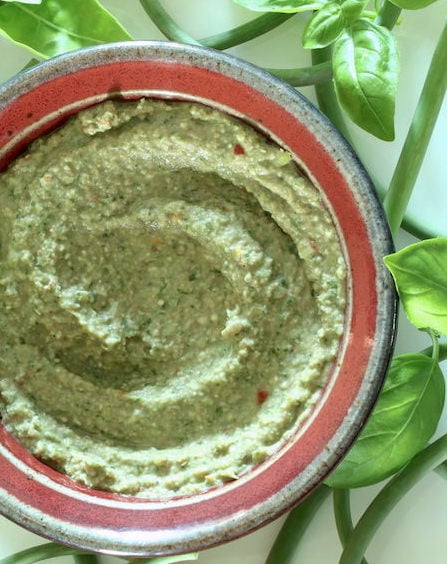 Oil-Free Vegan Pesto
This recipe makes 2 cups of pesto – enough to dress 16 ounces of pasta with plenty leftover.
Servings:
8
1/4-cup servings
Equipment
small covered oven proof dish such as a garlic roaster or ramekin

heavy-bottomed skillet

food processor
Ingredients
1

head

of garlic

1/2

cup

walnuts

1/4

cup

pignolis (pine nuts)

1/4

cup

aquafaba,

liquid from can of cannellini beans

1

cup

cannellini beans

1/2

cup

chopped garlic scapes,

optional

2

ounces

basil leaves (or more if not using scapes),

large stems removed

1/4

cup

lemon juice, freshly squeezed

3/4

teaspoon

sea salt,

Himalayan

3/4

teaspoon

red pepper flakes.

crushed

1/4

teaspoon

black pepper,

freshly ground
Instructions
Put the untrimmed garlic bulb into a small covered baking dish (a ramekin or garlic roaster works well, or any small covered baking dish). Roast it in the oven until the garlic aroma starts to fill the kitchen and the cloves begin to soften; this will take about 15 minutes. Let the cloves cool before peeling.

In the meantime, warm up a medium or large dry cast iron skillet over medium-low heat. Just warm the skillet, but don't overheat. Add the walnuts and turn the heat up to medium-high; toast them while shaking and stirring for about 2 minutes. Add the pine nuts and continue to shake and stir for another minute, or until the nuts turn a bit golden and release a nutty aroma.

Put a fine mesh strainer over a measuring cup. Pour the cannellini beans into the strainer, reserving the liquid. You'll need 1 cup of the beans and 1/4 cup of the liquid AKA aquafaba.

Put 3 or 4 cloves of roasted garlic into the food processor bowl with all of the other ingredients; process until smooth. Taste and if desired add more roasted garlic and/or salt and/or pepper.
Notes
If you don't use garlic scapes 

add more basil
use a goodly amount of roasted garlic
Nutrition
Calories:
128
kcal
|
Carbohydrates:
12
g
|
Protein:
5
g
|
Fat:
8
g
|
Saturated Fat:
1
g
|
Sodium:
167
mg
|
Potassium:
202
mg
|
Fiber:
2
g
|
Sugar:
1
g
|
Vitamin A:
429
IU
|
Vitamin C:
9
mg
|
Calcium:
64
mg
|
Iron:
2
mg