Updated 2/21/21
The words "gluten-free vegan pizza" and "easy" aren't usually used in the same sentence. But when you use a gluten-free pre-made pizza crust it is possible! I make this easy vegan pizza at least twice a month. It's one of those recipes that I keep in my back pocket for when I want to make something quick and simple. Assembling pizza is something little hands can help with, making this a family fun meal. Who doesn't like a good pizza?!
Recently I've been making shredded Brussels sprouts and shiitake mushroom topping for my pizza. They are both nutritional powerhouses. Feel free to substitute with other toppings of your choice.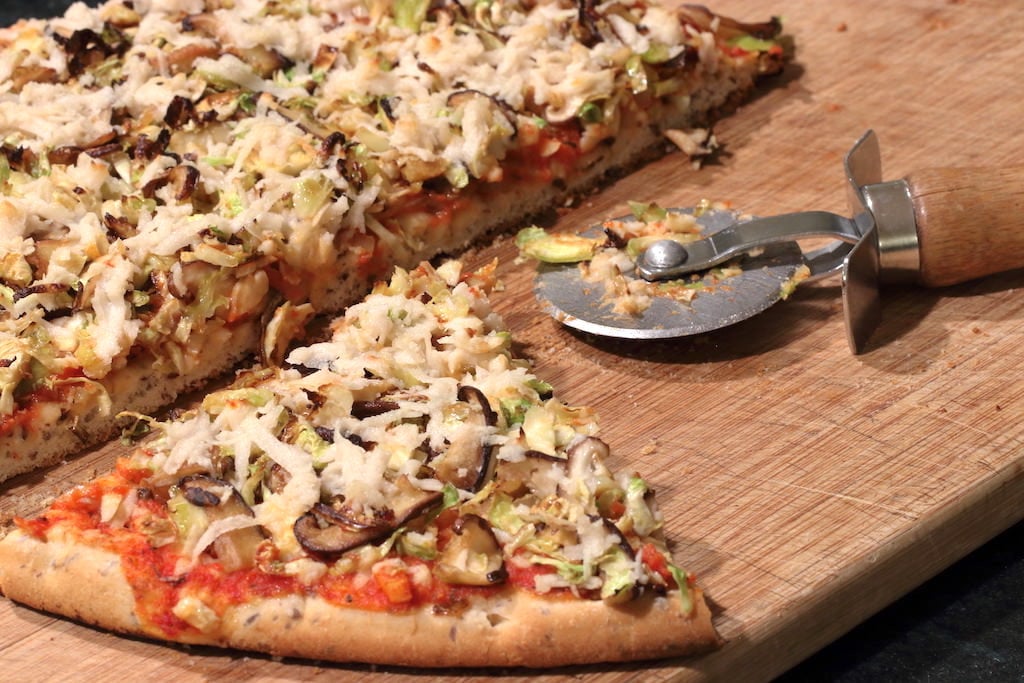 Sami's Bakery Millet and Flax Pizza Crust
I love this Sami's Bakery pizza crust. The ingredient list includes organic millet flour, brown rice flour, water, aluminum-free baking powder, sea salt, organic ground flax seed, cultured brown rice flour, and ascorbic acid. Please note that although this crust doesn't contain wheat gluten, it may be cross contaminated because it is "manufactured in a facility that processes wheat gluten." If you have a true gluten allergy, use a different crust that you trust to be gluten-free.
Benefits of Brussels sprouts
Brussels sprouts contain impressive amounts of vitamins K, C, A, and folate. They're a cruciferous vegetable and part of the Brassica family which has been shown to contain antimicrobial benefits – including antiviral properties. In addition, Brussels sprouts contain fiber, omega-fatty acids, antioxidants and have anti-inflammatory properties.
Benefits of shiitake mushrooms
Shiitakes are also nutritionally amazing. In addition to their extensive vitamin and mineral profile, they contain immune boosting, anti-inflammatory, and antioxidant properties. They also contain antiviral, antibacterial, antifungal, anticancer, and liver protective compounds.
---
Method Overview
Prepare and sauté the Brussels sprouts and shiitake topping
Grate vegan cheese
Spread sauce, topping, and cheese onto the pizza crust
Bake
---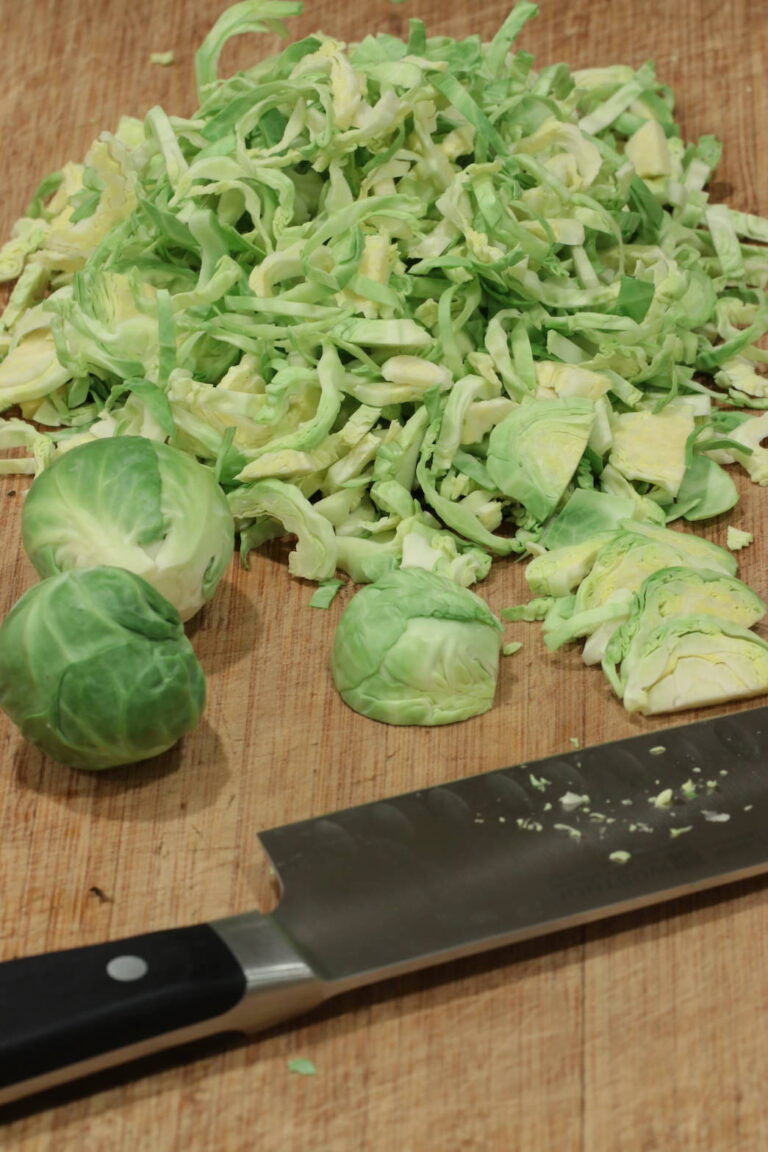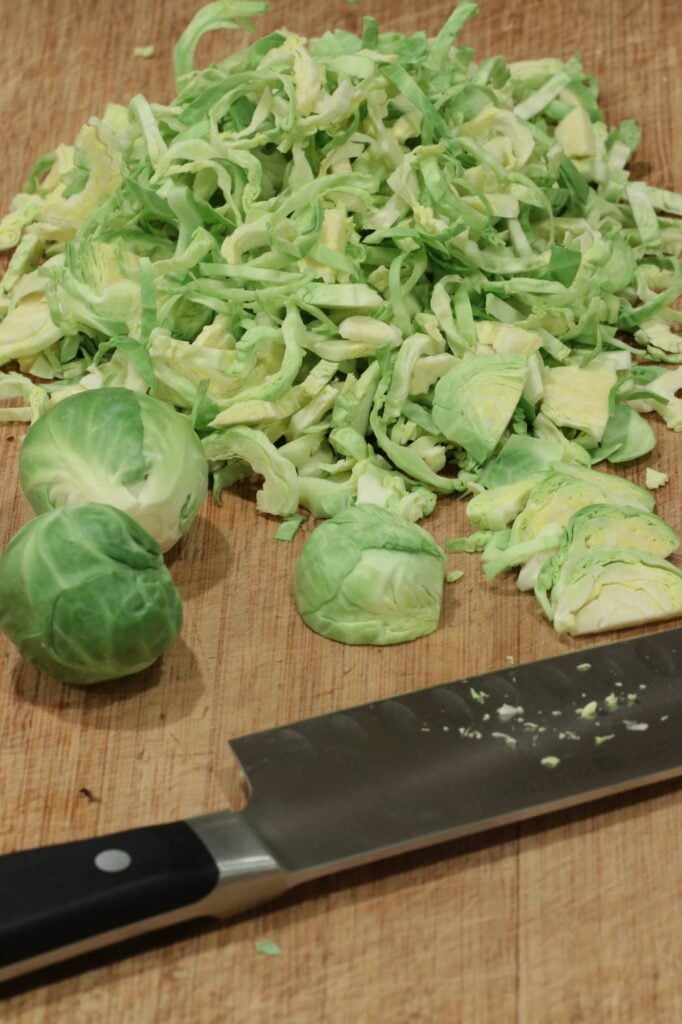 How to Shred Brussels Sprouts
Trim off some of the stem; peel away any discolored leaves. Cut each sprout in half from stem to tip. Lay each half on the cutting board and make thin slices (starting at the tip). Separate the shreds.
Gluten-Free Vegan Pizza with Shredded Brussels Sprouts and Shiitake Mushrooms
Equipment
14" cast iron pizza pan or pizza stone

large skillet

pizza cutter or knife
Ingredients
3/4

pound

Brussels sprouts

4

large shiitake mushrooms

1

Tablespoon

avocado oil,

refined without chemicals, such as Chosen Foods brand

1-1/2

cups

pizza sauce,

or marinara sauce that's been simmered until reduced to a thick consistency

4

ounces

vegan mozzarella cheese,

such as Miyoko's Fresh Vegan Mozzarella, grated
Instructions
Preheat the oven to 500º F.

Place the cast iron pizza pan or pizza stone in the oven on the middle rack so it becomes hot while the oven is preheating.

Knife shred the Brussels sprouts (see photo and directions).

Cut off the shiitake mushroom stems and discard or save for making vegetable broth. Wipe any debris from the caps with a paper towel, then cut into 1/8-inch-thick slices. Cut the slices into halves or thirds.

Heat the oil in a large skillet over medium-high heat with a bit of the Brussels sprouts. When it begins to sizzle add the remaining Brussels sprouts and also the shiitake. Sauté, stirring occasionally, for about 3 minutes or until softened.

Spread the pizza sauce evenly onto the crust. Evenly arrange the Brussels sprouts and mushroom topping. Lastly, evenly arrange the grated cheese.

Open the oven door and pull out the rack. Pick up the pizza with both hands and carefully place it on the hot pan/stone being careful not to burn yourself.

Bake the pizza for about 10 minutes or until the cheese is melted and the crust is a bit crispy.

Slide the pizza onto a cutting board using a metal spatula. Alternatively, remove the pizza pan/stone from the oven (use thick potholders) before sliding it onto a cutting board. Either way be careful because it will be hot!

Let cool for a few minutes before cutting into slices.
Notes
I suggest spreading the Brussels sprouts and shiitake topping onto the pizza before the cheese; the Miyoko's cheese melts better this way. Also, the shredded Brussels sprouts will get too crispy if they are on top.
Nutrition
Calories:
211
kcal
|
Carbohydrates:
36
g
|
Protein:
6
g
|
Fat:
5
g
|
Saturated Fat:
2
g
|
Sodium:
251
mg
|
Potassium:
253
mg
|
Fiber:
7
g
|
Sugar:
2
g
|
Vitamin A:
387
IU
|
Vitamin C:
37
mg
|
Calcium:
21
mg
|
Iron:
1
mg
If you like this recipe, you may also enjoy my Gluten-Free Vegan Pizza with Pita Crust and my Brussels Sprouts Stuffed Portobellos.