Broccoli Rabe with White Beans makes two generous servings when eaten as the main course. It pairs well with a side of potatoes. When served as a side dish it makes 4 servings. Our entire family loves broccoli rabe so much that we'd eat it every day of the year if we could. Fortunately my husband grows plenty!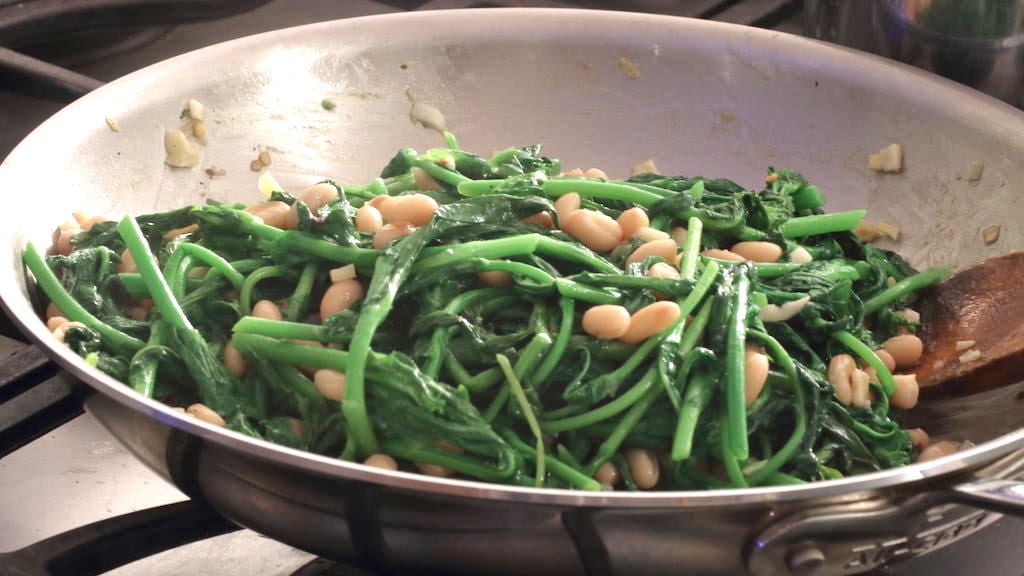 What is broccoli rabe?
Broccoli rabe is part of the cruciferous family, AKA brassicaceae or mustard family. It is a vegetable of many names including raab, rabe, rapini and broccoletti (broccolini is not the same). The stalks, leaves, and flowers of this amazing plant are all edible and delicious.
Is broccoli rabe nutritious?
Yes! It is packed with vitamins A, C, K, and folate as well as potassium, calcium, and more. Like all vegetables in the cruciferous family, it also contains powerful cancer fighting properties called glucosinolates. In order to retain broccoli rabe's impressive nutrient profile, do not overcook. Only steam or sauté until the stalks are just tender. See the notes section of the recipe card for tips on cooking older larger stalks.
Why is this the easiest broccoli rabe with white beans recipe?
Some people like to blanch broccoli rabe before sautéing to reduce the bitterness. I've found that if I pick or buy broccoli rabe when it is young and tender, preblanching isn't necessary, especially when cooking with a bit of broth or other liquid. This recipe is no exception. The key is to start with fresh-picked young and tender broccoli rabe so the preblanching step can be eliminated making this a one-pan super quick-and-easy recipe. When picked young, the entire plant (including the stem) is so tender that it can even be eaten raw.
Sourcing fresh-picked young and tender broccoli rabe
If your market doesn't sell rabe when young and tender, consider growing it yourself; it is a very easy cool weather crop to grow. We live in zone 5a so we plant broccoli rabe mid-summer to be harvested in the fall. We either plant it again in the fall or just let the fall crop "go to seed" (reseed on its own); this provides an early spring crop. If you live in a warm climate, you may find it grows well in the winter. It truly grows like a weed and can even be grown in containers.
There are heading and non-heading varieties of broccoli rabe; we usually grow non-heading varieties. As I mentioned in another post, It's Time to Plan Your Garden and Buy Seeds, a key benefit of starting garden plants from seeds is variety; garden catalogues offer many varieties including organic and heirloom choices. You will never find this range of vegetable varieties offered at grocery stores, markets, or even garden centers.
Broccoli rabe is growing wild in our greenhouse
It's early spring here in Connecticut. We're fortunate to have a large self-seeded patch of broccoli rabe growing wild in our greenhouse. We've picked about 5 pounds so far and there's still plenty to pick as long as the weather doesn't get too warm. PLUS, Jamie planted a long row of broccoli rabe that will be ready to pick when the self-seeded patch goes by. Looks like we'll be eating broccoli rabe with white beans for weeks! Yum!!
Each spring and summer several varieties of vegetables always propagate on their own from seeds dropped by the plants during previous seasons; this is how it is done in nature. Jamie has a good eye for these naturally reseeded plants, and instead of plucking them he lets them grow and gift us with their hardy crops.
---
Method Overview
Saute garlic in olive oil with seasonings
Stir in white beans
Add broccoli rabe and cover pan; stir
---
Broccoli Rabe with White Beans
Ingredients
1

pound

broccoli rabe,

picked when young and tender

2

Tablespoons

olive oil

4

garlic cloves,

diced or sliced

1/8

teaspoon

freshly ground black pepper

1/4

teaspoon

crushed red pepper

1/4

teaspoon

Himalayan sea salt

15-ounce

can

cannellini beans,

do not drain the juice
Instructions
Put the broccoli rabe into a large bowl or pot of cold water and swish around. Let it soak undisturbed for 5 to 10 minutes to give any released dirt a chance to sink to the bottom (a colander can be used as a weight to keep the broccoli rabe submerged). Lift the broccoli rabe from the water, place it in a colander, and rinse one more time, then drain.

If necessary, trim the end of the stems and remove any discolored leaves.

Heat the oil in a large skillet over medium-high heat with a bit of garlic.

When the garlic begins to gently sizzle add the remaining garlic, peppers, and salt. Cook, stirring often, for a few minutes until the garlic softens.

Stir in the cannellini beans with juice and just bring to a simmer.

Add the broccoli rabe and cover the pan. Cook for two minutes, then toss the broccoli rabe using two wooden spoons or a pair of tongs. Recover the pan and let it cook for another minute or two. Taste to be sure the stems are cooked tender; adjust the seasonings if desired.
Notes
If you are worried about flatulence
Drain the juice from the cannellini beans
When you add the beans to the skillet, also add 1/4 cup of vegetable broth.
If you are NOT using fresh-picked young and tender broccoli rabe
You may want to add the following steps to ensure the rabe comes out tender and not bitter:
Peel the tougher stems.
Chop the stems in halves or thirds; keep the leaves and buds intact.
Blanche the prepared broccoli rabe for two minutes then plunge into ice water.
Now the broccoli rabe is ready to be used in the main recipe.
Nutrition
Calories:
308
kcal
|
Carbohydrates:
27
g
|
Protein:
18
g
|
Fat:
15
g
|
Saturated Fat:
2
g
|
Sodium:
382
mg
|
Potassium:
1465
mg
|
Fiber:
13
g
|
Sugar:
2
g
|
Vitamin A:
6021
IU
|
Vitamin C:
48
mg
|
Calcium:
416
mg
|
Iron:
12
mg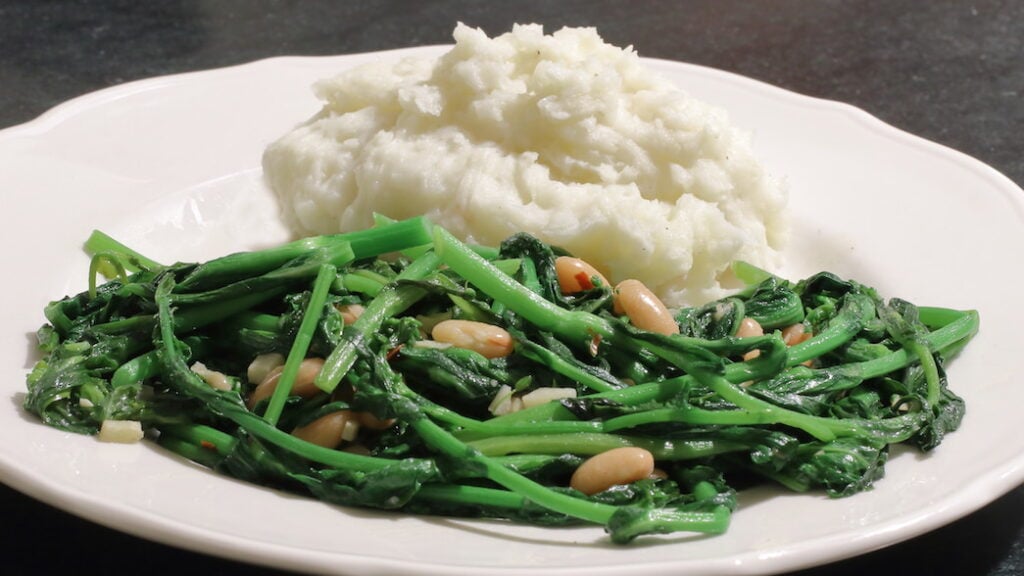 Optional Omnivore Variation
Sprinkle with grated cheese such as pecorino Romano or parmesan.
If you enjoy this recipe, you may also enjoy my White Bean and Rutabaga Burgers.