Ahhhh fresh picked lettuce – I love thee so! If you've ever experienced a salad made with lettuce picked same day, then you know what I mean. The flavor and nutrients are at their peak and can't be beat! Lettuce from Seed to Salad offers tips for when and how to plant greens, a bit of garden eye candy, salad making inspiration, and a healthy recipe for everyday salad dressing. "Let us" take a look.
Why plant during the full moon?
The Farmer's Almanac and old-time farmers advocate planting seeds according to the cycles of the moon. They suggest planting above ground vegetables when the full moon is waning (coming), and suggest planting root vegetables when the full moon is waxing (going).
The gravitational pull of the full moon draws moisture to the soil's surface. Seeds absorb this moisture – which helps them germinate, grow, and thrive.
---
Planting early in the greenhouse
Jamie planted rows of seeds in our greenhouse when the full moon was waxing, on March 8th, the day before the full moon. Six days later the radish seedlings popped through the ground; the broccoli rabe, lettuces, and arugula appeared several days later.
---
The photos below were taken on April 30th, about 1-1/2 months after planting.
---
This is one of a half dozen arugula plants that re-seeded in the greenhouse. In addition, Jamie planted a full row of arugula.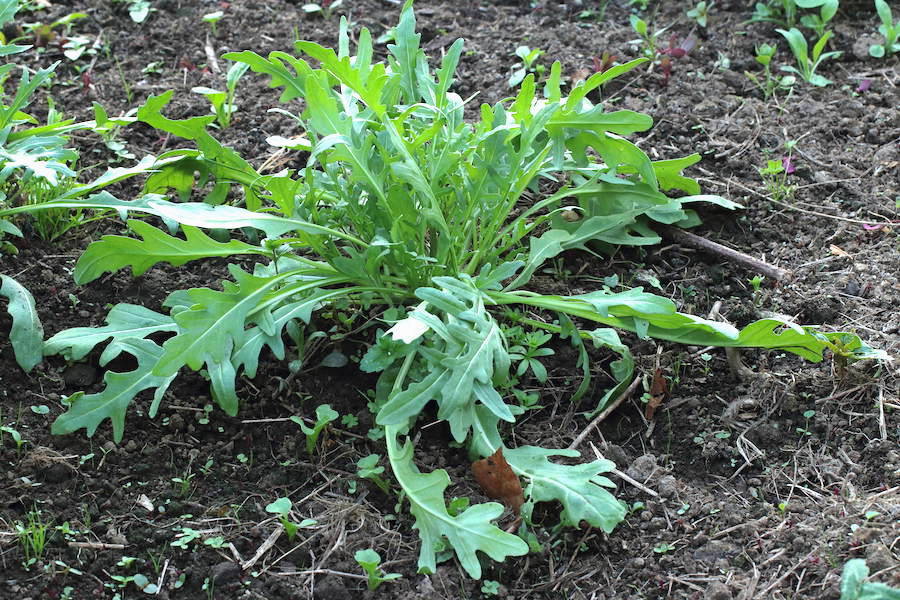 ---
Planting later in outdoor gardens
The next full moon is coming up on May 7th. It's a bit earlier than usual, but Jamie still plans on planting lettuces and other seeds in his outdoor gardens at that time – weather permitting.
As an aside, our home grown seedlings are coming along nicely; these include tomatoes, eggplants, peppers, onions, and leeks. Jamie will also plant those in our outside gardens once all danger of frost has passed. But that's a post for another day. I'm so excited that it's almost time to plant the gardens!
What and when will you be planting? Leave a note below.
The advantage of planting lettuce close together
Whenever Jamie plants lettuce, he sows the seeds closer together than the seed packet suggests. This way if all of the seeds don't grow, the row is still full and we still have an abundant crop. Like in the photo above, if all of the seeds do pop, then the plants will need to be thinned. I love when this happens because it provides an early crop of young and tender greens. When sown close together, the soil around young lettuce plants stays moister which helps the plants thrive. Of course if the plants aren't thinned in time, then the whole crop will become stunted and funky.
Lettuce from seed to salad – tips for picking
It's important to pick greens (and most vegetables) in the cooler part of the day. The greens will immediately wilt if they are picked when hot from summer temperatures and sun. For best results pick in the morning when the greens are still moist and before they are touched by the sun. Wash under cool water, drain well, then refrigerate. Your greens will be crisp and ready for your mid-day or night time salad. Alternatively, pick them in the evening once the greens have cooled down and become moist.
First spring green salad of the season
Today Jamie started to thin the lettuce rows and I made our first big spring greens salad of the season. He'll thin the rows at least two more times before leaving the final plants to fully mature.
Staying fully stocked has been tricky lately. We're running out of groceries; our next curbside delivery order was placed days ago, but the market is swamped with orders and it's taking longer than usual. Fortunately we still have carrots in one of our outside gardens under row covers (from last season), fresh radishes growing in the greenhouse and plenty of spring greens. A handful of shriveled grape tomatoes, a piece of red onion, olives, garbanzo beans, and baby artichoke hearts round out todays luncheon salad.
Easy vinaigrette
We make a lot of garden salads at the DeLorenzo home, and 99% of the time I make the same easy vinaigrette. If you try this recipe, please leave a comment below and let me know what you think.
Sprinkle the bowl of salad with roughly equal amounts of garlic powder and Himalayan sea salt. Sprinkle freely with dried herbs – basil, oregano, thyme.
Drizzle a bit of high quality olive oil and balsamic vinegar (the real stuff) over the salad – then toss well.
---
If you enjoyed this post, you may also like Spring Gardening Ideas and Growing Herbs in Containers. How's your garden growing? Feel free to leave a question or comment below.