Who can resist homemade crispy waffles drenched in blueberry sauce and/or maple syrup? Not me!! As much as I love waffles I stopped eating them for many years because I'm a gluten-free plant-based type of gal, and I couldn't find a suitable recipe that I enjoyed. Eventually I got busy in the kitchen and created my own. I hope you enjoy these crispy gluten-free vegan waffles as much as I do!
What's the secret? I use a combination of gluten-free flour blend and cassava flour for the perfect flavor and texture. If you don't have both on hand, you can make this recipe with either flour. I just find that the texture and flavor is better when you use a combination of both. Aquafaba (the juice from a can of garbanzo beans) whipped into a meringue-like substance makes the batter fluffy and light. It's used as an egg replacement. If you've never done this, don't worry. I created a quick video (far bottom), "How to Whip Aquafaba into a Meringue."
The trick to making crispy waffles is to use a non-stick waffle iron that's meant for making crispy waffles, not deep Belgian waffles.
This crispy gluten-free vegan waffles recipe is easy (I promise) but it's best made on a lazy day when you have more time to prepare a special breakfast or brunch.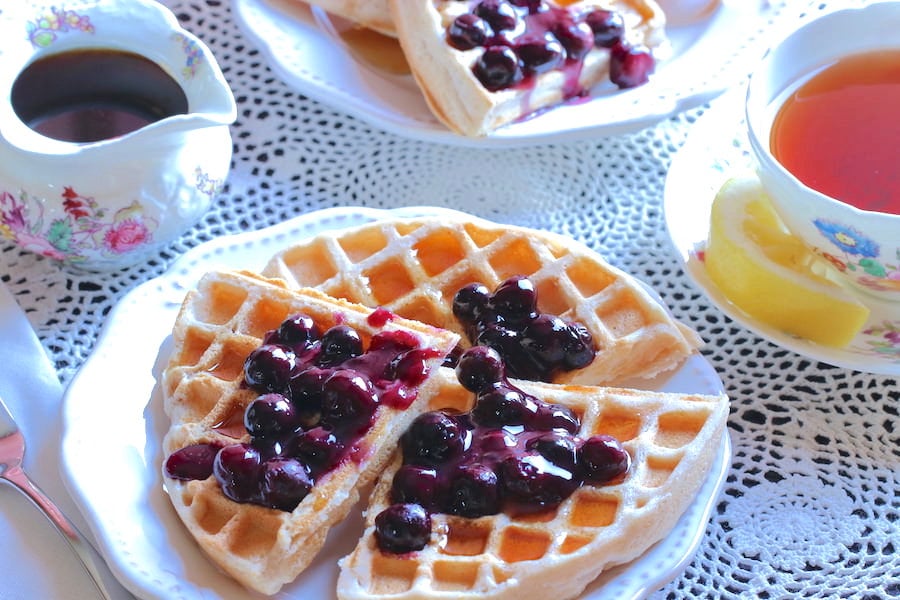 What is Cassava Flour?
Cassava flour comes from the starchy tuberous root of the yuca plant (yoo-cuh). The flour ground from yuca root is a whole-food, plant-based, grain-free, gluten-free, and nut-free substitute for all-purpose wheat flour.
Another one of my posts What is Cassava Flour? delves further into the topic. It explains how to use it, the difference between cassava and tapioca, health benefits, brands, and more.
What is Gluten-Free Flour Blend?
Several manufacturers offer a ready-made gluten-free flour blend. They contain a blend of gluten-free flours, starches, and sometimes gums. They're meant to be a 1:1 replacement for all-purpose wheat flour.
Method Overview
Mix wet ingredients together and mix dry ingredients together in separate bowls
Beat aquafaba into a meringue-like consistency
Fold the wet ingredients into the dry ingredients
Fold the aquafaba into the batter
Cook on waffle iron
While waffles are cooking, prepare blueberry sauce
---
---
Crispy Gluten-Free Vegan Waffles with Blueberry Sauce
Servings:
4
Servings (makes 3 to 4 large waffles)
Equipment
waffle iron (non-Belgium)

hand mixer

1 large-sized mixing bowl

2 medium-sized mixing bowls
Ingredients
Wet Ingredients
1-1/2

cups

unsweetened coconut milk from carton,

such as So Delicious brand

2

Tablespoons

freshly squeezed lemon juice

2

Tablespoons

avocado oil,

refined without chemicals

1

teaspoon

alcohol-free vanilla or almond,

such as Frontier brand or Simply Organic brand
Dry Ingredients
1

cup

gluten-free flour blend,

such as Namaste Foods brand (look for their organic blend)

1

cup

cassava flour,

such as Otto's Naturals brand

1/2

teaspoon

Himalayan sea salt

1

teaspoon

baking powder,

aluminum-free

2

Tablespoons

turbinado sugar or coconut sugar
Egg Replacement
3/4

cup

aquafaba,

liquid from canned beans, preferably garbanzo beans
Blueberry Sauce
1-1/2

cups

blueberries,

fresh or frozen

1/4

cup

water

1

Tablespoon

freshly squeezed lemon juice

1

Tablespoon

maple syrup

2

Tablespoons

water,

cold or room temperature

1

Tablespoon

arrowroot powder
Instructions
Prepare the wet and dry ingredients
Pour the coconut milk into a medium-sized bowl; stir in the lemon juice and set aside for a few minutes. The lemon juice reacts with the coconut milk to make "buttermilk."

In the meantime, stir the flours, salt, baking powder, and sugar together in a large-sized bowl.

Whisk the rest of the wet ingredients together with the coconut milk/lemon juice.
Preheat waffle iron
Preheat to highest setting.
Prepare the egg replacement
Pour the aquafaba into a medium-sized mixing bowl.

Beat with a hand mixer; start on the lowest speed and work up to the highest speed.

Beat until it forms into a meringue-like consistency. This will take about 10 minutes. Fully whipped aquafaba doesn't slide out of the bowl, even when the bowl is turned upside down (see video below).
Combine all of the ingredients
With a large silicone spatula or large wooden spoon, fold the wet ingredients into the dry ingredients. Don't over-mix.

Next gently fold the whipped aquafaba into the batter. The idea is to evenly fold the ingredients together without deflating all of the air from the whipped aquafaba (see notes below).
Cook the waffles
Spoon the batter onto each section of the hot waffle iron; evenly spread with the back of a silicone spatula or wooden spoon.

Cook until the steam stops and the waffle is crispy. If you open too early, the waffle may stick to the iron and separate in the middle.

If desired, keep waffles warm by putting them in your oven on the lowest setting. Put them directly on the oven rack. As an alternative, put a wire rack onto a baking sheet and place the waffles on the wire rack. The idea is to allow the warm air to circulate around the waffles so they stay crispy instead of turning soggy.
Prepare the blueberry sauce
Put the blueberries, 1/4 cup water, lemon juice, and maple syrup into a small saucepan over medium heat.

Whisk or stir the arrowroot powder into 2 Tablespoons of water.

Pour the arrowroot slurry into the pan and keep stirring until the blueberry sauce is a bit bubbly and thickens to the desired consistency.
Notes
How To Fold
Move the spatula or spoon around the side, then along the base of the bowl. Fold the mixture over onto itself. Rotate the bowl, and repeat until the ingredients are just combined. If folding aquafaba into a batter, be gentle so the air whipped into the aquafaba is retained.
Blueberry Sauce Variations
Feel free to replace the blueberries with other berries such as raspberries, cut up strawberries, or blackberries. Or use a medley of berries!
Nutrition
Calories:
370
kcal
|
Carbohydrates:
70
g
|
Protein:
3
g
|
Fat:
9
g
|
Saturated Fat:
2
g
|
Sodium:
361
mg
|
Potassium:
108
mg
|
Fiber:
4
g
|
Sugar:
12
g
|
Vitamin A:
53
IU
|
Vitamin C:
6
mg
|
Calcium:
148
mg
|
Iron:
2
mg
How to Whip Aquafaba into Meringue
The following video demonstrates how to whip aquafaba into a meringue. I created it for another one my recipes, Veggie Au Gratin, but you may find it helpful if you've never worked with aquafaba before in this way.