Looking for a way to jazz up your tacos and other dishes? Quick pickling vegetables is a delicious and easy way to prepare a tangy condiment. I created this Mexican Pickled Radishes with Jalapeños recipe as a novel way to use up some of our early spring radishes – we have quite the bumper crop.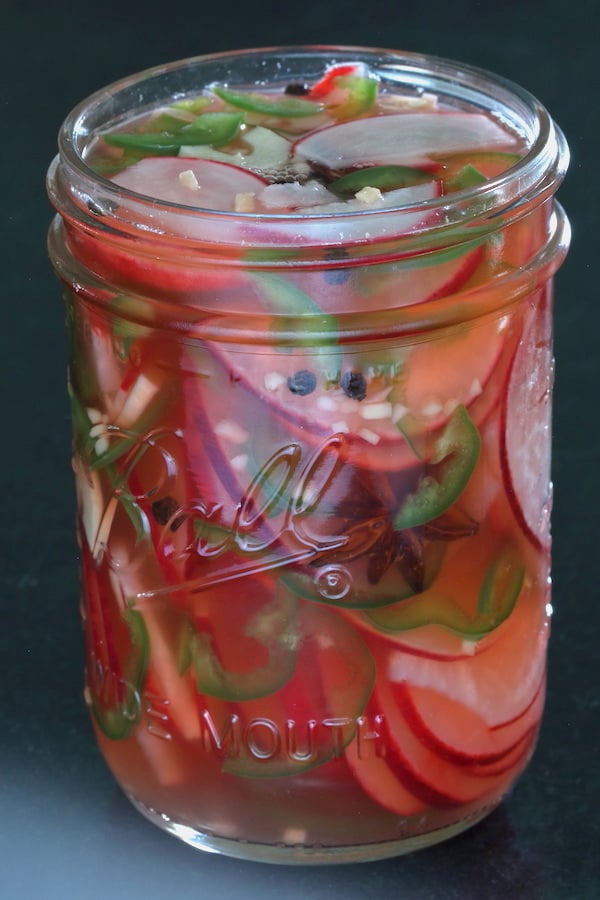 Health benefits of radishes
Radishes are part of the diverse cruciferous family which also includes cabbage, cauliflower, Brussels sprouts, broccoli, kale, and more. They contain anti-cancer and anti-fungal properties – plus a goodly amount of vitamin C as well as other nutrients such as folate, fiber, riboflavin, potassium, copper, magnesium, B6, manganese and calcium.
Our spring radishes
Jamie planted two 10′ rows of Champion Radishes in the greenhouse on March 8th. This first photo was taken on April 18th when the radishes were young; we've been eating them in our salads ever since.
This next photo was taken today, a couple of weeks past their prime. As you can see, the radishes are getting huge and some are even splitting. Uneven watering can cause them to split; they're also more prone to splitting as they get older. But they still taste great and they're still tender, not woody. I simply trim away the bad spots.
Recipe creation
After deciding to pickle a pint of radishes, I scoured my books and the internet, then came up with my own recipe. I didn't want the brine to be too vinegary or salty, and I wanted to avoid using sugar. So I made the brine with 50% apple cider vinegar and 50% water, I added lemon for a bit of citrus flavor, used less salt than most recipes, and added honey instead of sugar. This particular type of radish is a milder variety, so I decided to turn up the heat by adding a jalapeño pepper and black peppercorns. The additions of garlic, ginger root, and star anise also spiced up the brine nicely, and added more nutrients. These spicy pickled radishes add a welcome kick to tacos or whatever dish you serve them with.
Not for canning
For best results, this recipe for Mexican Pickled Radishes with Jalapeños should be kept refrigerated and eaten within a week or so (they may get limp if you keep them longer). Do not can this recipe, it has not been lab-tested. When canning I urge you to only use recipes that have been lab-tested by reputable sources such as the National Center for Home Food Preservation and university extension services. The Ball Blue Book of Preserving also has lab-tested recipes.
---
Method Overview
Prepare radishes, jalapeños, garlic, ginger; layer in a pint jar
Warm up water, vinegar, lemon juice, peppercorns, salt, honey, and star anise
Pour brine into jar; cool and refrigerate
---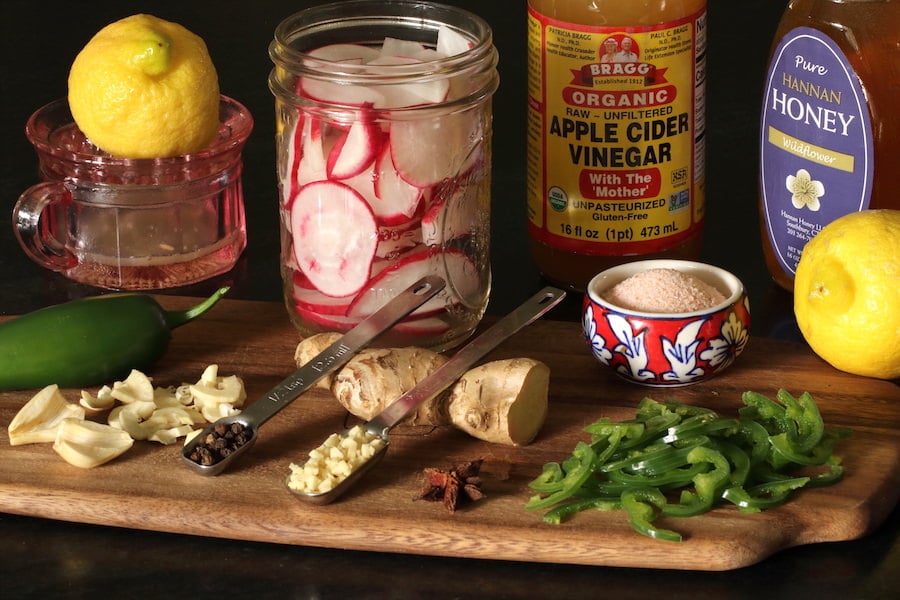 Mexican Pickled Radishes with Jalapeños
This recipe makes 1 pint
Servings:
10
(2 Tablespoon) servings
Equipment
pint-sized jar

small saucepan
Ingredients
8

ounces

radishes (a bunch of radishes),

sliced thin

1 or 2

medium jalapeno peppers,

sliced thin

2

garlic cloves,

sliced thin

1

teaspoon

minced ginger root

4

ounces

water

4

ounces

apple cider vinegar

juice from one lemon,

freshly squeezed

1/2

teaspoon

peppercorns

1

teaspoon

Himalayan sea salt

1

Tablespoon

raw honey

1

star anise,

optional
Instructions
Prepare radishes, jalapeños, garlic, and ginger root; layer in a pint-sized jar.

Put the rest of the ingredients into a small saucepan over low heat. Stir the brine and heat until the salt and honey dissolves. The idea is to keep the temperature of the brine below 100 degrees so that the raw honey's nutrients remain intact. Use a candy thermometer if you have one to check the brine's temperature.

Pour the brine into the jar. Cover and let it cool down, then refrigerate. These pickles will be tasty enough to enjoy within a couple of hours, but will absorb more flavor the longer they sit.

Eat within a week or so for best results. If you keep longer, the radishes may get too limp.
Nutrition
Calories:
15
kcal
|
Carbohydrates:
3
g
|
Protein:
1
g
|
Fat:
1
g
|
Saturated Fat:
1
g
|
Sodium:
180
mg
|
Potassium:
77
mg
|
Fiber:
1
g
|
Sugar:
2
g
|
Vitamin A:
45
IU
|
Vitamin C:
9
mg
|
Calcium:
7
mg
|
Iron:
1
mg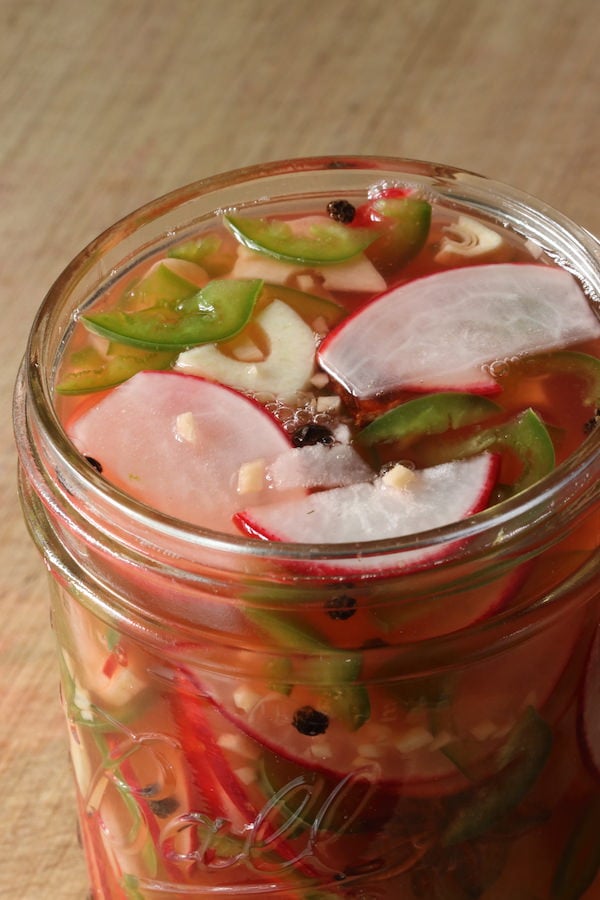 Are sprouting garlic cloves safe to eat?
We still have garlic from last year's harvest in our make shift cold cellar (crawl space). The bulbs are starting to come alive and sprout – so each clove has a pale green sprout in the center of it. These sprouts are safe to eat but can be a bit bitter, so I pop them out. That's why the garlic looks the way it does in the photos. Even though our garlic is getting worn out, it is still sweeter and milder than store bought garlic, which I find to be too sharp in comparison.
---
If you like this post, you may also enjoy my Pickled Red Onions (no sugar) recipe.