These quick pickled red onions (no sugar) couldn't be faster or easier to make! Yet they add pizazz to so many dishes including a wide range of salads, tacos, quesadillas, burgers, wraps, and more. They're crunchy, colorful, piquant, and overall delightful.
Two of my kids are home from college due to the global health situation (a silver lining to an otherwise dark cloud). While home, my daughter Laura has been making jar after jar of these incredible pickled red onions. I honestly hadn't come across these gems before – how did I live all these years without them?! Now they're a staple in our refrigerator.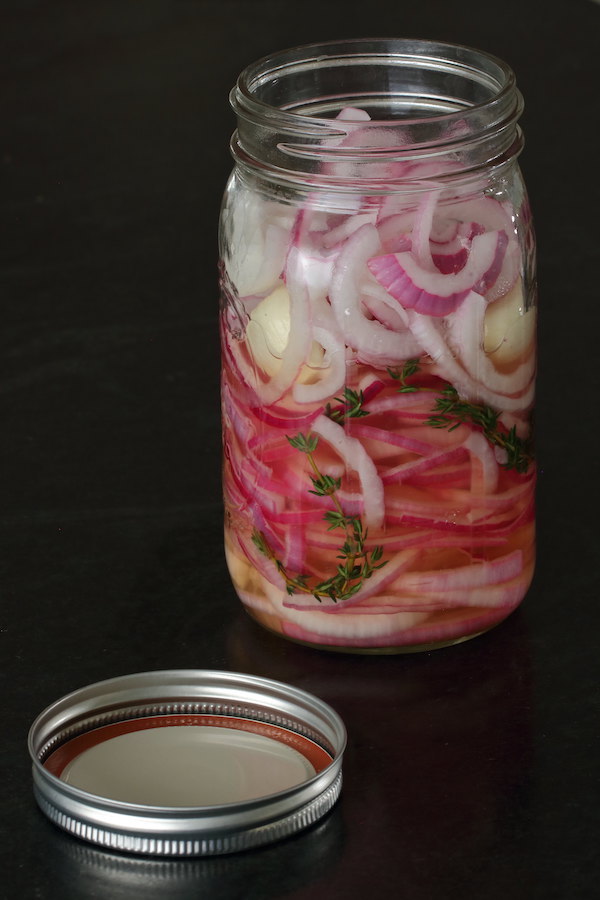 We prefer to make our pickled red onions with a diluted apple cider vinegar brine. The resulting flavor is milder than when using full strength vinegar. With this 2:1 ratio of vinegar to water the pickled red onions still become acidic enough to safely store in the refrigerator for weeks.
Most pickled onion recipes add sugar to the brine. I prefer to make this sugar-free version; it includes raw honey which is more nutritious. Speaking of nutrients and healthy ingredients, here are some fun facts about onions that may interest you!
Compounds from onion have been reported to have a range of health benefits which include anticarcinogenic properties, antiplatelet activity, antithrombotic activity, antiasthmatic and antibiotic effects.

Phytotherapy research
Onions – A Global Benefit to health
---
Method Overview
Slice onion
Add onion to jar with garlic cloves and sprigs of thyme (or rosemary)
Heat up the vinegar with water, honey, salt, and peppercorns
Pour the brine into jar; cap and refrigerate
---
Pickled Red Onions (no sugar)
Servings:
20
(2-Tablespoon) servings
Equipment
quart jar with lid, such as a Mason jar

small saucepan
Ingredients
1

large

red onion

2 to 3

garlic cloves

2 to 3

sprigs thyme,

or rosemary

1

cup

apple cider vinegar

1/2

cup

water

1

Tablespoon

raw honey

1-1/2

teaspoons

Himalayan sea salt

1

teaspoon

black peppercorns,

optional
Instructions
Peel the onion and cut it in half lengthwise from stem to root. Place one half-onion on a cutting board flat-side down; cut off and discard a thin slice from each end. Cut the rest of the onion into 1/8-inch to 1/4-inch slices. Repeat with the other half.

Put the onion slices into the jar. Arrange the garlic cloves and sprigs of thyme (or rosemary).

Pour the vinegar and water into a small saucepan over medium heat. Add the honey, salt, and peppercorns and warm up while stirring just until the honey and salt blends into brine. Do not boil.

Pour the brine into the jar and cap. At first it will seem like there isn't enough brine (see photo below). Don't worry; the salt draws moisture from the onions and they will soften. After about an hour you'll see that there is plenty of brine to cover the onions. Flip the jar over periodically to help the process.

After the brine cools down, refrigerate. Wait a few hours or until the next day before eating so the flavor has a chance to set in.
Notes
The vinegar tends to rust Mason jar screw bands or other caps. To prevent this I suggest covering the mouth of the jar with a square of parchment paper (double layer) before capping.
Feel free to add different herbs or spices to the brine such as allspice, red pepper flakes, star anise, or fresh dill.
Raw honey contains beneficial enzymes that are destroyed when heated. Only warm the brine until the honey and salt dissolve, then remove from heat.
Once the onions are eaten don't throw away the leftover brine; it is flavorful and contains nutrients from the onions, garlic, herbs, and spices. Use it in place of vinegar when making salad dressing.
Nutrition
Serving:
2
Tablespoons
|
Calories:
8
kcal
|
Carbohydrates:
1
g
|
Protein:
1
g
|
Fat:
1
g
|
Saturated Fat:
1
g
|
Sodium:
129
mg
|
Potassium:
20
mg
|
Fiber:
1
g
|
Sugar:
1
g
|
Vitamin A:
5
IU
|
Vitamin C:
1
mg
|
Calcium:
4
mg
|
Iron:
1
mg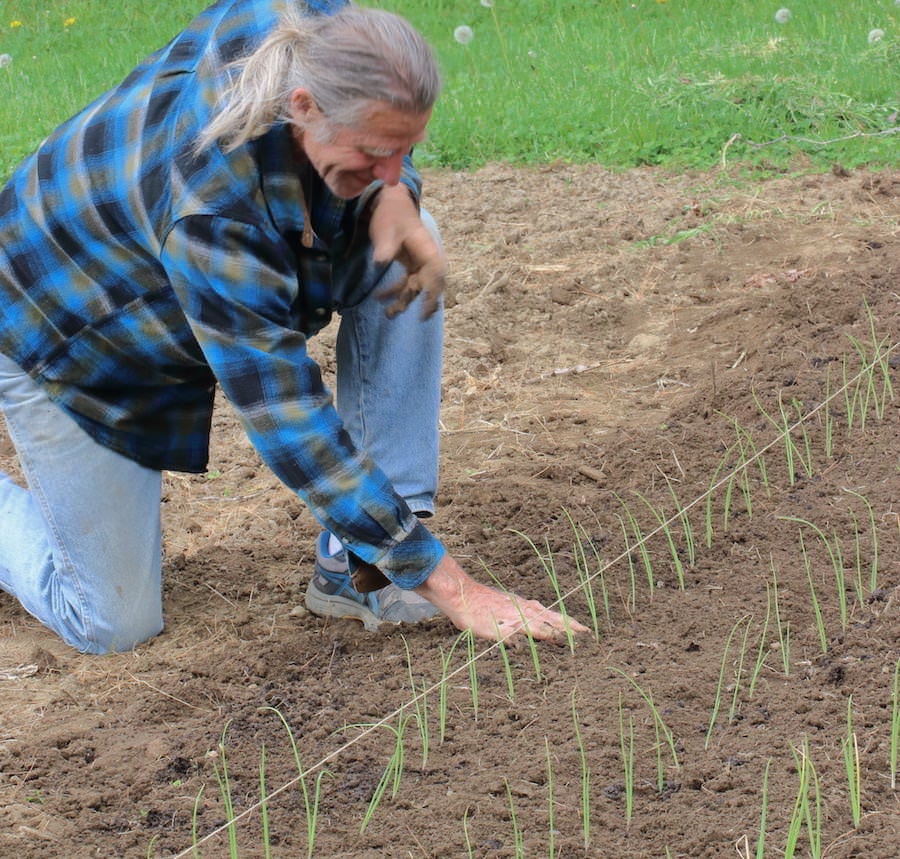 Jamie and Laura planted 130 red onions this spring. I'll be pickling plenty!
If you like this pickled red onions (no sugar) recipe you may also enjoy my Mexican Pickled Radishes with Jalapeños and Asparagus Pickles.