Sometimes gold is hidden in plain site. That's how I feel about these Grain-Free Vegan Quesadillas. I hadn't eaten quesadillas in years because I didn't realize they could be made not only vegan but also corn-free and wheat-free. Then last week it hit me – they can be made with the grain-free Siete brand almond or cassava tortillas and other ingredients I already stock in my panty, refrigerator, and freezer. Eureka, I've we've struck gold!
These quesadillas are an easy lunch or snack option. If you want to serve for dinner I suggest pairing with a salad. If you eat rice, they'd also go great with arroz rojo.
Video|How To Make Grain-Free Vegan Quesadillas
Here's what I used today
I'm so grateful there are an ever increasing number of healthy food manufacturers offering clean, organic, plant-based options. Life is good.
Of course, better yet, you can use homemade refried beans (pinto or black), homemade grain-free tortillas, and homemade roasted red peppers (see below). But if you don't have the inclination or time to make everything from scratch, these ready made products come together quickly to create an easy, delicious, and healthy option.
If you prefer it spicy, feel free to substitute with roasted jalapeños peppers.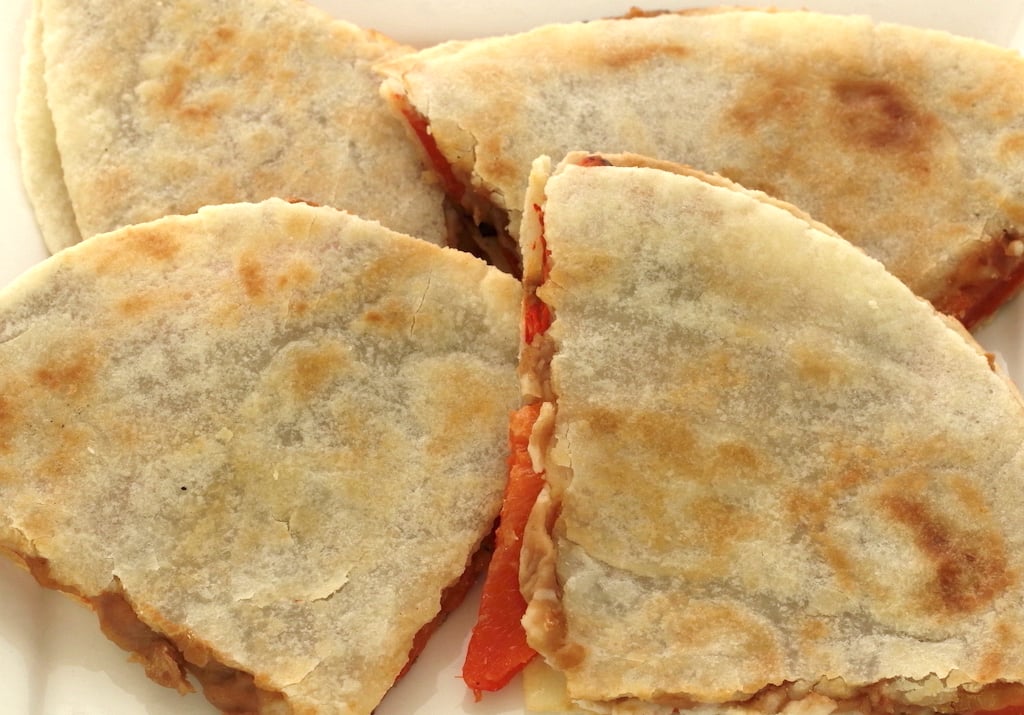 FAQs
How do you separate frozen Siete tortillas without breaking them?
Keep them frozen. Look for a spot where a paring knife (or other thin bladed knife) can easily slip between two of the outer layers. Gently slide the knife between the two layers until they separate.
What's the best way to shred the Miyoko's cashew cheese?
Put the block of cheese into the freezer for 15 to 20 minutes; this will make it easier to shred. Use the large holes of a box grater.
What type of pan d0 you use to cook these quesadillas?
I use a cast iron flat griddle. I warm it up over low heat, then cook the quesadillas over medium-high heat. A cast iron skillet (or other heavy-bottomed skillet) would also work well.
D0 you oil the pan?
No – the almond oil inherent in the tortillas prevents them from sticking to the pan.
How do you make homemade roasted red peppers?
There are a few different methods. You can roast over the flame of a gas stove's burner, under the broiler, or on a gas grill. Here's a video where I show how we grill roast our garden peppers (and put them up in the freezer).
Optional Omnivore Variation
Use Monterey jack cheese in place of the cashew cheese.