Updated 11/15/2020
Yes, you can make gluten-free vegan quesadillas that taste heavenly! I stopped eating quesadillas years ago because I didn't realize how easy they are to make gluten-free and vegan. Then it hit me – they can be made with ingredients I already stock in my panty, refrigerator, and freezer. Eureka, I've we've struck gold!
Gluten-free vegan quesadillas are a quick and easy lunch or snack option. They also make a fantastic appetizer.
If you want to serve them for dinner I suggest pairing with a salad. They also go well with the arroz rojo (red rice) recipe in my cookbook.
Video|How To Make Gluten-Free Vegan Quesadillas
This recipe can be made with homemade refried beans (pinto or black), homemade gluten-free tortillas, and homemade roasted red peppers. But if you don't have the inclination or time to make everything from scratch, there are ready made products that come together quickly to create an easy and healthy option. Did I mention these quesadillas taste heavenly!?
If you prefer it spicy, feel free to substitute the sweet roasted red peppers with roasted poblano or jalapeño peppers. You can also use spicy refried beans to add a kick.
Gluten-Free Vegan Quesadillas
They're heavenly – and easy!
Equipment
small saucepan

flat cast iron griddle, cast iron skillet, or other heavy bottomed skillet
Ingredients
8

gluten-free tortillas,

such as Siete brand's almond tortillas or homemade cassava flour tortillas

1

16-ounce can

salt-free refried pinto or black beans,

or homemade (you'll have some leftover)

4

ounces

dairy-free cheese,

such as Miyoko's Vegan Mozzarella, grated

4

roasted red peppers,

cut into strips
Instructions
Warm up the refried beans in a small saucepan. In the meantime, warm up the griddle/skillet over low heat.

Once the beans and pan are warmed up, spread a goodly amount of beans on one tortilla. Evenly cover the beans with a generous layer of grated cheese (about 1 ounce), then arrange roasted red pepper strips on top. Cover with another tortilla.

Put the quesadilla onto the pan and turn the heat up to medium/high. Cook until the first side is golden, then flip and cook the second side until golden and the cheese is melted.

Transfer the quesadilla to a cutting board and let it cool for about a minute, then cut into quarters using a pizza cutter or knife.

Repeat this process to make the rest of the quesadillas.
Nutrition
Serving:
1
quesadilla
|
Calories:
345
kcal
|
Carbohydrates:
38
g
|
Protein:
12
g
|
Fat:
19
g
|
Saturated Fat:
6
g
|
Sodium:
350
mg
|
Potassium:
480
mg
|
Fiber:
9
g
|
Sugar:
1
g
|
Calcium:
93
mg
|
Iron:
13
mg
Nutrition facts are based on Siete's almond tortillas, salt-free refried beans, Miyoko's Vegan Mozz, and salt-free roasted red peppers.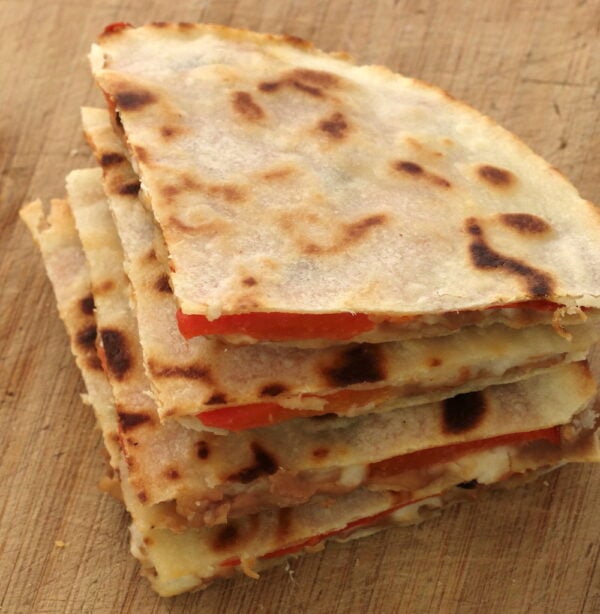 FAQs
What's the best way to shred the Miyoko's cashew cheese?
Shred using the large holes of a box grater. If you first put it into the freezer for 15 to 20 minutes it will be easier to shred.
What type of pan d0 you use to cook these quesadillas?
I use a flat cast iron griddle. I warm up the griddle for about 5 minutes over very low heat – then cook the quesadillas over medium-high heat. A cast iron skillet (or other heavy-bottomed skillet) would also work well.
D0 you oil the pan?
No – when I use Siete brand almond tortillas, the almond oil inherent in the tortillas prevents them from sticking to the pan. My homemade cassava tortillas also don't stick to the pan.
How do you make homemade roasted red peppers?
There are a few different methods. You can roast them over the flame of a gas stove's burner, under the broiler, or on a gas grill. In this post with video I explain how to grill-roast peppers (and put them up in the freezer). We do this every summer with our garden's bounty of red peppers.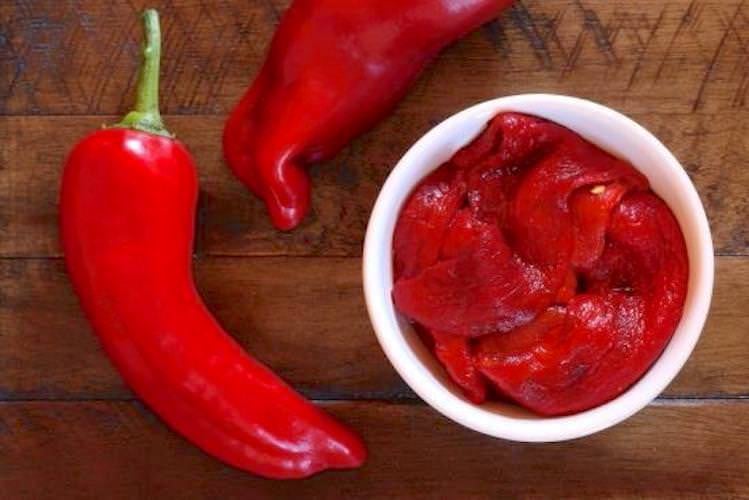 Optional Omnivore Variation
Use Monterey jack cheese in place of the cashew cheese.