This Roasted Fennel and Citrus Salad recipe is easy to put together, yet fancy enough for the holidays. Marinated and roasted fennel is arranged on a bed of arugula with mandarin orange segments, pomegranate seeds, and pan-toasted pine nuts. The result is a visual and taste delight! The roasted fennel is amazing, the mandarin oranges are sweet and luscious, the pomegranate adds a crunchy pop of tart (and color), the pine nuts contribute buttery nutty goodness, and the arugula works well as a peppery and earthy bed for all of the flavors to rest upon.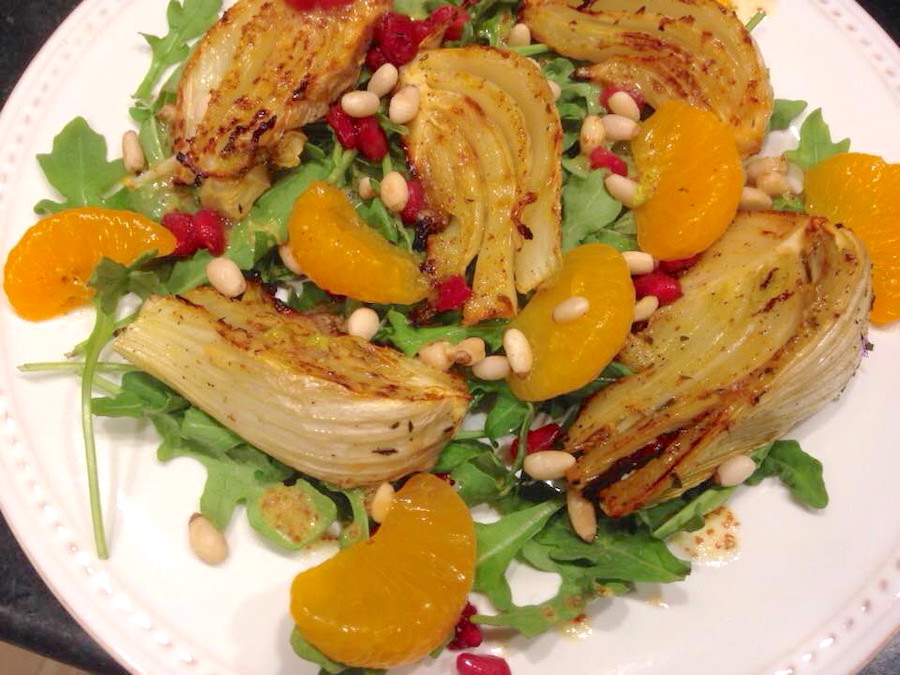 Roasted Fennel
Confession time. I only recently realized how incredible roasted fennel is! My son made a similar recipe for the family while on holiday in Maine this August, shortly after my mama passed (the respite and laughter was so healing). I know I've said it before, but I just love it when my kids teach me new tricks! Roasting fennel enhances its sweet and sexy side and mellows out the anise flavor – plus it becomes so so so tender.
Roasted Fennel and Citrus Salad with Mandarin Oranges
You may be wondering what mandarin oranges are, and what makes them special. For starters, they are sweeter than navel and Valencia oranges. They're also easier to peel and have thinner membranes between the segments. Mandarins include several varieties; I go into more detail about the types of mandarin oranges in another post, Coleslaw with Orange-Ginger Vinaigrette.
Sometimes I have trouble finding fresh organic mandarins so I was ecstatic to learn that Native Forest brand offers them packed in their own juice. Plus their cans are BPA-free 🙂
---
Method Overview
Whisk citrus dressing ingredients together
Marinate fennel wedges, then roast
Pan-toast pine nuts
Arrange fennel, orange segments, pomegranate seeds, and pine nuts on a bed of arugula
---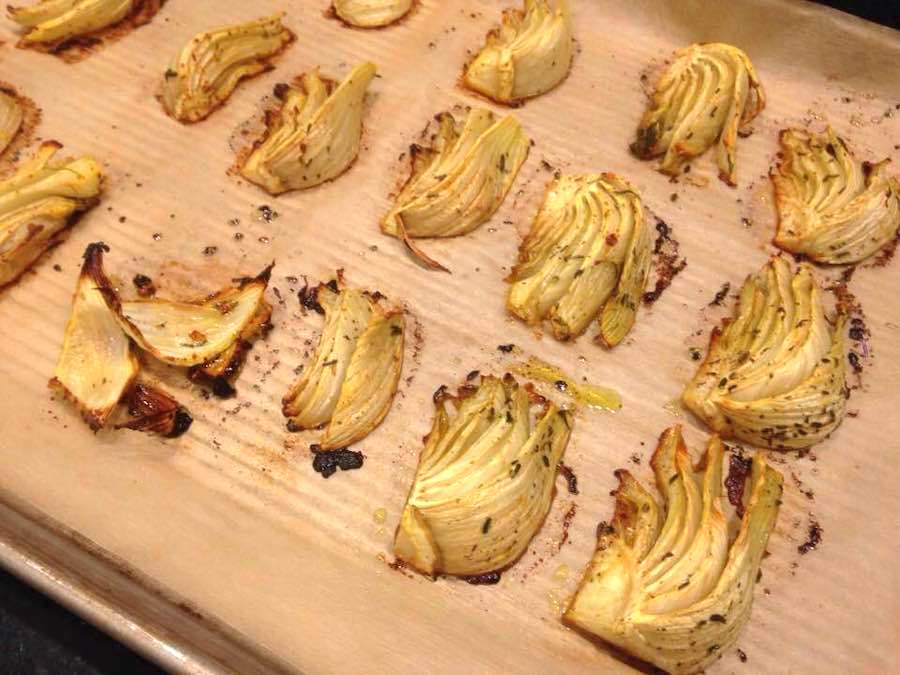 Roasted Fennel and Citrus Salad
This Roasted Fennel and Citrus Salad recipe is easy to put together, yet fancy enough for the holidays!
Equipment
baking sheet

cast iron skillet, or other heavy bottomed pan
Ingredients
3

medium to medium-large

fennel bulbs

1

10.7-ounce can

Mandarin oranges packed in their own juice

, such as Native Forest brand (reserve 1/3 cup of the juice to be used in the dressing)

2

Tablespoons

olive oil

1

Tablespoon

Dijon mustard

1/4

teaspoon

dried tarragon

1/4

teaspoon

red pepper flakes

1/4

teaspoon

Himalayan sea salt

1/4

teaspoon

freshly ground black pepper

1/4

cup

pine nuts (AKA pignolis)

1/2

cup

pomegranate seeds

8

cups

baby arugula, or other greens
Instructions
Preheat the oven to 375ºF.

To prepare the fennel:

Cut off the stalks where they attach to the bulb; reserve some of the fronds. Trim off 1/8-inch to 1/4-inch from the root base. Cut the remaining bulb into eight wedges; don't core (see below).

To make the citrus dressing:

Whisk the following ingredients together in a medium-sized bowl:

1/3 cup of the reserved mandarin orange juice, olive oil, Dion mustard, tarragon, red pepper flakes, sea salt, and pepper.

Add the fennel wedges to the bowl and toss. Marinate for about 20 minutes; toss often.

Arrange fennel wedges single layer on a parchment lined baking sheet. Roast for about 45 minutes or until tender and golden.

In the meantime, warm up a small, dry cast iron skillet over medium-low heat. The idea is to warm up the skillet, but don't overheat. When the skillet is warm, increase the heat to medium-high and add the pine nuts. Toast, while stirring and shaking, for about a minute, or until they begin to give off a nutty aroma and turn a bit golden.

Arrange the fennel and mandarin orange segments on a bed of arugula. Sprinkle with the pomegranate seeds and pine nuts. Drizzle with any remaining citrus dressing. Garnish with chopped fennel fronds.
Notes
If you prefer, use fresh mandarin oranges and fresh squeezed mandarin orange juice instead of canned.
No fresh or canned mandarin oranges to be found? Feel free to substitute with blood oranges. They are also sweet and their maroon red color makes a lovely presentation. But honestly, in a pinch use whatever oranges are available.
This Roasted Fennel and Citrus Salad can be arranged on a serving platter. Alternatively, divide the ingredients and arrange on four individual plates.
Watercress, baby spinach, or other greens can be used instead of arugula if you prefer.
Avocado also goes well with this flavor profile.
FAQs
Do manufacturers use lye to peel Mandarin orange segments?
Yes, some manufacturers use lye during the process of peeling. Native Forest brand does NOT use lye; instead they hand peel their organic mandarin orange segments.
Is it necessary to core the fennel when making Roasted Fennel and Citrus Salad?
Since this recipe calls for roasting the fennel, you do not need to core it. The core will become quite tender when roasted! Also, if you core the fennel, the wedges will fall apart.
What can I do with the fennel stalks?
You can save them for making homemade vegetable broth; veggie scraps such as these can be frozen until you're ready to make broth. You can also slice them like celery and add them to soups, stews, chilis, and the like.