Golden beets are the sweeter, sexier, and less earthy cousin to red beets – yet they contain a similar nutrient profile. When roasted and blended with garbanzo beans and other yummy ingredients, these golden gems create a delightful hummus. Serve as a dip for cut up fresh vegetables, with pita bread or grain-free chips such as Siete brand. Roasted golden beet hummus can also be used as a spread for veggie burgers, tomato slices, roasted eggplant or cauliflower steaks, and the like.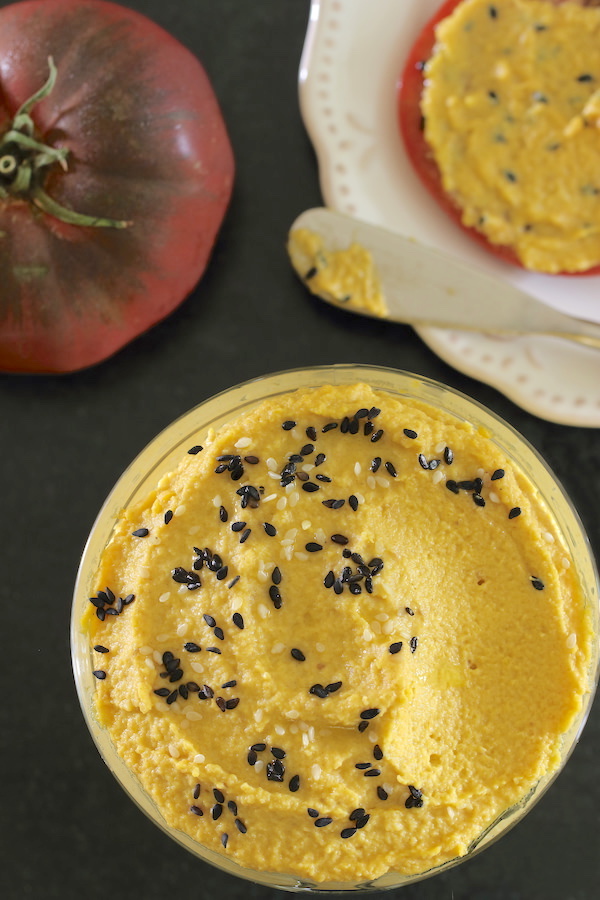 We're heading into prime garden and farmer's market season. This is the time to enjoy less common varieties of vegetables, such as golden beets. Be on the lookout, they are not to be missed!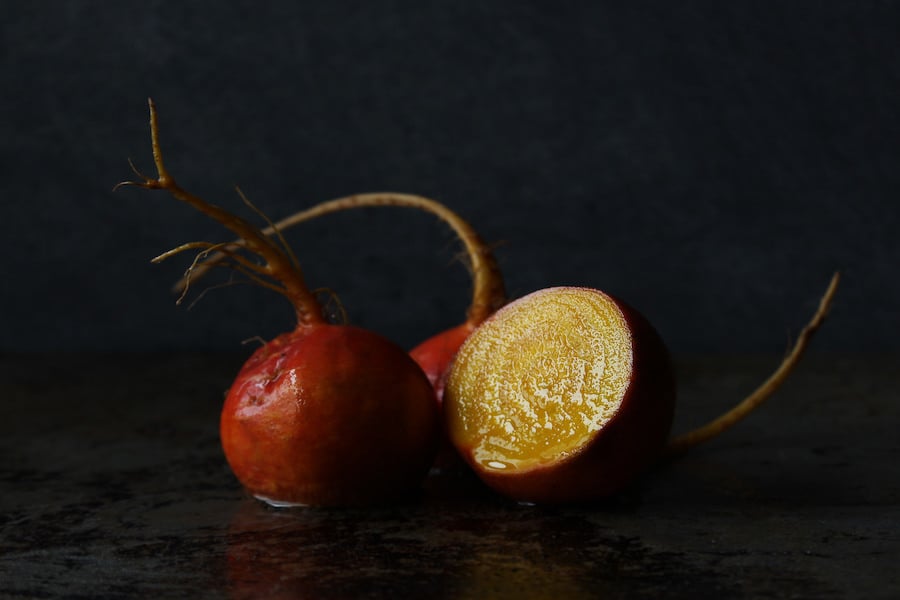 ---
Method Overview
Roast golden beets
Remove garbanzo bean skins (optional)
Blend ingredients in food processor
Pan toast sesame seeds
Garnish the hummus and serve
---
This recipe make 4 cups of hummus
Roasted Golden Beet Hummus
Servings:
16
(1/4-cup) servings
Ingredients
2

medium-sized golden beets

3

Tablespoons

freshly squeezed lemon juice

1

date,

pitted and diced

1/3

cup

sesame tahini,

unsalted

1

15-ounce can

garbanzo beans, rinsed and drained

(for a smoother and creamier hummus follow the optional directions below for removing the garbanzo skins)

2

garlic cloves,

diced

3/4

teaspoon

Himalayan sea salt

3/4

teaspoon

ground cumin
For Garnish
1/2

teaspoon

sesame seeds, black and/or white

1

teaspoon

extra virgin olive oil,

optional
Instructions
Roast Beets
Preheat the oven to 400ºF

Scrub the beets, but don't peel them. Cut off the roots and trim the tops, leaving about 1 inch of stems.

Roast the beets in a shallow baking dish (or parchment lined tray) for 50 to 60 minutes, or until they're tender when poked with a paring knife.
Make Hummus
In the meantime, put the lemon juice, date, tahini, garbanzo beans, garlic, salt, and cumin into your food processor bowl (in that order).

Put the cooked beets on a cutting board and let them cool for a few minutes. Remove the stems and slip off the skins. Cut the beets into cubes and add them to the food processor bowl.

Process until smooth, scraping the bowl with a soft spatula as needed.
Toast Sesame Seeds
Warm up a small, dry cast iron skillet (or other heavy-bottomed skillet) over low heat. The idea is to warm up the skillet, but don't overheat.

When the skillet is warm, increase the heat to medium and add the sesame seeds. Toast, while stirring and shaking, for about a minute, or until they begin to give off a nutty aroma and turn a bit golden.
Garnish
Using a soft spatula, transfer the hummus into a serving bowl.

Garnish with the sesame seeds. Drizzle with olive oil.
Notes
Refrigerate leftover roasted golden beet hummus in a Mason jar or other airtight container. It will keep refrigerated for about five days.
Nutrition
Serving:
0.25
cup
|
Calories:
42
kcal
|
Carbohydrates:
4
g
|
Protein:
1
g
|
Fat:
3
g
|
Saturated Fat:
1
g
|
Sodium:
90
mg
|
Potassium:
70
mg
|
Fiber:
1
g
|
Sugar:
2
g
|
Vitamin A:
7
IU
|
Vitamin C:
2
mg
|
Calcium:
11
mg
|
Iron:
1
mg
How to Remove Garbanzo Bean Skins
Removing the skins creates a smoother and creamier hummus; it is an optional step.
Using a colander, drain the beans and rinse well. Blot them dry with paper towels.
Place the beans in a saucepan with 1 teaspoon of baking soda. Warm them up over medium heat for a few minutes, stirring.
Cover the beans with water and vigorously stir with a wooden spoon to encourage the skins to release from the beans. Pour off the water and skins, retaining the beans in the pot (pour off over a colander to catch any stray beans that may escape). Refill the pot with fresh water, massage the beans with your hands, then pour off the water and skins again. Keep repeating this process until all of the skins are released and poured off.