The idea for Veggie Au Gratin came to me out of the blue, not influenced by anything I've ever eaten or read about online. Roasted vegetables, with a lentil "gravy," and an aquafaba batter topping that's baked until golden and crusty. Yum!
I thought it fitting to call this recipe Veggie Au Gratin since per wikipedia, "gratin is a widespread culinary technique in which an ingredient is topped with a browned crust." If you try it, please leave a comment below.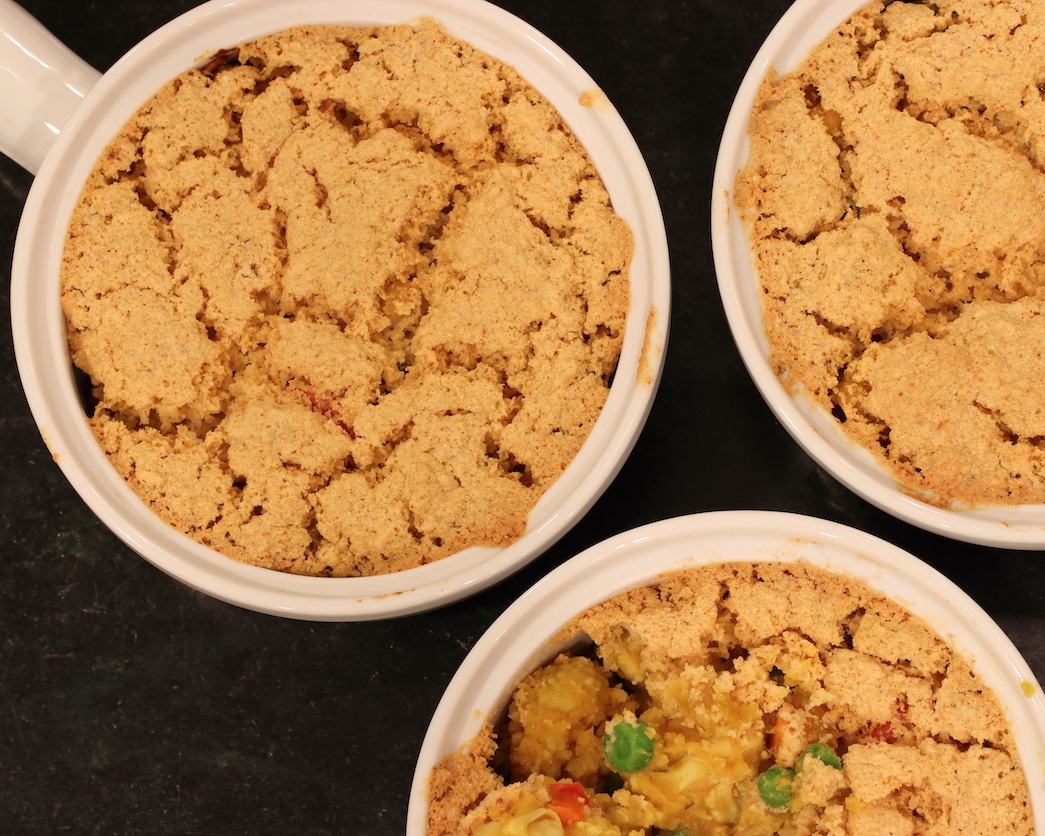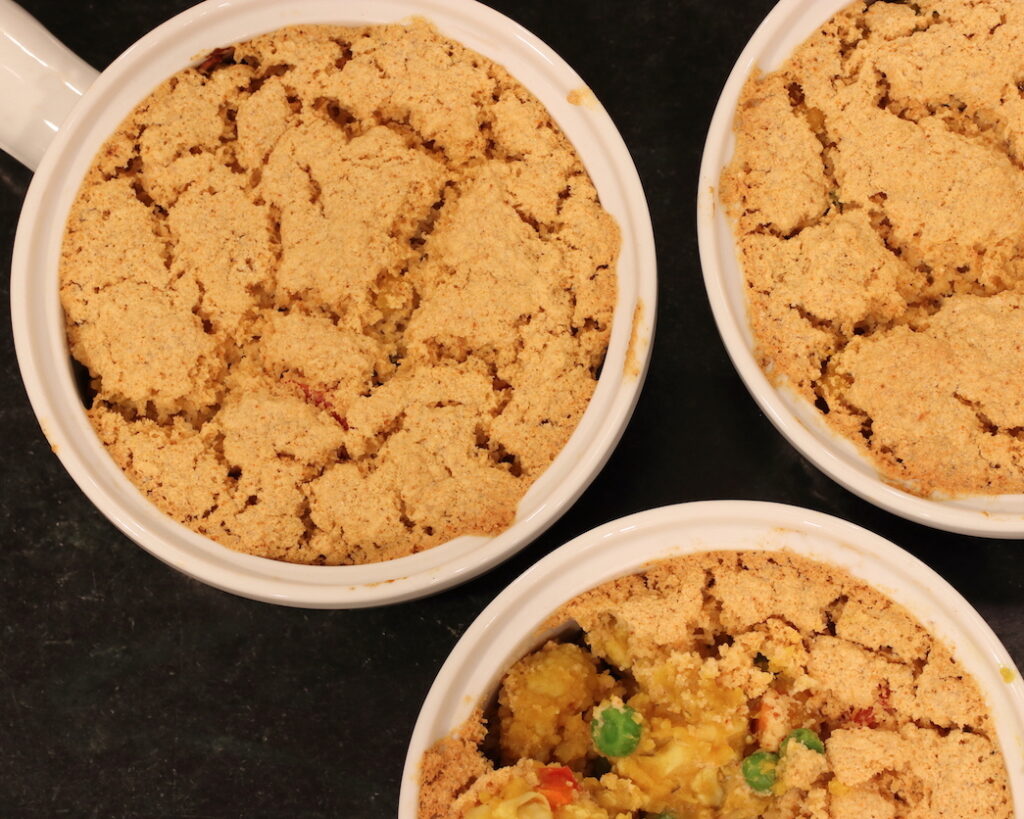 How To Use Aquafaba
Don't know how to use aquafaba, the brine from a can of beans? Don't worry. I created a video explaining how to transform this juice into an airy batter and crust. It's a pretty magical ingredient. This batter is the same one used for the chiles rellenos recipe in my cookbook.
Why Do Legumes Make Some People Gassy?
If you don't usually eat legumes (beans or lentils) then you may want to slowly introduce them into your diet before enjoying this recipe. Legumes contain complex starches called oligosaccharides that are hard for some people to digest – resulting in flatulence. The brine that beans are cooked in (aquafaba) contains a lot of these oligosaccharides. The good news? These fermenting oligosaccharides are considered to be important prebiotics because they feed beneficial microflora during this process.
Again, slowly introduce legumes into your diet and then you shouldn't have any problems enjoying this recipe. Legumes are nutrient-dense; they contain a high amount of protein, fiber, and folate and are a good source of iron, magnesium, phosphous, manganese, potassium, and other nutrients. They have their place in a balanced plant-based diet, being nutritious, delicious, and versatile.
---
Method Overview
Roast veggies.
Prepare lentil "gravy."
Assemble casserole.
Make topping and bake.
---
Vegetable Au Gratin
Equipment
baking sheet(s)

medium-size sauce pan.

hand mixer

medium-size bowl and large-size bowl

6 ramekins or 1 medium-size casserole dish
Ingredients
The Veggies
1

medium-small cauliflower,

core cauliflower, then cut florets into small bite-sized pieces

3

large carrots,

cut into 1/4" half moons

1

large red pepper,

cubed

1

cup

peas
For the Lentil Gravy
1

cup

red lentils

3-3/4

cups

water

1/4

teaspoon

cayenne pepper

1/2

teaspoon

salt

1-1/2

teaspoons

ground cumin

1-1/2

teaspoons

turmeric powder
For the Topping
1

cup

garbanzo bean flour

1/4

teaspoon

garlic powder

1/4

teaspoon

sea salt

1

teaspoon

smoked paprika,

or sweet paprika

3/4

cup

chickpea aquafaba

(juice from a 15-ounce can of unsalted chickpeas)
Instructions
Preheat the oven to 425ºF.
To Roast the Cauliflower, Red Pepper, Carrots
Cover 2 baking sheets with parchment paper.

Put half of the veggies (cauliflower, red pepper, carrots) onto each baking sheet and roast for about 30 minutes or until golden; flip halfway through.
To Prepare the Lentil Gravy
Measure lentils and then sprinkle them slowly into a mesh colander; watch carefully for dirt, pebbles, or other debris. Once you've added all of the lentils to the colander, pick through them making sure you didn't miss anything, then rinse.

Put the measured water and lentils into a saucepan. Bring to a boil, then reduce to a simmer. Cook until the lentils are very soft and broken apart, partially covered. Most of the water will be absorbed and evaporated at this point. Remove from the heat.

Stir in the cayenne, salt, cumin, and turmeric.
To Assemble the Casserole
Add the peas and roasted veggies to the lentil "gravy" and stir.

Spread the veggie/lentil mixture into either one casserole dish or 6 individual casserole dishes.
To Prepare the Topping and Bake
Mix the dry ingredients together in a large bowl.

Pour the measured aquafaba into a separate medium-size mixing bowl.

Using a hand mixer, whip the aquafaba into a stiff meringue-like consistency. When ready, the meringue won't slide around when you turn the bowl upside down.

Fold the aquafaba into the dry ingredients.

Place dollops of the topping onto the casserole dish(es) and immediately put into the oven.

Bake for about 20 minutes or until the topping hardens into a golden crust.
Notes
If you roast everything on one sheet, the veggies will be too crowded and they'll steam instead of roast. Do you only have one baking sheet? No problem, simply roast half of the vegetables at a time.
Nutrition
Calories:
248
kcal
|
Carbohydrates:
42
g
|
Protein:
16
g
|
Fat:
2
g
|
Saturated Fat:
1
g
|
Sodium:
359
mg
|
Potassium:
948
mg
|
Fiber:
16
g
|
Sugar:
8
g
|
Vitamin A:
6112
IU
|
Vitamin C:
84
mg
|
Calcium:
63
mg
|
Iron:
4
mg
Optional Omnivore Variation
Mix cubed cooked chicken into the omnivore's ramekin before topping with the aquafaba. If making in one casserole dish (see below), add the cooked chicken to the omnivore's side of the casserole.