Have you ever had shredded Brussels sprouts stuffed portobellos? I never did until last night – wowza was it good!
I was brainstorming with a friend what else to put into my portobello stuffing besides the usual suspects – onion, celery, garlic, mushroom, sun dried tomatoes, crumbs. She casually said she was making Brussels sprouts for dinner and I immediately had an epiphany – of course!! Shredded Brussels sprouts in the stuffing would be amazing – and it was! We ate these incredible stuffed portobellos with baked potatoes and were ooohing and ahhhing the whole time.
I melted cashew cheese on top, but I'm sure this recipe would be fantastic with or without the cheese.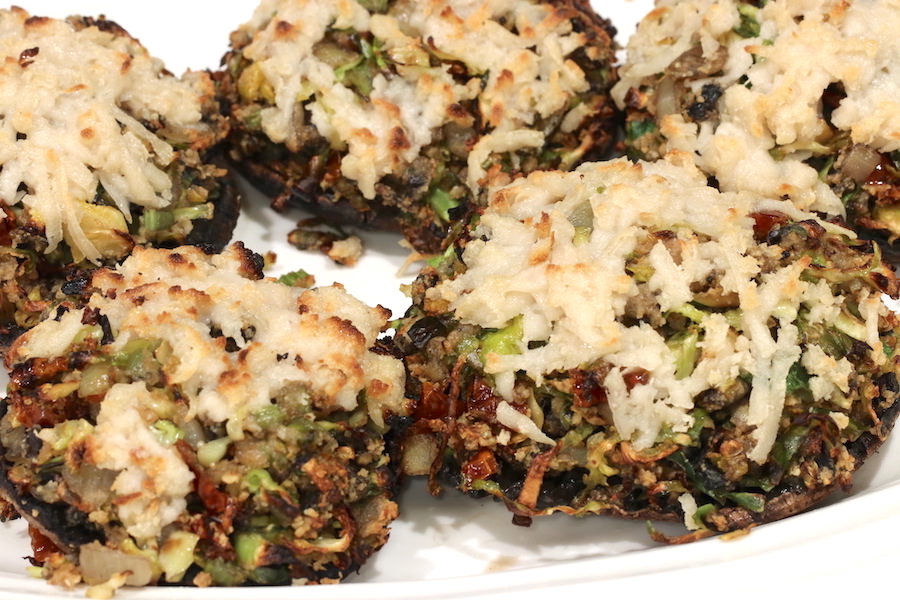 ---
Method Overview
Prepare the veggies.
Par-bake the portobellos prior to being stuffed.
Prepare the stuffing.
Press the stuffing onto the par-baked portobellos.
Top with grated cheese.
Bake.
---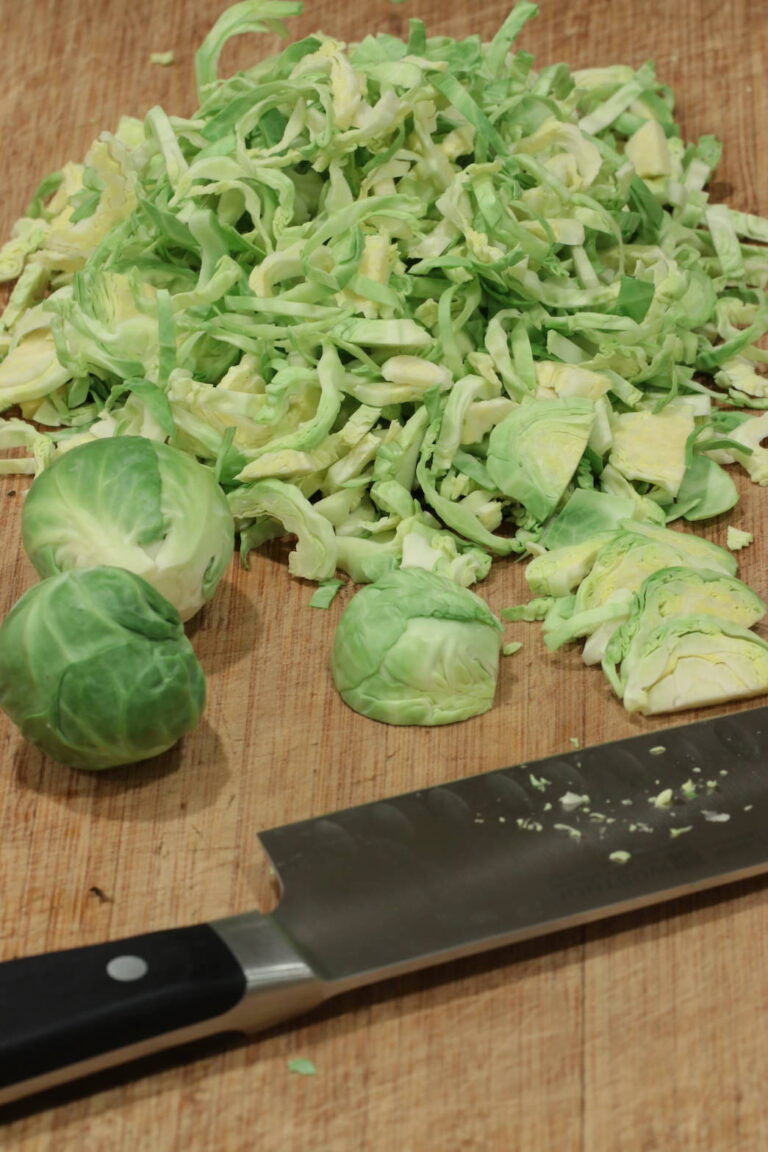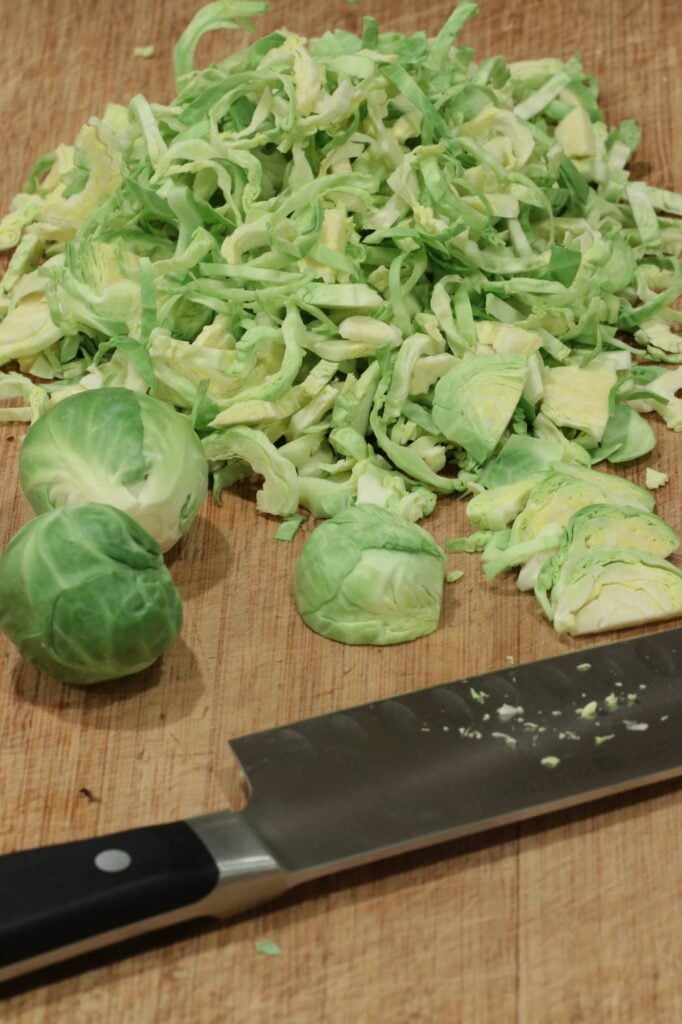 How to Shred Brussels Sprouts
Trim off some of the stem; peel away any discolored leaves. Cut each sprout in half from stem to tip. Lay each half on the cutting board and make thin slices (starting at the tip). Separate the shreds.
Brussels Sprouts Stuffed Portobellos
Servings:
6
stuffed mushrooms
Ingredients
1

medium onion

1

celery stalk

1

small jalapeño pepper,

optional

3

garlic cloves

¼

cup

diced sun-dried or dehydrated tomatoes

12

large Brussels sprouts

7

medium portobello mushrooms

2

Tablespoons

vegan butter (or olive oil), divided,

such as Miyoko's Organic Vegan Butter

1

Tablespoon

fresh thyme leaves,

or 1 teaspoon dried thyme

⅛

teaspoon

freshly ground black pepper

2

teaspoons

ground flaxseed

2

Tablespoons

water

½

cup

cracker crumbs or bread crumbs of your choice,

see FAQs below

3

ounces

grated cashew cheese, optional,

such as Miyoko's Fresh Vegan Mozzarella
Instructions
Small-dice the onion, celery, jalapeño, garlic, sun dried tomatoes. Knife shred the Brussels sprouts (see photo and directions).

Wipe debris from the mushroom caps with a paper towel. Pop off the stems and discard or save for making vegetable broth. You can also remove the gills if desired (see FAQs below).

Cover a baking sheet with parchment paper, then arrange 6 mushrooms face down (small dice the 7th mushroom to be used in the stuffing). Bake for about 10 minutes or until the mushrooms soften and release their liquid. Drain the liquid, flip the mushrooms over and bake another 5 minutes.

While the mushrooms are baking, sauté the veggies as follows. Heat 1 Tablespoon of the vegan butter (or oil) in a large skillet over medium-high heat with a bit of the onion. When it begins to gently sizzle add the rest of the onion, celery, jalapeño, garlic, and diced mushroom. Sauté, stirring occasionally, for about 5 minutes or until the veggies are softened and the diced mushroom has released its liquid and begun to turn golden. Stir in the thyme, and black pepper.

Scrape everything from the skillet into a bowl.

Stir the ground flaxseed and water together in a small cup. Set aside for about 10 minutes to create a "flax egg."

In the meantime, heat the second Tablespoon of vegan butter (or oil) in the same skillet over medium-high heat with a bit of the shredded Brussels sprouts. When it begins to gently sizzle, add the rest of the Brussels sprouts, and the sun-dried tomatoes. Cook, stirring often, for about 5 minutes or until the shreds are softened and golden. It's okay if some begin to char.

Return the cooked veggies to the skillet, add the crumbs, and mix everything together.

Drizzle the flax egg over the mixture and stir well.

By now, the mushrooms should be par-baked and ready to stuff. Using your hands, press stuffing onto each mushroom.

Top with grated cheese and bake for 15 to 20 minutes or until the cheese is melted. As an optional step, remove the parchment paper and broil the stuffed portobellos for about 30 seconds to make the cheese more melted and golden – and to char some of the Brussels sprouts.
Notes
If you don't top with grated cheese, the stuffed portobellos may not have to be baked for the full 15 to 20 minutes. Keep an eye on them; you don't want them to dry out.
For this recipe I made cracker crumbs from Simple Mills crackers. They are salty, so I didn't add salt to the stuffing. But if you use low-salt crumbs, you may want to add 1/4 to 1/2 teaspoon of salt.
Nutrition
Calories:
189
kcal
|
Carbohydrates:
20
g
|
Protein:
6
g
|
Fat:
12
g
|
Saturated Fat:
7
g
|
Sodium:
152
mg
|
Potassium:
741
mg
|
Fiber:
5
g
|
Sugar:
6
g
|
Vitamin A:
453
IU
|
Vitamin C:
49
mg
|
Calcium:
41
mg
|
Iron:
2
mg
FAQs
Should the portobello mushroom gills be removed?
They are edible and don't have to be removed. However, many chefs opt to remove them for a number of reasons.
Portobello mushroom gills are particularly dark and may darken the rest of the dish.
Substrate (the growing medium that the mushrooms are grown upon) may be hiding in the gills.
Some people find the gills to be slightly bitter.
Removing the gills does make room for more stuffing.
If you decide to remove them, here's how to do it. First pop off the stem. Then hold the mushroom in your hand and gently scrape off the gills with a spoon starting from the center of the mushroom and dragging the spoon outwards.
How do you make breadcrumbs from crackers?
You can use almond crackers, such as Simple Mills brand, to make healthy, gluten-free bread crumbs. Simply pulse them in your food processor or bullet blender until the crackers are evenly chopped into crumbs (don't overprocess). For reference, one box of Simple Mills almond crackers makes 1 cup of bread crumbs.