This three bean vegan butternut squash chili recipe is sweet and spicy and ohhh so delicious! The spicy comes from chopped jalapeño and warming spices. The sweet comes from butternut squash, fennel, onion, and roasted red peppers (if you want to roast your own peppers, another post I wrote about grill-roasting them may come in handy).
This recipe can easily be adjusted to satisfy omnivores. Instructions for an "optional omnivore variation" is noted at the bottom of the recipe card.
Vegan Butternut Squash Chili makes about 10 servings so it's perfect for large gatherings. Leftovers freeze well.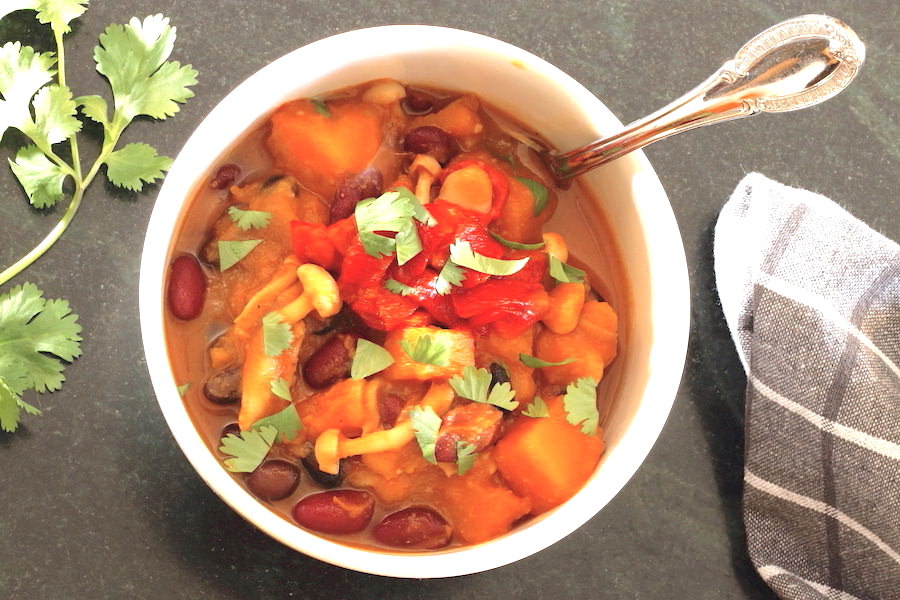 ---
Method Overview
Peel and cube butternut squash; cook in broth
Sauté onions, mushrooms, fennel, and jalapeño; stir in spices and tomato paste
Blend or mash some of the cooked squash
Combine all of the ingredients; heat through
Garnish with roasted peppers and cilantro
---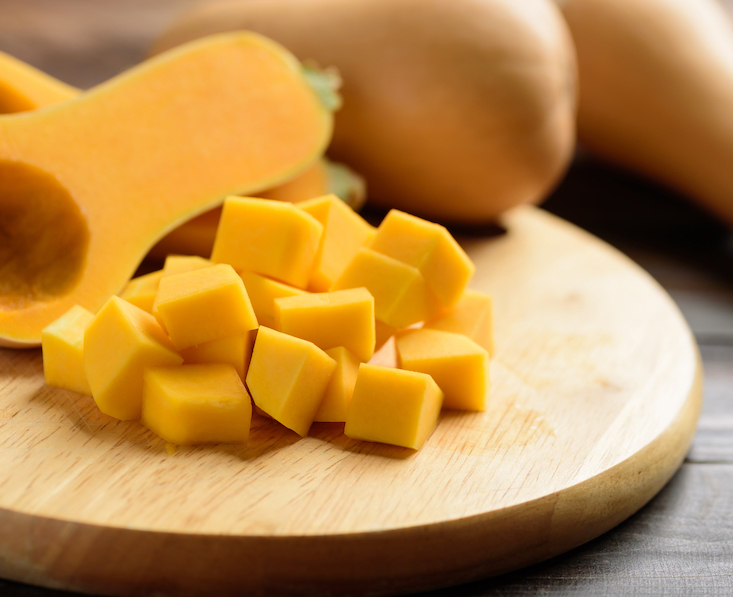 Our gardens usually produce A LOT of butternut squash, but this year we didn't get a one. We can't even blame it on the dry weather because our neighbors Wendy and Steve, novice gardeners, harvested a huge crop! Fortunately, they generously gifted us with three squash which I used when developing this recipe 🙂
Vegan Butternut Squash Chili
Sweet and spicy butternut squash chili – ohhh so delicious!
Equipment
soup pot

skillet

blender or potato masher
Ingredients
1

medium

butternut squash, cubed (about 10 cups)

6

cups

veggie broth, low sodium

1

small

fennel bulb

2

Tablespoon

olive oil

1

large

yellow onion, diced

10

ounces

white beech mushrooms, see photos and instructions below

(or other mushrooms of your choice, diced)

1

jalapeño pepper, minced

1-1/2

teaspoons

cumin

1-1/2

teaspoons

chili powder

1-1/2

teaspoons

ancho chili powder

1-1/2

teaspoons

paprika

1

teaspoon

Himalayan sea salt

3

Tablespoons

tomato paste

1

(15-ounce) can

unsalted butter beans (baby limas), rinsed

1

(15-ounce) can

unsalted black beans, rinsed

1

(15-ounce) can

unsalted red kidney beans, rinsed

4

roasted red peppers, diced, for garnish

Cilantro, for garnish
Instructions
Peel the butternut squash, scoop out the seeds with a grapefruit spoon, and cut into 1-inch cubes. Put the cubes into a large soup pot with the veggie broth. Mostly cover the pot and bring to a simmer; cook until the squash is fork tender. Stir occasionally and adjust the heat if necessary to keep it at a gentle simmer.

In the meantime, prepare the fennel as follows; you'll only be using the bulb. Cut the stems from the bulb and slice off a bit of the base. Remove any wilted or tough outer layers. The fronds and stems don't have to be discarded. You can save them for another recipe.

Cut the bulb in half, then cut each half into thin slices.

Heat the oil in a large skillet over medium-high heat with a bit of onion. When it begins to gently sizzle, add the remaining onion and mushrooms; cook, stirring often, for about 5 minutes, or until softened.

Add the fennel and jalapeño to the skillet and cook, stirring often, for another few minutes.

Add the spices, salt, and tomato paste to the skillet; stir and cook for about 30 more seconds.

When the squash is tender, remove 4 cups and blend or mash well. Return the blended/mashed squash back to the soup pot.

Also add the cooked veggies and beans to the soup pot and heat everything through.

When serving, garnish each bowl with roasted peppers and cilantro.
Notes
As an option, dollop each bowl with coconut milk yogurt or almond milk yogurt before garnishing
Or add a dollop of Creamy Dill Sauce and Dressing
I find that this chili is even better the next day
Optional Omnivore Variation – After all of the ingredients are combined, ladle the omnivore's portion into another pot. Add cooked and drained ground beef or turkey to the omnivore's chili and heat through. Serve and garnish per main recipe.
Nutrition
Calories:
206
kcal
|
Carbohydrates:
36.7
g
|
Protein:
10.3
g
|
Fat:
3.8
g
|
Saturated Fat:
1.4
g
|
Sodium:
259
mg
|
Potassium:
1023
mg
|
Fiber:
12
g
|
Sugar:
4
g
|
Vitamin A:
8491
IU
|
Vitamin C:
32
mg
|
Calcium:
81
mg
|
Iron:
5
mg
This recipe can be prepared oil-free by following the instructions for cooking without oil.
I love organic Bunapi white beech mushrooms by Hokto Kinoko! The white ones are milder than the brown beech mushrooms. They don't need to be washed, and prepping them is easy. Simply slice off about 1/8-inch from the base. They easily separate into individual cutie pie mushrooms.
Chili Powder vs Ancho Chili Powder
What's the difference between chili powder and ancho chili powder?
Ancho chili powder is made by grinding dried fully ripened (red) poblano peppers. It is mildly hot and has a smokey, rich flavor with a hint of raisin. Chili powder is a blend of ingredients such as hot chili pepper, cumin, onion powder, and garlic powder.
---
If you like this recipe, try my Warming Anti-inflammatory Soup which also features butternut squash.