I dare you to resist these crispy vegan potato wedges roasted with plenty of herbs and limited oil! In addition to being healthy, they are incredibly easy to make. This recipe will definitely satisfy any urges you may have for french fries – and you'll feel great afterwards instead of gross 🙂 I love eating them with ketchup and dips such as my Creamy Dill Sauce and Dressing recipe. If you have my cookbook (if not, why not?) try these crispy herb roasted vegan potato wedges with the Buffalo Sauce and Romesco Sauce recipes in my book.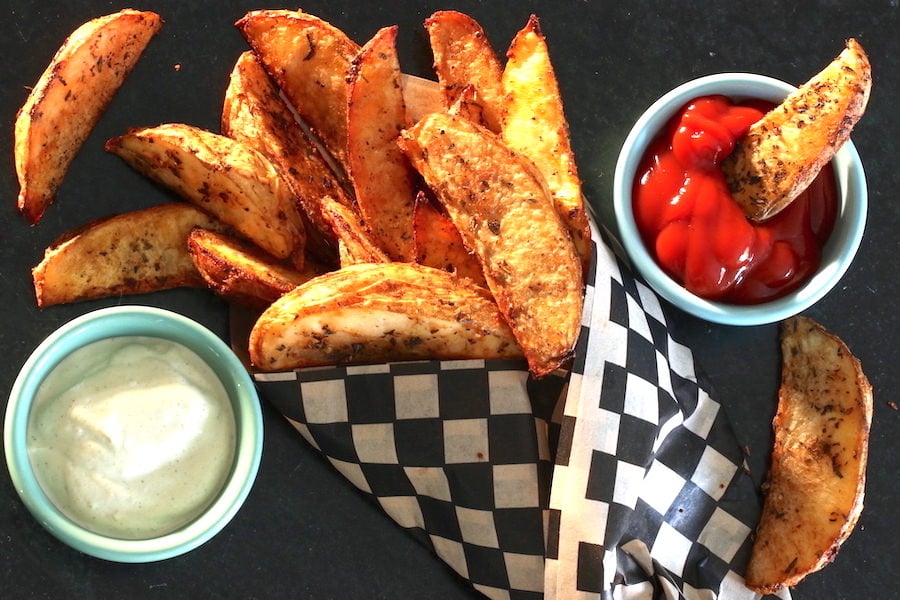 Potato wedges come out crispier when cooked directly on a metal pan. That's why I use my 14-inch cast iron pizza pan for this recipe.
If you don't have a large cast iron flat pan, you can use a parchment covered aluminum baking sheet; however, your wedges may not come out as crispy. Then why not cook them on the aluminum sheet directly? Aluminum cookware has been shown to leach aluminum into food. Yuk! I delve into the hazards of aluminum in an article that I wrote for Mother Earth News called Aluminum and Microbes: Research Linking these Factors to Dementia.
---
Method Overview
Wash and cut potatoes into wedges
Toss the wedges with oil and herbs/spices
Arrange on pan single layer
Bake, flip, bake
---
Vegan Potato Wedges (Herb Roasted)
Equipment
large cast iron pan such as a 14-inch pizza pan, or large baking sheet
Ingredients
1-1/2

pounds

medium-small Yukon Gold potatoes, about 4 potatoes

2

Tablespoons

avocado oil or olive oil

1/2

teaspoon

Himalayan sea salt

1/2

teaspoon

garlic powder

1/2

teaspoon

dried oregano

1/2

teaspoon

dried basil

1/2

teaspoon

dried thyme

1/2

teaspoon

sage and rosemary blend (see FAQs below),

or dried rosemary

1/2

teaspoon

paprika of your choice (hot, sweet, or smoked)
Instructions
If using a cast iron pan, coat it with a bit of oil using a pastry brush or paper towel. If your pan is well seasoned you can skip this step.

Wash potatoes and cut each of them into 8 to 12 wedges (see FAQs below).

Measure the oil into a large bowl. Add the potato wedges and toss well so they are evenly coated.

Sprinkle with all of the herbs and spices, then toss again.

Arrange the wedges single layer on the baking pan. Use a soft spatula to scrape any remaining oil, herbs, and spices from the bowl; drip onto the potatoes.

Bake for 30 minutes. Remove the pan from the oven and turn each wedge over. Bake them for another 20 to 30 minutes until crispy.
Notes
There's no need to peel the potatoes unless you are using a variety with a thick skin such as Russet.
Nutrition
Calories:
109
kcal
|
Carbohydrates:
11
g
|
Protein:
1
g
|
Fat:
7
g
|
Saturated Fat:
1
g
|
Sodium:
217
mg
|
Potassium:
239
mg
|
Fiber:
1
g
|
Sugar:
1
g
|
Vitamin A:
123
IU
|
Vitamin C:
11
mg
|
Calcium:
14
mg
|
Iron:
1
mg
FAQs
How to cut potatoes into wedges
Cut the first potato in half longwise. Place each half facedown on the cutting board and cut in half again longwise. So now you have 4 quarters. Cut each of the 4 quarters longwise into halves or thirds and now you have 8 to 12 wedges. Repeat with rest of potatoes.
How to make sage and rosemary blend
Thoroughly blend equal amounts of dried sage and dried rosemary using a spice grinder or bullet blender (some have a milling blade).

My sage and rosemary blend backstory
My husband planted a long row of sage many years ago. This same sage row keeps coming back each summer and gifts us with plenty of this aromatic herb. I dry enough annually to fill several large grocery bags. Years ago I decided to try blending the dried sage leaves with dried rosemary. Wowza! What a game changer. It's delicious when added to soups, stews, casseroles, salads, dressing, and more. Oh, and it's perfectly suited for all potato dishes!
These herb roasted Vegan Potato Wedges are delicious served with my Grillable Veggie Burgers!