Tomatillos are also called husk tomatoes because they grow wrapped in a thin paper-like husk, and they look like small green tomatoes. Let's be clear, though – they are not tomatoes. They are denser, and have a unique bright, tart, and fruity flavor well suited for making tomatillo salsa. This spicy tomatillo salsa recipe calls for roasting the tomatillos to deepen their flavor. They can also be eaten raw, grilled, or simmered.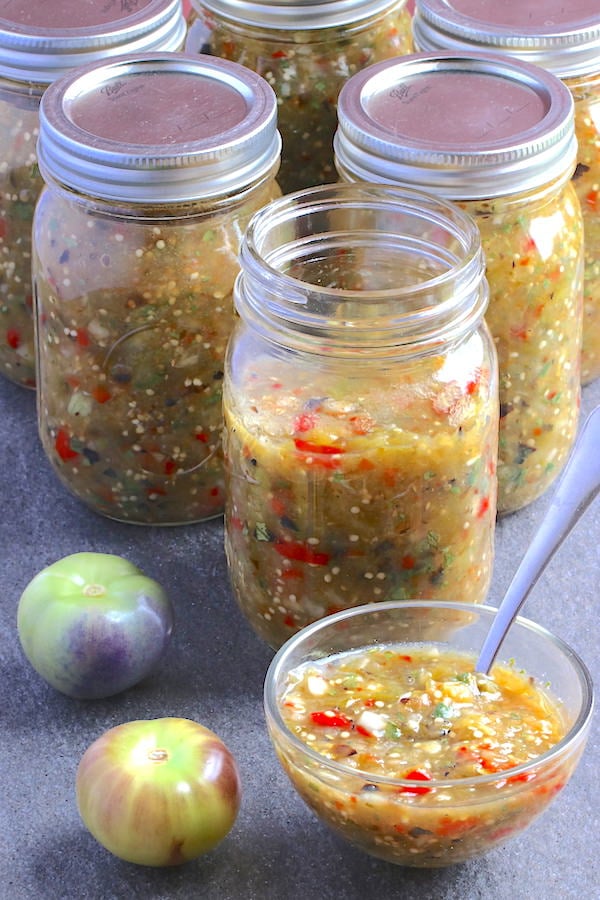 Tomatillos are very prolific when grown in the garden. In fact, this season we had enough to make 12 pints of salsa for the freezer (I doubled the recipe and then made it 4 times). I used jalapeños from our garden; they were fully ripe and had turned red. If you use green jalapeños, the salsa will be a brighter shade of green. Either way this spicy tomatillo salsa is delicious!
---
Method Overview
Broil roast tomatillos and peppers
Remove skins and seeds from peppers
Place all of the ingredients into a food processor
Pulse until salsa is at desired consistency
---
Spicy Tomatillo Salsa
This recipe makes approximately 2-1/2 cups
Equipment
rimmed baking sheet

food processor
Ingredients
1-1/2

pounds

tomatillos, husked and rinsed

1 or 2

medium

jalapenos

1

small

poblano pepper

1/2

cup

diced yellow onion

1

garlic clove, diced

3

Tablespoons

freshly squeezed lime juice or lemon juice

1/3

cup

fresh cilantro leaves, packed

1/4 – 1/2

teaspoon

ground cumin

1/2

teaspoon

Himalayan sea salt
Instructions
Put the tomatillos, jalapeño pepper(s), and poblano pepper onto a baking sheet. Broil, about 6 inches from the heat for about 5 minutes. Remove the sheet from the oven and turn everything over, then broil for about 4 more minutes. Everything will be blackened in spots, and the tomatillos will have released some of their juices.

In the meantime, put the remaining ingredients into a food processor.

When ready, remove the sheet from the broiler and let cool.

Cut the peppers in half and remove the seeds and stems; also remove most of the charred skin.

Put the tomatillos, their juices, and the peppers into the food processor and pulse until the salsa is at the desired consistency (I prefer it a bit chunky).
Notes
Some jalapeños and poblanos are riper, thus hotter than others. Taste a tiny bit to gauge the level of heat, then you'll know how much to add to the recipe.
If you are sensitive, wear gloves when working with jalapeños and poblanos so you don't burn your hands (the seeds contain the most heat). Don't touch your eyes or face until you've washed up.
Please note, this recipe is not meant to be canned.
Nutrition
Serving:
2
Tablespoons
|
Calories:
4
kcal
|
Carbohydrates:
1
g
|
Protein:
1
g
|
Fat:
1
g
|
Sodium:
22
mg
|
Potassium:
26
mg
|
Fiber:
1
g
|
Sugar:
1
g
|
Vitamin A:
32
IU
|
Vitamin C:
4
mg
|
Calcium:
1
mg
|
Iron:
1
mg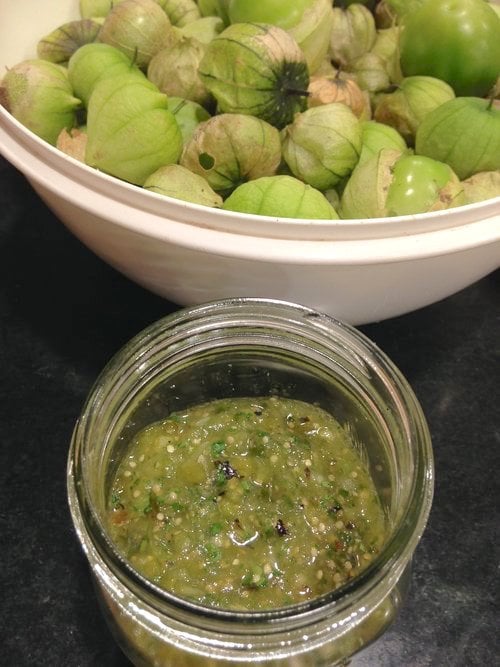 FAQs
Can you freeze homemade salsa?
Yes! You can freeze salsa in either glass mason jars or plastic bags.
Freezing in glass jars
• Place the salsa in clean, pint-sized mason jars
• Look for the words "fill line" etched near the top of the mason jars. Don't fill beyond that line. The jars may crack if they are overfilled when the product heaves and expands.
• As an optional step, lay a piece of parchment paper on top of the salsa to prevent freezer burn.
• Cap the jars, label, and place in your freezer. For best results the temperature should be 0ºF or lower. The rear and lower shelves of the freezer tend to be the coldest locations.
Freezing in plastic bags
• You may prefer to freeze the salsa in bags so you can stack them in flat packages. A vacuum sealer such as a FoodSaver helps to remove the air from the packages so the quality is preserved. The FoodSaver bags are BPA-free.
• Salsa can also be frozen in zip top style freezer bags; however, it may develop freezer burn if air leaks back into the bags. Use your hands to try and squeeze as much air from the bag as possible before locking. Then open just enough of the seal to slide a straw into the bag. Suck out any remaining air through the straw and seal well. Consider using a freezer bag with a double seal; some are BPA-free.
If you like this recipe for Spicy Tomatillo Salsa, you may also like my Salsa Roma recipe.