Salsa Roma is a fresh tasting garden salsa recipe made with Roma tomatoes, and it's suitable for freezing or canning. My husband grows several varieties of Roma tomatoes every year – approximately 100 plants in total. That's a lot of tomatoes! I preserve them by making salsa, tomato puree, and more for the freezer and/or pantry.
Roma tomatoes are denser and contain less water than table tomatoes. Jamie typically grows three varieties: Grandma Mary's, Hoghart, and Amish Paste. When possible, I use a combination of all three varieties in my recipes.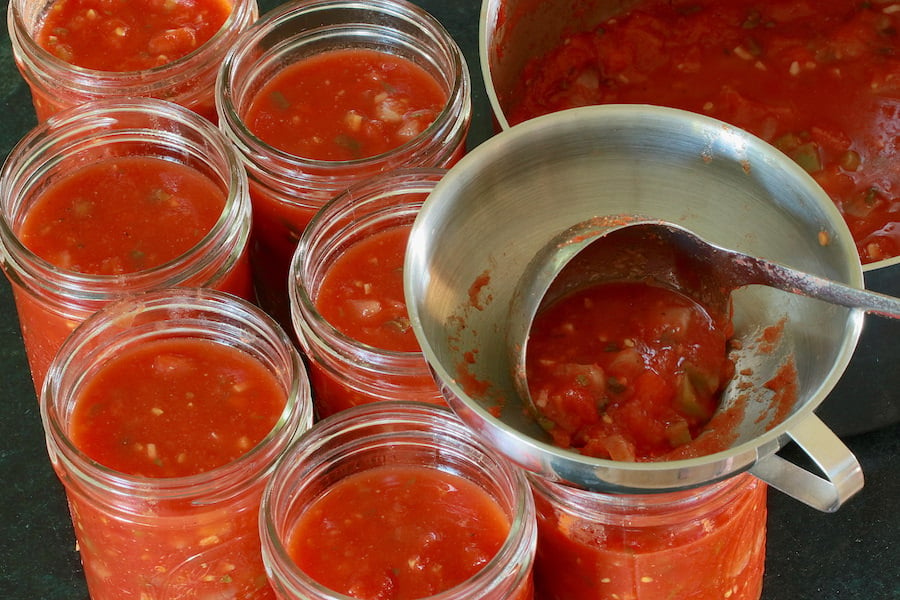 ---
Method Overview
Wash, blanch, peel, chop tomatoes
Chop peppers, onions, garlic, cilantro
Combine all ingredients, then briefly boil
Freeze the salsa, or can in mason jars
---
Roma Salsa
Salsa Roma is a fresh tasting garden salsa recipe made with Roma tomatoes, and it's suitable for freezing or canning.
Equipment
large pot for blanching tomatoes

large bowl (for ice water bath)

heavy bottomed pot for cooking salsa with lid

canning or freezing equipment
Ingredients
Roma tomatoes,

about 5 pounds (prepare tomatoes and measure 8 cups)

2

cups

tomato puree

2

cups

tomato paste, optional

2/3

cup

5% apple cider vinegar

1

cup

chopped green bell pepper

2

cups

chopped onions

3 to 5

jalapeño peppers, remove seeds and dice

6

garlic cloves,

diced

2

teaspoons

ground cumin

2

teaspoons

freshly ground black pepper

1

Tablespoon

sea salt

1/2

cup

chopped fresh cilantro
Instructions
Wash the tomatoes. Blanch them for 90 seconds, then plunge into a bowl of ice water.

Core each tomato, slip off the skin, then chop.

Measure 8 cups of chopped tomatoes, and place in a heavy bottomed pot. Keep the pot covered while you prepare the rest of the ingredients.

Stir in the tomato puree, tomato paste, apple cider vinegar, salt, cumin, and pepper.

Stir in the onions, green bell pepper, jalapeños, garlic, and cilantro.

Place over medium-high heat and bring to a boil. Reduce the heat to keep at a simmer and cook, uncovered, for 20 minutes.
Freezing
After Salsa Roma has cooled down, it can be frozen in half-pint, pint, or pint-and-a-half size canning jars. Fill jars to the "fill line" etched into the top of the mason jars, cover tightly. For best results freeze at 0º; the back of the freezer tends to be the coldest area.

You can also freeze this recipe in flat packages using a vacuum sealer. I describe how to in another post I wrote entitled, "Vacuum Seal Liquids: Easy Method."
Canning
Fill clean, hot pint-size canning jars – leaving 1/2-inch headspace. Remove air bubbles and then adjust headspace if necessary. Wipe the rims, place a lid on each jar, and screw on the bands until finger-tight.

Process in a boiling water bath for 15 minutes if the elevation where you live is 1000 feet or less. If your elevation is 1001 to 3000 feet, process for 20 minutes.
Notes
If you are going to freeze this salsa, you can safely alter the recipe.
When canning Salsa Roma, please prepare the recipe as written to be sure the final product is acidic enough to be shelf stable.
Canning salsa
Most homemade salsa recipes cannot be safely canned! This recipe; however, is safe for canning because it was rigorously lab tested by the MI State Extension Service for Annie Barnes, the original creator of this recipe. Annie graciously allows me to share it online.
Recipes that are not kitchen lab tested may be a potential breeding ground for botulism or other microorganisms. Foods to be canned need to be acidic enough so these offenders cannot grow. The density of the food is also a factor. Please don't can anything unless it's been approved by the National Center for Home Food Preservation (NCHFP), or a state extension service. Recipes in Ball books, or other recipes sanctioned by "master canners" should also be safe.
Freezing salsa
Yes, salsa freezes well. It is an easier process compared to canning. In addition, you don't have to worry about the PH or density of the salsa when freezing – so you can adjust recipes and not worry about safety. Some people find that the taste is actually brighter and fresher compared to canned salsa. This is probably because the boiling water bath step isn't necessary, so the salsa doesn't end up cooking as long.
Freezing salsa in jars
Salsa can be frozen in half-pint, pint, or pint-and-a-half sized jars. Quart sized jars are not rated for freezing and may crack when salsa (or other food products) freeze and heave upwards.
The words "fill line" are etched into mason jars near the rim; don't go beyond the fill line. If you don't leave headspace, the jar may crack when the food freezes and heaves upwards.
Freezing salsa in flat packages
Yes, you can freeze salsa and other liquid products in flat packages. I explain how in another of my posts entitled Vacuum Seal Liquids: Easy Method.
How long does homemade salsa last?
Frozen:
Salsa and other foods can stay frozen indefinitely, but it is best to eat them within 6 months for optimal nutrients.

Canned:
Per the National Center for Home Food Preservation – use canned food within a year for the best quality.
How long does salsa last in the fridge?
If kept refrigerated, salsa should last 5 to 7 days. Check for signs of mold on the lid and surface.
What to do with Roma tomatoes?
Roma tomatoes can be used for making salsa, tomato sauce and puree, pasta fresca, bruschetta, and more. They can be roasted and also dehydrated. Consider using them sliced as a pizza topping or adding them to wraps.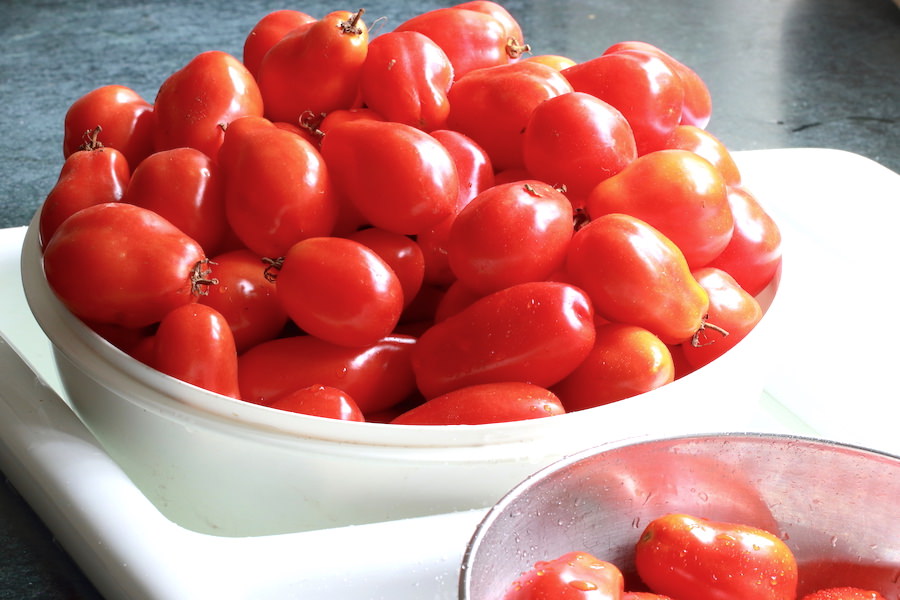 If you enjoy this Salsa Roma recipe, you may also enjoy my Spicy Tomatillo Salsa.