I created the video below to demonstrate how to make and freeze tomato puree in plastic or glass. You could say that I'm a bit of an expert on this topic. My husband Jamie grows a huge crop of Roma tomatoes each summer; he's been doing this for over 35 years and is quite good at it. I'm tasked with preserving the harvest, which I do willingly because in the end I have enough tomato puree to last the entire year. We use this puree for making pasta sauce, pizza sauce, tomato soup, stews, green beans marinara, chili, tomato paste, and more.
My goal is to put up at least 52 quarts of puree each summer – which means Jamie has to grow close to 100 Roma tomato plants. The varieties that we enjoy the most are called "Hog Heart," "Amish Paste," and "Grandma Mary's." Each half bushel basket generously filled with tomatoes will yield 7 to 8 quarts of tomato puree.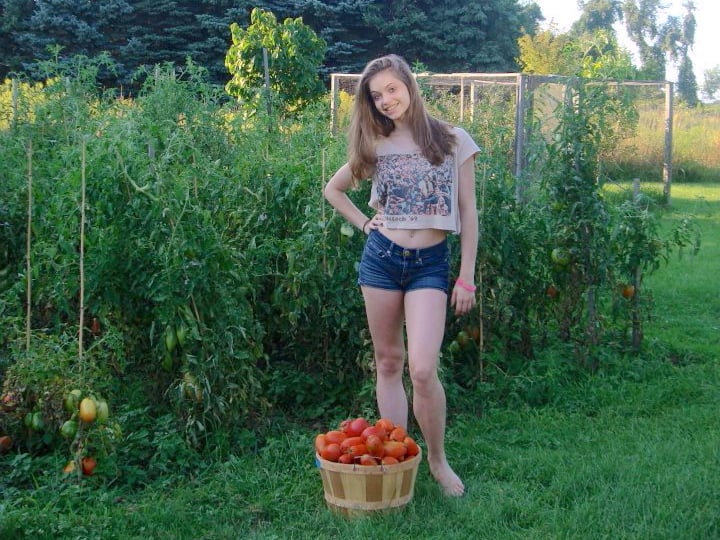 ---
Method Overview
Wash tomatoes and remove stems
Core; cut away any blemishes
Cut into quarters or sixths
Blend using a high speed blender until hot and steamy
Pour into a heavy bottomed pot and simmer until reduced by almost half; stir occasionally
Freeze in plastic bags or glass jars
---
FAQs
What's the difference between tomato puree and tomato sauce?
Tomato puree contains one ingredient – tomatoes. Tomato sauce (AKA pasta sauce) is prepared with tomatoes plus herbs, spices, oil, garlic, and the like.
Tomato paste vs puree?
Tomato paste is a thicker version of puree.
What are the best tomato varieties for making puree, sauce, and paste?
Paste, plum, and Roma tomato varieties are the most desirable for these uses.
How long does tomato puree last in the freezer?
The official answer is six months; however, I routinely keep it for nine months or more. After six months the flavor and nutrients are reportedly diminished.
Pros and Cons of Canning vs Freezing Puree
Canning
It takes more time and steps to can puree
Requires the use of a boiling water bath canning pot and accessories
Creates a shelf stable product to be kept in a cool, dark location
Puree is stored in glass jars
Vinegar, lemon juice, or citric acid must be added to puree to ensure a safe product
Freezing
It's faster and easier to freeze puree
Requires the use of a freezer (and electricity)
Puree can be stored in BPA-free plastic or glass mason jars
There is less chance for puree to become contaminated when freezing vs canning
If you're fortunate enough to have ripe heirloom tomatoes, try making my Stuffed Tomatoes with Quinoa recipe. Looking for a way to preserve an abundance of grape or cherry tomatoes? Check out my post Dehydrating Grape and Cherry Tomatoes.