Read on to learn how to peel tomatoes and how to deseed tomatoes – the traditional way. This will create a silky smooth tomato puree suitable for canning or freezing – and can be used for making pasta sauce, tomato soup, chili, stews, and more.
Each summer my husband grows several varieties of Roma tomatoes; I freeze and/or can many quarts to last us through the winter. In another post, "How to Make and Freeze Tomato Puree," I describe the pros and cons of canning versus freezing. Over the years I have found that there is a time and a place for each method. Here's the gist:
Should you can or freeze tomatoes?
Here are the pros and cons:
Canning
Takes more time because you have to remove the tomato skins. Why remove the skins? You want to eliminate any risk of contamination when canning, and the skins tend to harbor bacteria and other microbes.
For textural reasons, you then need to either remove the seeds using a food mill, or thoroughly blend the tomatoes in a high-speed blender so the seeds aren't detectable.
Freezing
An easier process because you don't have to remove the skins or seeds. You can simply blend the tomatoes using a high-speed blender to reach a smooth consistency.
To do it right, you need a vacuum sealer for creating air tight packages, and a deep freezer to stack them in.
Please note, only a high-speed blender adequately pulverizes the seeds and creates a smooth texture. A regular blender, or bullet blender, just isn't cut out for the job.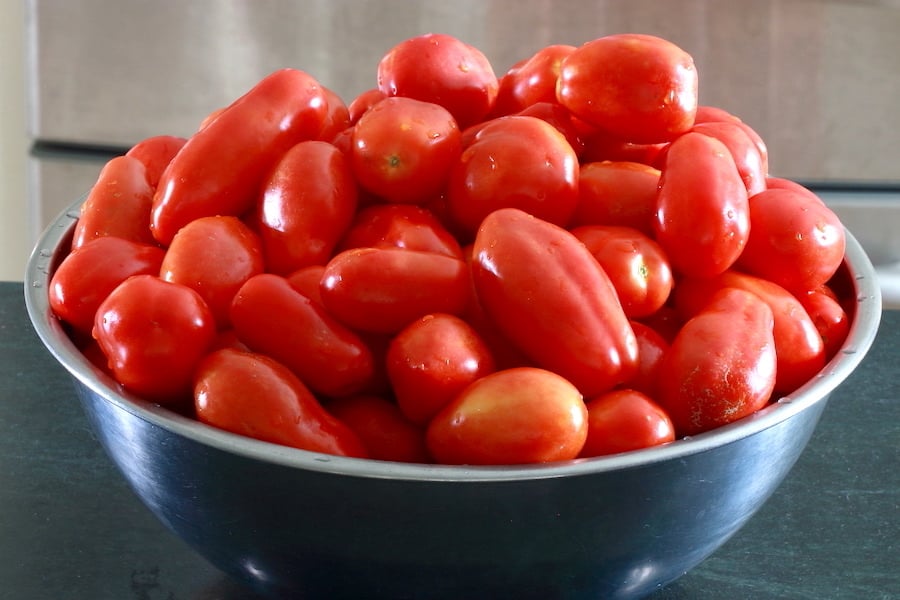 Jamie picked these yesterday, and although it isn't a huge amount I went ahead and made puree. I took photos along the way for this tutorial. Hopefully we'll harvest a lot more, but honestly it's questionable because Jamie's 100+ tomato plants aren't thriving this summer. The excessive rain and humidity has taken its toll. Today is sunny and dry though (finally!), so maybe they'll bounce back!
When I was 20-something, my neighbor Louise Botsford taught me this traditional method; she had been canning tomatoes for decades. Now I'm that neighbor, and I'm sharing this process with you.

Judy Delorenzo
FAQs
What the heck is a food mill?
A food mill is a nifty manually powered device useful for puréeing foods. It's very effective for separating seeds from the liquid.

It looks like a wide-mouthed bowl with a handle and a manual crank. It has legs to hold it steady over a bowl/pot while you're turning the knob. The bottom of the bowl is a sieve, allowing the liquid to drip through.

I used a Foley brand food mill for over ten years before it needed replacing. I bought a new Foley, but immediately brought it back because it was leaking machine oil into my tomatoes! Not cool. I then purchased an OXO food mill, which I am very happy with. I love the foldable non-slip legs, and cushioned handle.

If you are in the market to buy a food mill, look for one that has a stainless steel (not aluminum) bowl.
What kind of tomatoes are best for making puree?
There are several varieties of Roma tomatoes that can be used for making puree. Jamie typically grows Hogheart, Grandma Mary's, and Amish Paste for this purpose.
Can you use imperfect tomatoes when canning?
No! If you plan on canning your puree, then it's important to use ripe, unblemished, freshly picked tomatoes. When canning you want to eliminate any risks to ensure a shelf stable product. Blemished, rotting, imperfect tomatoes are more prone to bacteria and other microbes.
How do you can?
That's another blog post in and of itself! I will say, it's important to take canning seriously to ensure a shelf stable product. Don't cut corners. Follow a lab tested procedure such as what is described by the National Center for Home Food Preservation or university extension services.

If you plan on canning tomato puree, it needs to be processed in a boiling water bath (not open kettle) following a strict procedure. You will be instructed to add lemon, vinegar, or citric acid to your jars before adding the puree – don't skip this step – it insures your product is acidic enough to be inhospitable to botulism or other food born pathogens. And as I've already pointed out, it's important to remove the tomato skins if you are planning on canning puree.
Method overview for preparing tomato puree the traditional way
Wash tomatoes
Blanch, plunge into ice water, slip off skins
Use food mill to remove the seeds (or pulverize in high-speed food processor)
Boil puree until it reduces to desired texture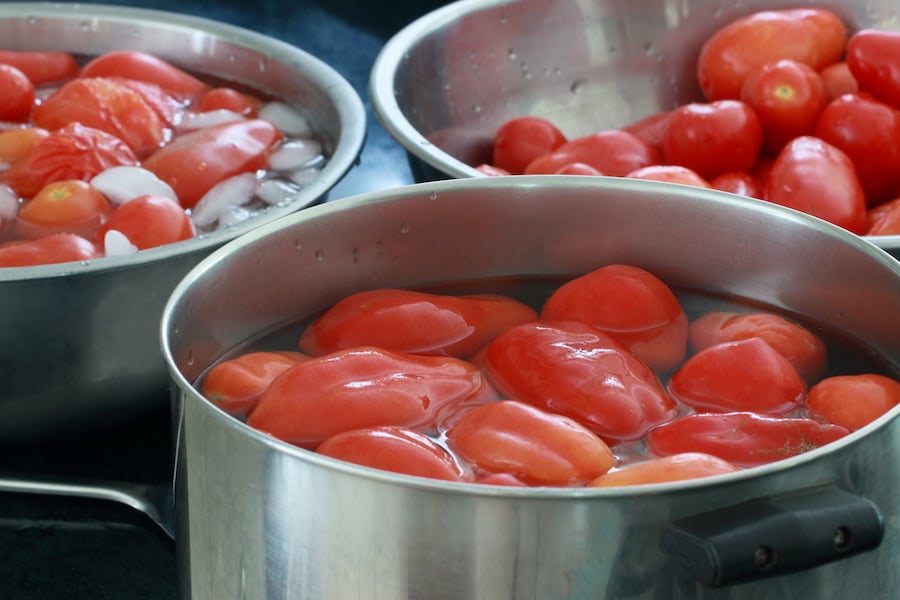 ---
Use a slotted spoon to transfer the tomatoes into the boiling water, and from the boiling water to the ice water. As always, be careful around boiling water and other boiling liquids.
---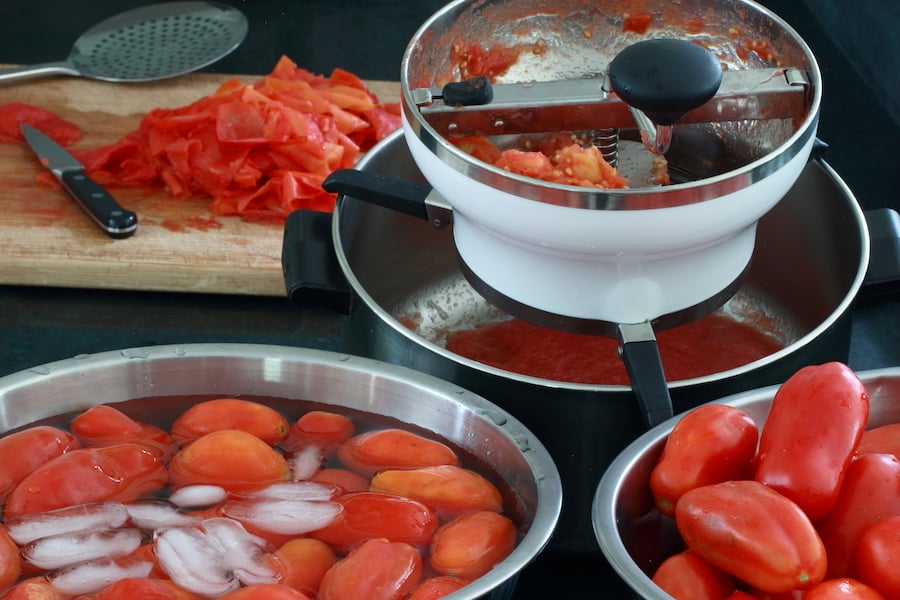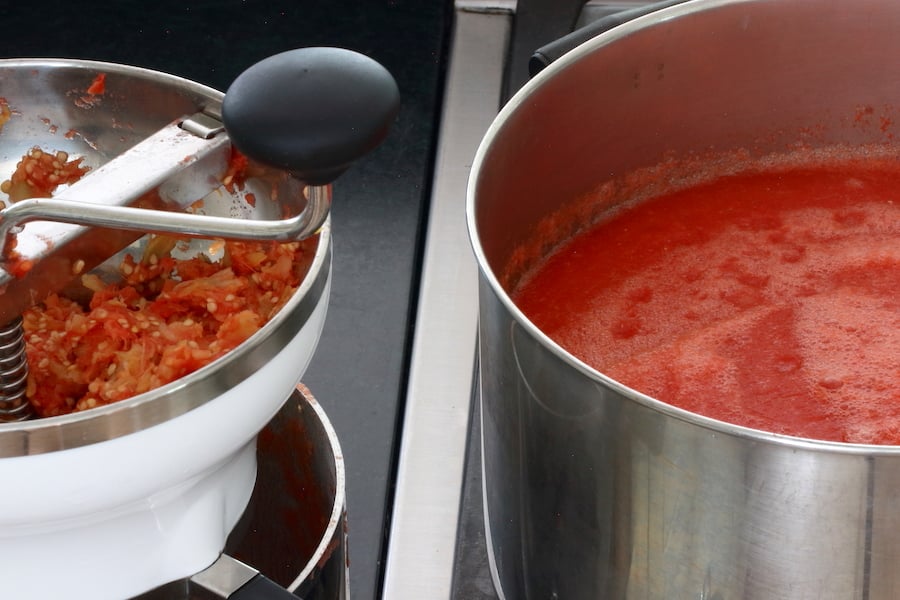 How to Peel Tomatoes|How to Deseed Tomatoes
This method will create a silky smooth tomato puree suitable for canning, making pasta sauce, tomato soup, and more.
Equipment
large pots (for blanching the tomatoes and cooking down the puree)

large bowl (for ice water bath)

food mill to deseed (and bowl/pot to catch the juices)

optional: high-speed blender can be used to pulverize the seeds instead of a food mill to remove the seeds
Ingredients
1/2

bushel

Roma tomatoes (generously filled 1/2 bushel)
Instructions
Set a large pot of water (about 3/4 full) on the stove over high heat and bring it to a boil.

In the meantime, get set up:

• Remove the tomato stems; thoroughly wash the tomatoes.

• Fill a large bowl with ice water.

• Set your food mill over another bowl or pot.

Using a slotted spoon, transfer a workable portion of the tomatoes into the boiling water. After just a few minutes, the tomato skins will start to pucker. That's the sign it's time to transfer them into the bowl of ice water.

The skins will be easy to peel off with your fingers. Slip off the skins, quarter the tomatoes, and put them into your food mill.

Crank the mill so the tomato juice is released into the bowl/pot (three cranks clockwise, then one crank counterclockwise; repeat).

Repeat this whole process, in workable batches, until all of the tomatoes have been processed.

At this point, you should have a couple of large pots filled with smooth textured tomato juice. Place, uncovered, over medium-high heat and bring to a simmer. Simmer, stirring occasionally, until the juice starts to thicken. Once it starts to thicken, be more attentive and stir more often. Continue in this way until it reaches the consistency of tomato puree, similar to what you would buy in the market.

This step will take about an hour, give or take, depending on how watery your tomatoes are.
Notes
As you go along, you will need to add more ice to your ice bath.
If you prefer, use a high-speed blender to pulverize the tomato seeds instead of removing them with a food mill. After removing the skins, simply add quartered tomatoes to your high-speed blender (in batches) and process until hot and steamy. When using this method you still need to boil the resulting tomato juice down into puree as described in the last step above.
If you like this post, How to Peel Tomatoes|How to Deseed Tomatoes, you may also enjoy Dehydrating Grape and Cherry Tomatoes.
.