If you're like me, you only eat fresh grape and cherry tomatoes when they're in-season, vine ripened, and just picked. Compare the bright flavor of summertime tomatoes to the anemic taste of off-season hothouse tomatoes and there's no contest! Want to preserve their incredible taste? Consider dehydrating them!
Dehydrating grape and cherry tomatoes creates an intense burst of flavor and color. If you grow your own garden I suggest planting extra grape tomatoes and/or cherries just for this purpose. If you don't have your own bumper crop, see if a local farm or market will sell you them in quantity at a discount.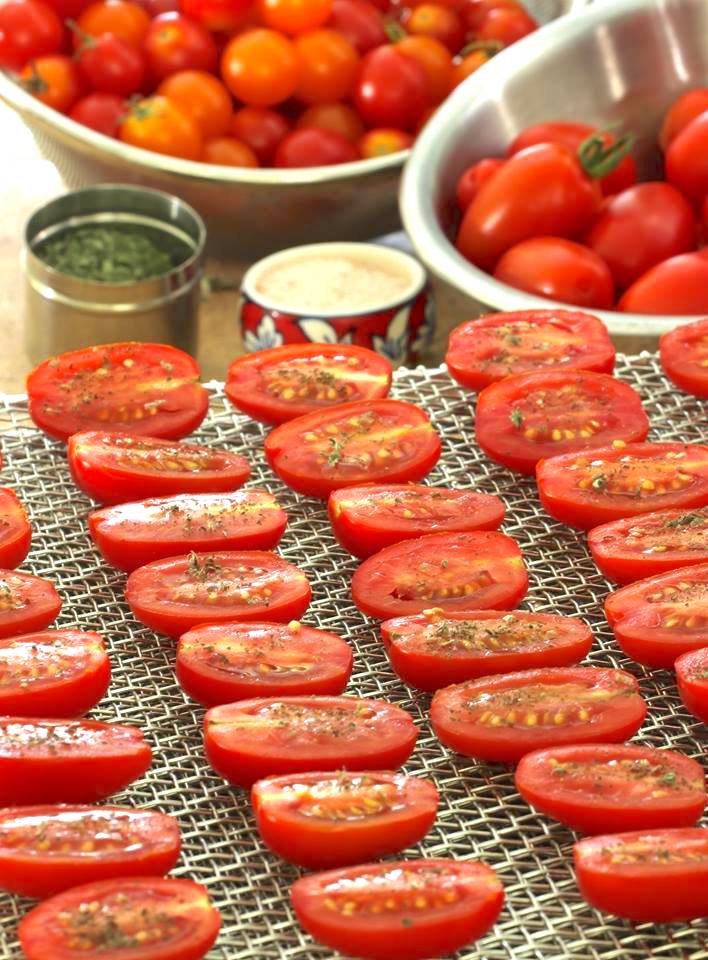 Dehydrating Grape and Cherry Tomatoes
"Moist-Dry" versus "Leathery-Dry"
I prefer dehydrating grape and cherry tomatoes until they are almost dry; I store these moist gems in the freezer. Dry completely if you prefer to store them in your pantry, otherwise they'll grow mold.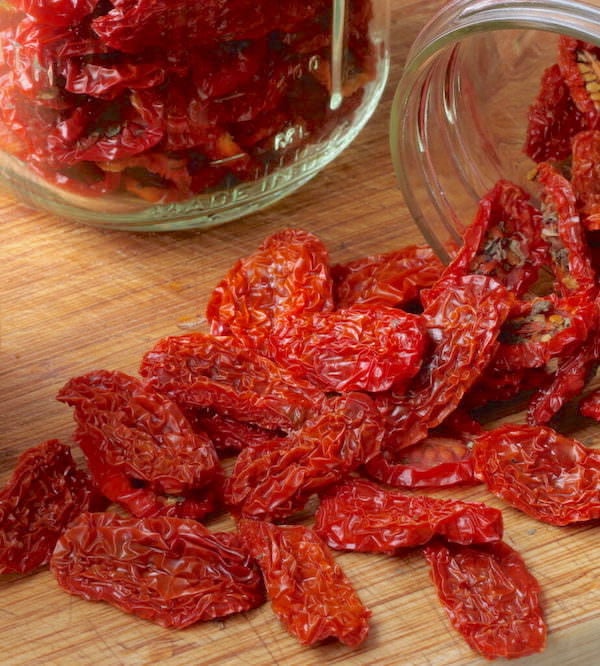 ---
Drying Tomatoes in a Dehydrator
Method Overview
Wash grape or cherry tomatoes
Cut them in half
Arrange on trays
Dehydrate between 125ºF – 135ºF
Check and rotate trays periodically
---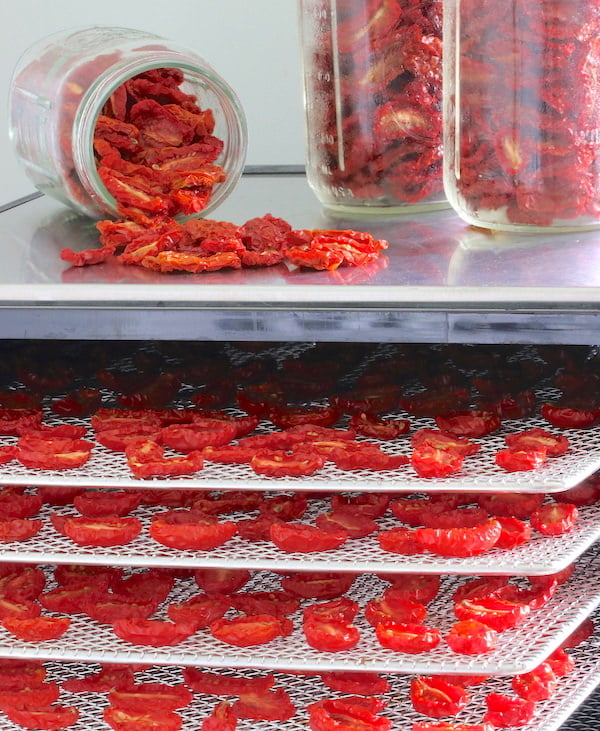 FAQs
How long does it take to dehydrate grape and cherry tomatoes?
In general, it takes somewhere between 10 to 14 hours for halved grape and cherry tomatoes to dehydrate. The actual time will depend on several factors, such as:
• temperature of the dehydrator
• humidity in the room
• whether the dehydrator has a circulating fan or not to keep the heat evenly distributed
• how often the dehydrator is opened, and if it opens from the top or side
• size and moisture content of the tomatoes
• whether you are drying until moist-dry or leathery-dry

How to use dried tomatoes?
• We enjoy eating moist-dried tomatoes right out of the jar for a burst-of-tomato snack. We also add them to various salads, wraps, stuffings, and more. Many Italian recipes call for sautéing garlic in olive oil. Consider slicing moist-dried tomatoes into ribbons, then adding them to the pan during that step. They are especially delicious in hot or cold pasta dishes that call for a pesto or olive oil dressing. Even just a bit of these gems adds a welcome bursts of flavor – there's no need to overdo it.
• Soak leathery-dried tomatoes in a small amount of warm water until they are softened. Once they're softened, slice into ribbons (or use as is) in various dishes as described above. You can add the tomato infused soaking water to your dish too.

How long do dehydrated tomatoes last?
Technically, if kept in an airtight container, moist-dry tomatoes will last indefinitely in the freezer and leathery-dry tomatoes will last indefinitely in a dark, dry, cool location. The longer they are stored; however, the more nutrients will be lost. So try to use them within a year.
How to make tomato powder and what is it used for?
If you have a grinder or a high speed blender, tomato powder can be made from leathery-dried tomatoes following these three easy steps.
Freeze leathery-dried tomatoes before grinding or blending them into powder.
Transfer them to your grinder or high-speed blender and immediately process using the highest speed. Blend while the tomatoes are still frozen for best results. They thaw fast, so work quickly.
Put the powder into a glass jar with a tight fitting lid and store in a dark, dry, cool location.
As you can imagine, tomato powder packs a tomato punch. It can be added to soups, sprinkled on anemic tomatoes (to boost their flavor), sauces, and more.
You can also use this powder to make tomato paste. Simply combine two parts powder to one part water and voila, you have tomato paste!
Dehydrating Grape and Cherry Tomatoes
Ingredients
10

pounds

grape or cherry tomatoes

Dried oregano,

optional

Himalayan sea salt,

optional
Instructions
Wash the tomatoes and drain well.

Slice each tomato in half lengthwise.

Arrange the halved tomatoes on your dehydrator trays with the skins facing down. This will prevent the juices from dripping. Leave a bit of space between each tomato so they are not touching. Sprinkle with oregano and sea salt if desired.

Put the trays in your dehydrator and turn it on. If it has a thermostat, set it between 125º to 135º.

It will take 10 to 12 hours for the tomatoes to become "moist dry" and will take 12 to 14 hours to become "leathery dry." These are approximate times. Periodically check the tomatoes for doneness, and rotate the trays. Even if your dehydrator has a fan, rotating the trays will help them become more evenly dried.

Once dried to your preference, let the tomatoes cool down. Place them in an airtight glass jar with a screw lid; label with the date.

Leave the jar at room temperature for 24 hours so the moisture content of the tomatoes will become more evenly distributed. This process is called "conditioning".

Store moist-dry tomatoes in the freezer. Store leathery-dry tomatoes in a cool, dark, dry location.
Types of Dehydrators
Although a bit pricy, Excalibur makes an excellent line of dehydrators. I upgraded to this Excalibur model a few years ago; it includes a fan, timer, adjustable thermostat, and stainless steel shelves.
My father-in-law gave us our first dehydrator; he had bought it on the Home Shopping Channel. It was a Ronco brand and we used it for many years. It was bare bones, but with careful attention got the job done. It did not have a fan, timer, or thermostat – so I had to rotate the shelves often, and keep a close eye on the tomatoes so they dried evenly and didn't burn.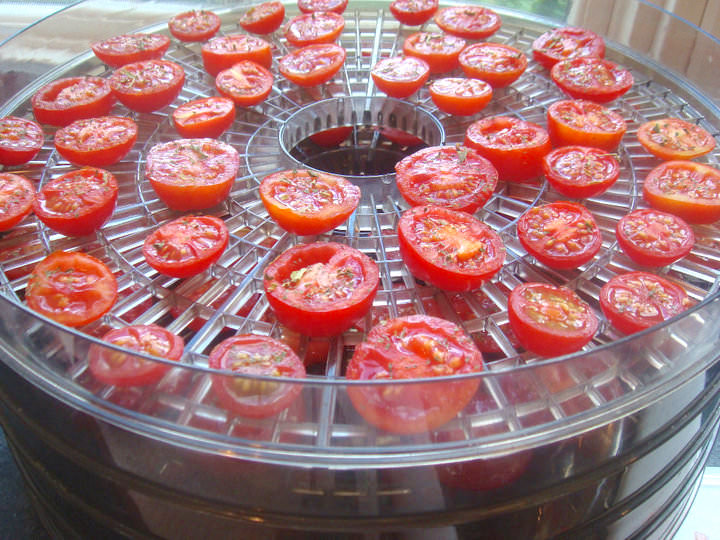 If you enjoyed this post, you may also like another one I created, How to Make and Freeze Tomato Puree. It describes how to preserve Roma style tomatoes.