The omnivores in my family requested chowder for dinner, which prompted me to create this stand alone delicious vegan "clam" chowder recipe with optional omnivore variation. Both versions are exceptional 🙂
Who knew vegan "clam" chowder could taste so authentic? Cashews, coconut milk, and cauliflower are blended together to create creamy and delicious goodness. A medley of typical chowder veggies, herbs, and spices – plus a bit of kombu seaweed completes the recipe. The end result is a tasty chowder with or without the clams.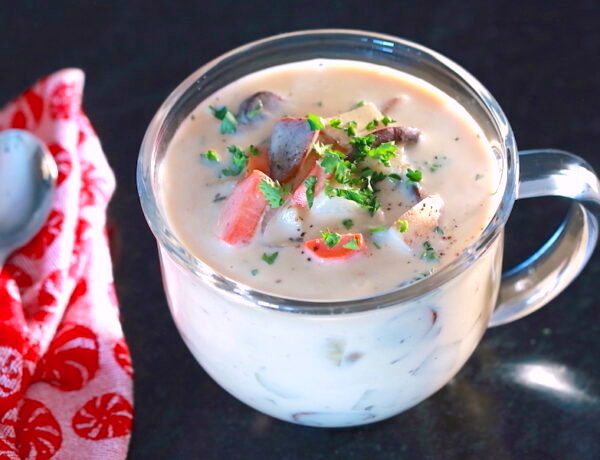 Multi-Diet Households
You may be wondering why some of my recipes, such as this one, contain optional omnivore variations. Let me explain.
Spouses and kids aren't always simultaneously inspired to shift away from eating animal products; this can make transitioning that much harder and stressful for someone attempting to switch to a plant-based diet.
Having recipes with optional omnivore variations means it isn't necessary to cook two completely separate meals, which is less stressful and exhausting for the cook. As a bonus, everyone in the family ends up eating more veggies – and no one feels left out.
Some folks transitioning to a plant-based diet simply can't go cold turkey. So having optional omnivore variations helps during their transition period.
---
Method Overview
Prepare a cream sauce made from cashews, coconut milk, and cooked cauliflower
Sauté mushrooms, vegetables, herbs, and spices in vegan butter – then simmer in broth
Stir the cream sauce into the chowder
---
Creamy Vegan "Clam" Chowder
Servings:
6
large servings
Equipment
soup pot

large skillet

high-speed blender (a regular blender or food processor can be used but the cashews will have to be presoaked or precooked as explained in recipe)
Ingredients
3/4

cup

raw cashews

1-1/4

cups

unsweetened coconut milk

in carton, such as So Delicious brand

6

cups

low-sodium vegetable broth

1-inch

square

of dried kombu seaweed

3

heaping cups

cauliflower florets (bite-sized)

2

Tablespoons

vegan butter,

such as Miyoko's brand (or olive oil)

1

large onion, diced

12

ounces

baby bella mushrooms,

cut into 1/4-inch slices

3

celery stalks, diced

3

carrots, cut into 1/4-inch half moons

3

medium potatoes, cut into 1/2-inch cubes

6

garlic cloves, minced

1/4 to 1/2

teaspoon

freshly ground black pepper

1/2

teaspoon

Himalayan sea salt

1-1/2

teaspoons

dried thyme,

or 1 Tablespoon of fresh thyme leaves

1/4

cup

chopped fresh parsley
Instructions
Start by putting the cashews and coconut milk into a high-speed blender; set aside.

If using a food processor or regular blender you'll have to either presoak or precook the cashews in advance (see the notes below).

Pour the vegetable broth into a soup pot. Add the kombu and cauliflower. Bring the broth to a simmer. Cover the pot and adjust the heat as needed to keep at a gentle simmer.

In the meantime, heat the butter or oil in a skillet over medium-high heat with a bit of the onion. When the onion begins to sizzle, add the rest of the onion and saute for 2 or 3 minutes, stirring often.

Add the mushrooms, carrots, celery, and potatoes to the skillet. Sauté, stirring often, for about 8 minutes or until the mushrooms release their liquid and begin to brown.

Add the garlic, pepper, salt, and thyme to the skillet and cook, while stirring, for about 30 seconds; remove from heat.

When the cauliflower is cooked soft, use a slotted spoon to transfer the cauliflower to your blender.

Scrape all of the mushrooms and vegetables from the skillet into the soup pot. Continue to simmer for about 10 more minutes, or until the potatoes and carrots are tender. Remove the kombu and discard.

Using your blender's highest speed – blend the cashews, coconut milk, and cauliflower until hot and steamy. Pour this creamy goodness into the soup pot and stir well. Remove from the heat. Taste and adjust the salt if required.

When serving, garnish each bowl with fresh ground black pepper and chopped parsley.
Notes
If you don't have a high speed blender this recipe can still be made using a food processor or regular blender – but you'll have to either first presoak or precook the cashews.
To presoak cashews: Place the cashews in a bowl with 2 cups of water; cover with a kitchen towel and let them soak for 3 hours or overnight in the refrigerator. Drain and rinse well. Now the cashews are recipe-ready.
To precook cashews: Gently simmer the cashews in 2 cups of water for 15 minutes. Drain and rinse well. Now the cashews are recipe-ready.
If you don't have kombu, you can substitute with two bay leaves.
Nutrition
Calories:
277
kcal
|
Carbohydrates:
38
g
|
Protein:
9
g
|
Fat:
12
g
|
Saturated Fat:
5
g
|
Sodium:
323
mg
|
Potassium:
1109
mg
|
Fiber:
7
g
|
Sugar:
7
g
|
Vitamin A:
5344
IU
|
Vitamin C:
52
mg
|
Calcium:
90
mg
|
Iron:
3
mg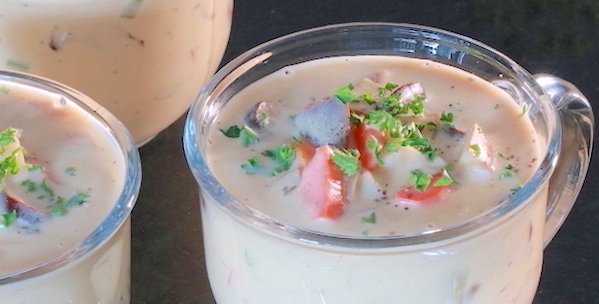 What is kombu?
Kombu is sea kelp. It is especially rich in iodine.
What does kombu taste like?
It has an umami flavor with a hint of the ocean, that's why I include kombu in this chowder recipe. A little goes a long way.
Optional Omnivore Variation
Make the main vegan clam chowder recipe, then ladle the appropriate amount into a separate pan for the omnivores in the family.
Add fresh chopped clams or canned clams and cook for about 2 minutes. If you cook too long, the clams may become chewy.
Remove from heat and serve; garnish with freshly ground black pepper and chopped parsley.
If you enjoy this recipe, you may also like my warming anti-inflammatory butternut squash soup and the cream of vegetable soup recipe in my cookbook.