My Ethiopian vegan collard greens recipe is a flavorful, quick 'n easy option for cooking these nutrient packed greens. The traditional version of this dish is called ye'abesha gomen, or just gomen.
Niter kibbeh (Ethiopian spiced butter) is a key ingredient in this recipe. I created a vegan version; it's easy to prepare and keeps well in the refrigerator.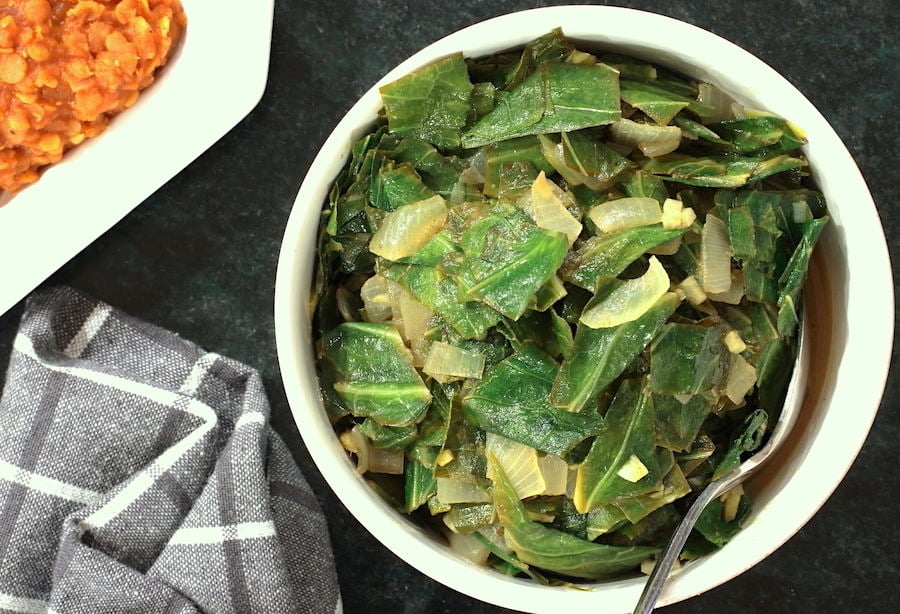 Ethiopian Vegan Collard Greens is the third recipe in my series of dishes suitable for creating traditional Ethiopian combination platters. I made the trio again last night for dinner – misir wot, atakilt wat, and collard greens. These dishes go soooooo well together. The next recipe in this series (coming soon!) will be for injera, traditional Ethiopian sourdough flatbread.
All of these recipes are fast and simple to prepare! Once you have all of them under your belt (no pun intended) you'll be able to create tasty and visually attractive combination platters suitable for one to eight people. Double the ingredients to feed a crowd (once that's a thing again). Leftovers keep well 🙂
Are collard greens good for you?
Yes! Collards (Brassica oleracea var. viridis) are part of the cruciferous family and are high in antioxidants. Eating collards has been shown to lower blood cholesterol levels (including LDL cholesterol). Collards specifically have been shown to contain significant anti-diabetes properties. As with all cruciferous vegetable, they are thought to be protective against certain types of cancers (there are many studies available on pubmed.gov on this topic). They contain generous amounts of vitamins K, A, C as well as manganese, calcium, and fiber.

They're affordable too!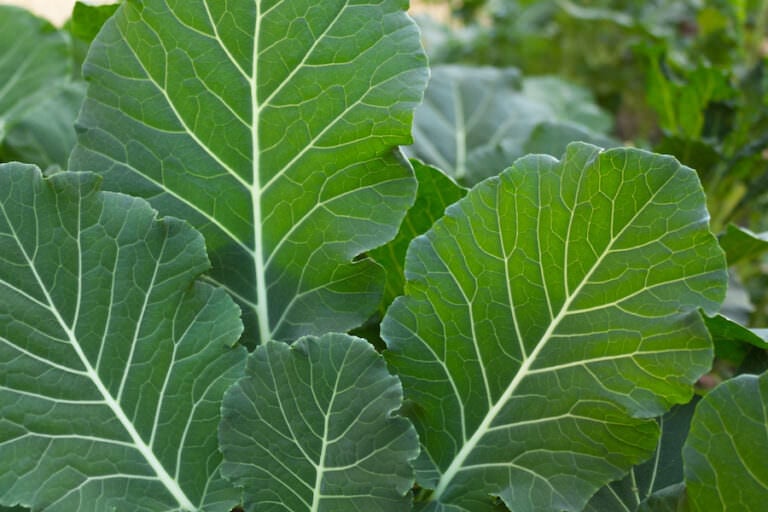 ---
Method Overview
Prepare vegan niter kibbeh (Ethiopian spiced butter)
Saute everything in niter kibbeh
Add veggie broth, cover, and steam
---
Ethiopian Vegan Collard Greens
Looking for a flavorful, quick 'n easy, and vegan option for cooking collard greens? Look no further.
Ingredients
4

Tablespoons

niter kibbeh,

Ethiopian spiced butter

1-1/2

pounds

collard greens,

about two bunches

2

yellow onions

(cut the onions in half, lay the flat sides down, and cut into 1/4-inch slices)

1

Tablespoon

minced ginger root

6

garlic cloves, diced

1

teaspoon

Himalayan sea salt

1-1/2

teaspoon

ground coriander

2

teaspoons

ground cumin

1/2

cup

low-sodium vegetable broth

1 to 2

Tablespoons

freshly squeezed lemon juice,

optional
Instructions
To prepare the collard greens
Main instructions
Heat the spiced butter in a large skillet over medium-high heat with a bit of onion. When it begins to gently sizzle, add the remaining onion and cook for about 5 minutes, stirring often.

Add the ginger root, garlic, salt, coriander, and cumin. Cook for about 30 seconds while stirring.

Add the collard greens. Sauté while tossing and stirring for about 5 minutes.

Pour the vegetable broth over the greens and stir. Cover and steam for 5 to 15 minutes depending on how cooked you enjoy your greens.

Spritz with lemon juice before serving if desired.
Notes
Collard greens are the traditional choice for this recipe; however, it can also be made with kale.
If you prefer, you can use the collard green ribs instead of tossing them into the compost pile. Remove the ribs as described above, then cut them into 1/4-inch pieces.
Nutrition
Calories:
75
kcal
|
Carbohydrates:
6
g
|
Protein:
1.5
g
|
Fat:
5.25
g
|
Saturated Fat:
3.75
g
|
Sodium:
228
mg
|
Potassium:
131.25
mg
|
Fiber:
1.5
g
|
Sugar:
1.5
g
|
Vitamin A:
1438
IU
|
Vitamin C:
13.5
mg
|
Calcium:
87.75
mg
|
Iron:
0.75
mg