Misir Wot is a very spicy Ethiopian red lentil stew that's not only healthy and delicious – it's also FAST and EASY to prepare. This dish can be put together quickly for those nights when you need to make dinner in a flash. It's seasoned with a complex spice blend called "berbere." I use organic berbere by Frontier brand. It contains paprika, sea salt, cayenne, fenugreek, coriander, cumin, black pepper, cardamom, cinnamon, clove, ginger, and turmeric.
Try pairing Misir Wot with rice – or serve as part of a classic Ethiopian platter. Check out my recipe for Atakilt Wat (cabbage, carrot, potato stew) where I explain more about these combination platters.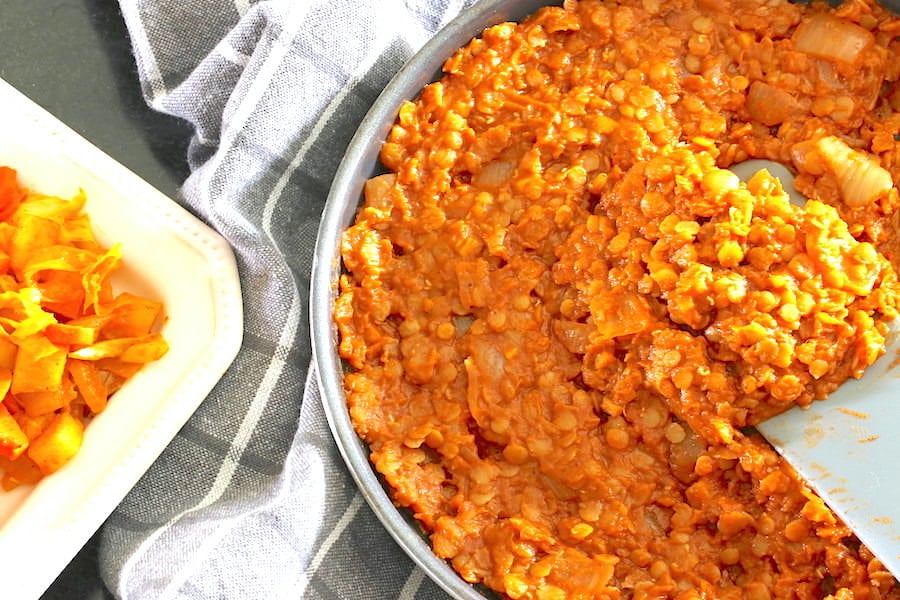 ---
Method Overview
Saute onion, garlic, spices, and tomato paste
Add lentils and water
Simmer until the lentils are soft and breaking apart
---
Misir Wot (Ethiopian Spicy Red Lentils)
Serve with rice – or as part of a traditional Ethiopian combination platter
Servings:
8
side dish servings
Ingredients
1-1/2

cups

red lentils (or yellow lentils)

1

Tablespoon

olive oil

1

large

yellow onion, diced

2 to 4

garlic cloves, diced

3

Tablespoons

berbere,

such as Frontier brand

4

Tablespoons

tomato paste

Water
Instructions
Measure the lentils and then sprinkle them slowly into a mesh strainer; watch carefully for dirt, pebbles, or other debris. Once you've added all of the lentils to the strainer, pick through them making sure you didn't miss anything. Rinse well under cold running water; drain while you continue with the recipe.

Heat the oil in a large skillet over medium-high heat with a bit of onion. When it begins to gently sizzle, add the remaining onion and cook for about 5 minutes, stirring often. Add the garlic halfway through this step.

Add the berbere spice and tomato paste; cook for about 30 seconds while stirring.

Add the lentils and enough water to cover the lentils by about 1/2-inch. Bring to a simmer and cover the pan. Adjust the heat, if necessary, to keep at a simmer (don't boil).

Cook for about 20 minutes or until the lentils are very soft and falling apart; stir often and keep adding more water, a couple of tablespoons at a time, if needed.

Keep a watchful eye; don't let the lentils dry out and scorch the pan. When done cooking, the lentils should be wet and a bit mushy – but not watery.
Notes
This recipe is pretty hot! Use only 2 Tablespoons of berbere if you want to tone the heat down. Eating with rice or Injera (traditional sourdough spongy flatbread) will also tone down the heat.
If red lentils aren't available, you can substitute with yellow lentils; however don't replace with yellow split peas, black lentils, brown lentils, green lentils, or French lentils.
Nutrition
Calories:
80
kcal
|
Carbohydrates:
11
g
|
Protein:
3
g
|
Fat:
2
g
|
Saturated Fat:
1
g
|
Sodium:
260
mg
|
Potassium:
216
mg
|
Fiber:
5
g
|
Sugar:
2
g
|
Vitamin A:
132
IU
|
Vitamin C:
5
mg
|
Calcium:
15
mg
|
Iron:
2
mg
This recipe can be prepared oil-free by following the instructions for cooking without oil.
Red lentils are traditionally used for this recipe; however, yellow lentils can also be used.
Aren't they beautiful?!
FAQs
What does Misir Wot translate to?
Misir translates to lentil and wot means a stew made with onions and spices. It can also be spelled misir wat.
Are lentils part of the legume family?
Yes, the legume family includes beans, peas, and lentils. Like with all legumes, they grow inside of pods, and are actually the plant's seeds.
Are yellow lentils and yellow split peas the same thing?
No, yellow split peas are field peas that are dried and then split. Yellow (and green) split peas take much longer to cook compared to yellow lentils.
What is dal?
In Indian cuisine, lentils are called dal.
Should red or yellow lentils be soaked before cooking?
It isn't necessary to soak red or yellow lentils since they are so fast cooking.
Do lentils cause flatulence?
Lentils cause the least amount of flatulence compared to other legumes. If you aren't used to consuming legumes, start out with small portions to let your body adjust.