These blueberry oatmeal pancakes are both vegan and gluten-free – yet still full of that yum factor! The recipe is straightforward and easy, even for novice pancake makers 🙂
Making healthy pancakes on a lazy morning for the family is one of life's "no-guilt" pleasures. They're especially good with pure maple syrup. I prefer grade B syrup because it's less filtered and contains more nutrients and flavor than grade A. Feel free to pile on spoonfuls of additional blueberries when serving. The blue pigment in blueberries (and blackberries), whether cultivated or wild, contain a healthy dose of the antioxidant anthocyanin.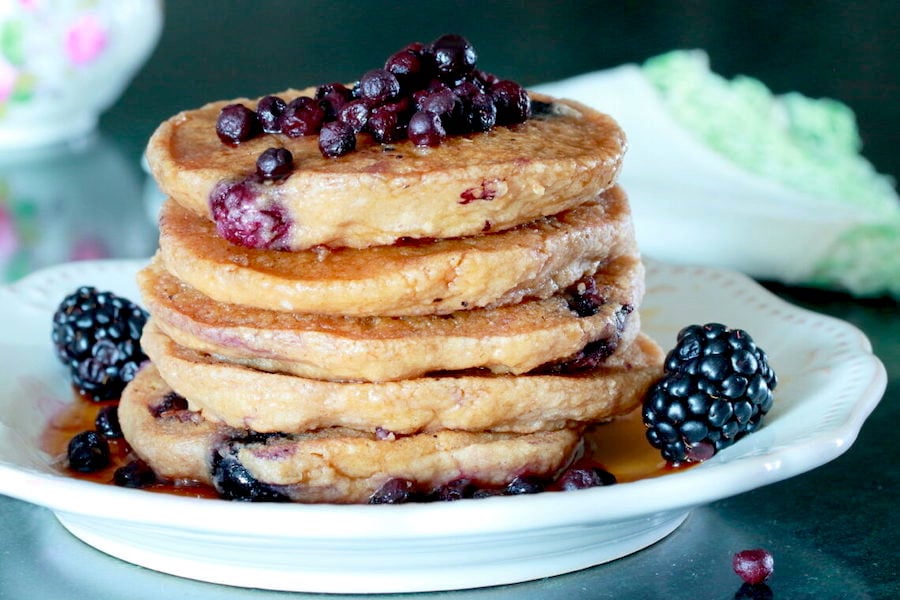 ---
Method Overview
Grind rolled oats into oat flour
Stir dry ingredients together; whisk wet ingredients together
Stir wet into dry; add blueberries
Cook on preheated griddle or skillet
---
2 cups of rolled oats yields about 1-1/2 cups of oat flour.
I suggest using a blender to transform rolled oats into oat flour. It's quick and easy!
As you see in this video clip, you can also use a food processor; however, I've found that a blender grinds oat flour into a finer consistency. A finer oat flour will create lighter pancakes.
Lemon juice helps the baking powder do its job of creating a puffed up batter. The result is fluffy pancakes. If you use frozen blueberries, they'll tint your batter blue!
No-Sodium Baking Powder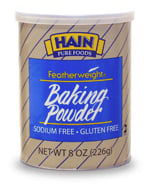 You may already realize that baking powder typically contains quite a bit of sodium – and it usually contains aluminum.
I found an alternative! Hain Pure Food makes a sodium-free, aluminum-free, and gluten-free product they call Featherweight Baking Powder. And it works! I just wish it was also organic.
The ingredients include monocalcium phosphate, potato starch, and potassium bicarbonate.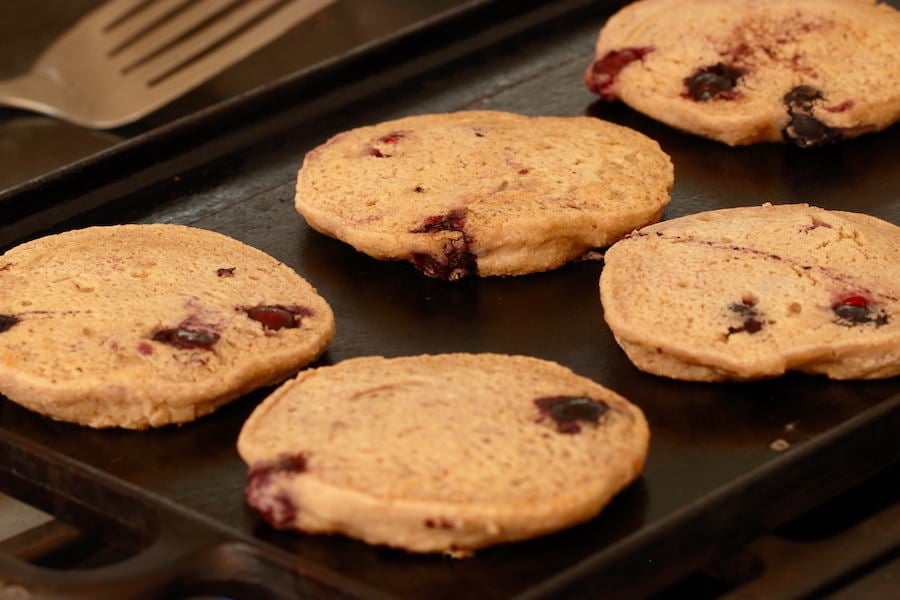 Fluffy Blueberry Oatmeal Pancakes (Gluten-Free Vegan)
These blueberry oatmeal pancakes are both vegan and gluten-free – yet still full of that yum factor!
Equipment
cast iron griddle/skillet preferably (or ceramic non-stick griddle/skillet)
Ingredients
2

cups

rolled oats,

or 1-1/2 cups of oat flour

2

teaspoons

aluminum-free and sodium-free baking powder,

such as Hain Pure Food brand

1/4

teaspoon

Himalayan sea salt

1-1/2

cups

unsweetened coconut milk from carton,

such as So Delicious brand

2

Tablespoons

maple syrup

1

Tablespoon

freshly squeezed lemon juice

1

teaspoon

alcohol-free vanilla,

such as Frontier Coop brand or Simply Organic brand

1/2

cup

fresh or frozen blueberries,

or 1/3 cup fresh or frozen wild blueberries
Instructions
Place a cast iron griddle or skillet over your stove's lowest setting so it warms up while you make the batter.

Using a blender (or food processor), grind the rolled oats into oat flour.

Stir the oat flour, baking powder, and salt together in a medium-sized bowl.

Whisk the coconut milk, maple syrup, lemon juice, and vanilla together in a separate small bowl.

Stir the wet ingredients into the dry ingredient until combined. Let the batter sit for about 5 minutes, then stir in the blueberries; if the batter is too thick, add a bit more coconut milk while stirring.

Turn the heat to medium-low.

If desired, brush the griddle with a bit of plant-based butter or oil so it is lightly coated. This step isn't necessary if your cast iron is well seasoned or if you're using ceramic non-stick.

Pour 1/3 cup of the batter onto the griddle to form each pancake. If necessary, use the back of the measuring cup (or spoon) to spread the batter into a disc.

Cook for about 4 minutes or until the pancake is set and golden brown. Flip and cook until the second side is also golden brown. Don't rush the process – these pancakes come out better if you cook them low and slow.

Repeat until all of the batter is used up.
Notes
Serve with pure maple syrup and additional berries.
Nutrition
Serving:
1
pancake
|
Calories:
106
kcal
|
Carbohydrates:
19
g
|
Protein:
3
g
|
Fat:
2
g
|
Saturated Fat:
1
g
|
Sodium:
60
mg
|
Potassium:
234
mg
|
Fiber:
2
g
|
Sugar:
4
g
|
Vitamin A:
31
IU
|
Vitamin C:
2
mg
|
Calcium:
41
mg
|
Iron:
1
mg
Can you reheat pancakes?
Yes! Put leftover pancakes in an air tight container and store in the refrigerator.
Reheat in the oven at 350ºF for about 15 minutes. To keep the pancakes moist, reheat them in a small covered casserole dish.
If you enjoy this Blueberry Oatmeal Pancakes recipe you may also like my Crispy Gluten-Free Vegan Waffles with Blueberry Sauce.