Surprise! It's possible to make fabulous eggless omelettes!! Soaked lentils and soft nut-based cheese are combined with spices and vegetables to create an original take on this traditional breakfast fare. This particular vegan omelette recipe is just one variation, but feel free to use your imagination (plus whatever veggies and spices are in your refrigerator and pantry) to make your own creations.
We will typically each devour two of these healthy omelettes for breakfast. Sometimes my husband will even want three if he has a busy day planned – or if we eat them for dinner. Any leftover batter can be refrigerated and cooked the following morning.
Consider serving them with fruit, such as mandarin oranges and grapes. Or drizzle with poblano sauce, creamy dill dressing, and such. If you're like me, you always have a yummy sauce sitting in the refrigerator, perfect for a moment like this.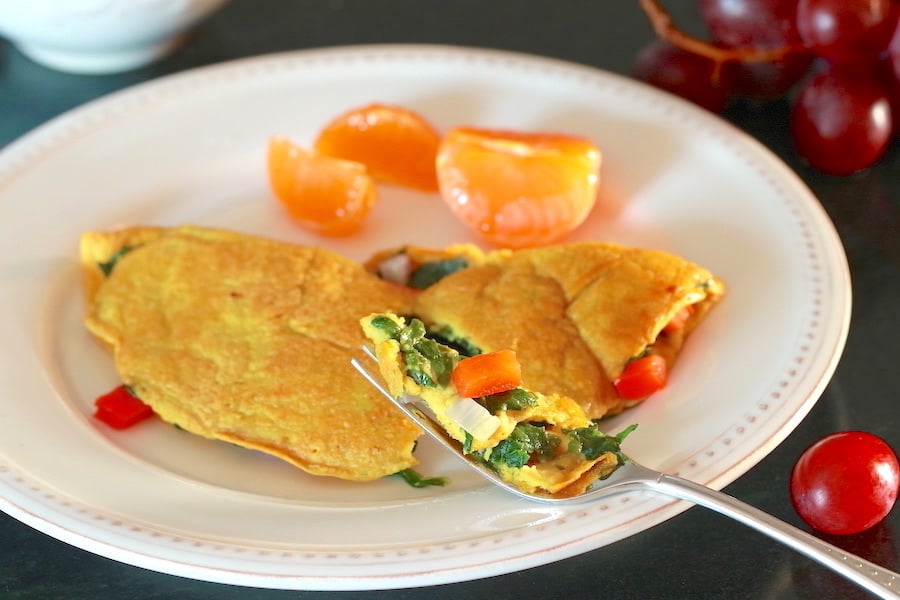 ---
Method Overview
Soak lentils overnight
In the morning, blend with nut-based soft cheese and spices
Cook in ceramic non-stick skillet with chopped veggies
---
Vegan Omelette Recipe
Surprise! It's possible to make fabulous eggless omelettes!!
Equipment
blender

small non-stick ceramic skillet
Ingredients
3/4

cup

red or yellow lentils (not split peas)

1-1/2

cups

water

1/4

cup

nut-based ricotta,

such as Kite Hill brand (or cream cheese)

1

Tablespoon

minced ginger root

1

Tablespoon

freshly squeezed lime juice

(or lemon juice)

1/2

teaspoon

turmeric powder

1/2

teaspoon

cumin powder

1/4 to 1/2

teaspoon

ancho chili powder (or chili powder)

1/4

teaspoon

Himalayan sea salt

1/4

teaspoon

garlic powder

1/8

teaspoon

freshly ground black pepper

2

cups

chopped baby spinach

1

small red onion,

diced small

1/2

cup

diced red peppers

2

Tablespoons

vegan butter,

such as Miyoko's brand
Instructions
The night before
Measure the lentils and then sprinkle them slowly into a mesh strainer; watch carefully for dirt, pebbles, or other debris. Once you've added all of the lentils to the strainer, pick through them making sure you didn't miss anything. Rinse well under cold running water and drain.

Put washed/drained lentils and 1-1/2 cups fresh water into a covered bowl and refrigerate overnight.
In the morning
Preheat small ceramic non-stick skillet over low heat.

Pour the lentils with water into your blender jar. Add the ricotta, ginger root, lime juice, and spices.

To cook each omelette, melt about 1 teaspoon of butter in the skillet.

Blend the batter on high-speed until well blended and frothy. Using a dry measuring cup, measure 1/3 cup of the mixture and pour it into the skillet, covering the entire surface. Turn the heat up to medium.

Arrange a good amount of the chopped spinach. Then arrange a smaller amount of the red onion and red pepper.

Cover the pan and cook for about 4 minutes. Use a soft spatula to release the edges from the pan, then fold in half.

Continue to cook, covered, for about 3 more minutes.

Repeat step 3 to cook the remaining omelettes. Blend the batter again, right before making each omelette. This will ensure that each omelette comes out light and airy.
Notes
Important! This recipe will only work with red or yellow lentils. Don't attempt to make it with split peas or other colored lentils.
If necessary, you can substitute nut-based cream cheese for the ricotta, such as Miyoko's or Kite Hill brands.
Refrigerate leftover batter and cook the following morning.
Nutrition
Calories:
149
kcal
|
Carbohydrates:
17
g
|
Protein:
8
g
|
Fat:
5.25
g
|
Saturated Fat:
2
g
|
Sodium:
149
mg
|
Potassium:
416
mg
|
Fiber:
8
g
|
Sugar:
2
g
|
Vitamin A:
2279
IU
|
Vitamin C:
24
mg
|
Calcium:
50
mg
|
Iron:
3
mg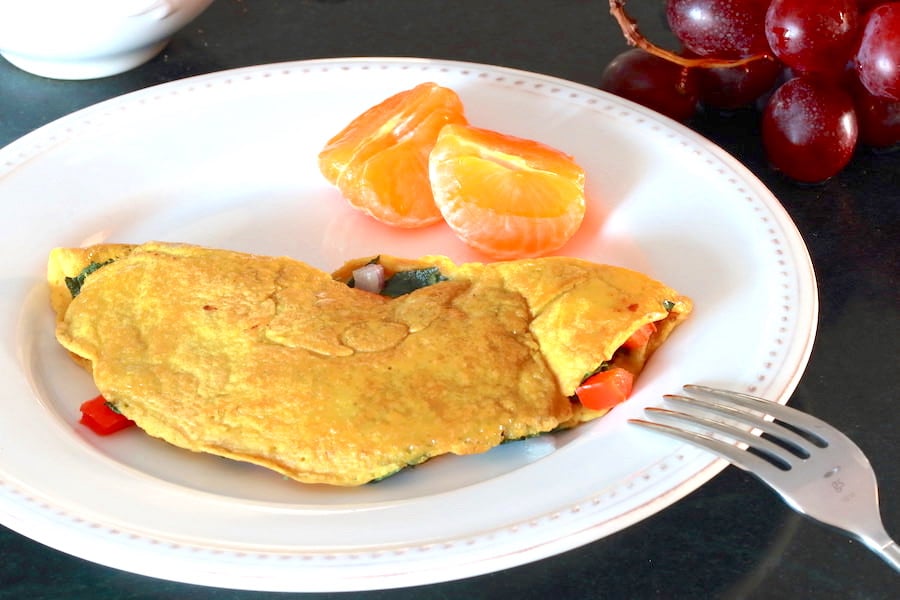 Masoor Dal Chilla (Indian Lentil Crepes)
The inspiration for this eggless omelette recipe comes from Masoor Dal Chilla, traditional Indian lentil crepes.
Chilla are bland unless seasoned. I use some of the traditional Indian spices in my recipe, but give it a twist by also adding ancho chili powder and garlic powder. Feel free to add regular chili powder or even a bit of cayenne if you would prefer a spicier version.
I include soft cheese in my batter to add volume and fluffiness. I find that re-blending the batter right before making each omelette also helps to create the familiar texture of a traditional egg omelette.
Indian crepes typically have chopped vegetables cooked right into the batter. For my recipe, I opt to fill the omelette with veggies.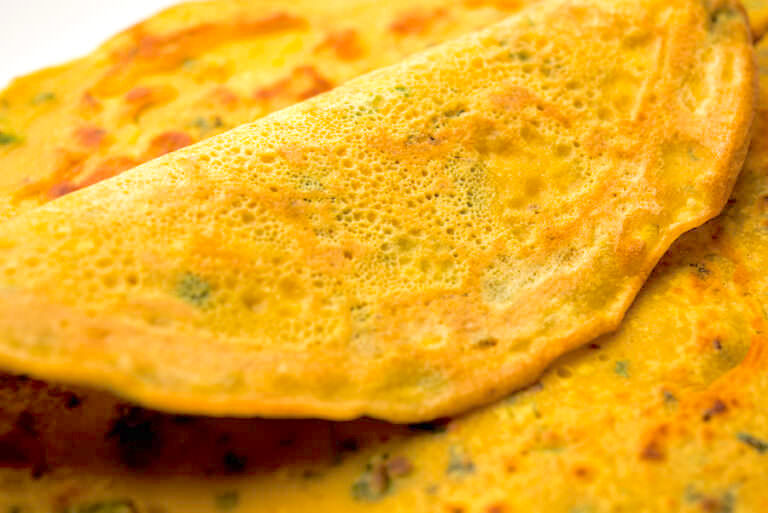 If you enjoy this Vegan Omelette Recipe, you may also like my Fluffy Blueberry Oatmeal Pancakes, and Crispy Gluten-Free Waffles.