Vegan Potato Kale Soup is my plant-based version of this traditional Tuscan-style peasant dish. It's super easy to prepare – perfect for work nights – plus healthy and delicious! Be prepared for everyone to want two bowls 🙂
If you cook for a mixed diet household, you may be interested in the optional omnivore variations described beneath the recipe card.
This soup includes kale, a nutritional powerhouse. It's a cruciferous vegetable containing a healthy dose of vitamins A, C, K, and B6 – plus manganese, copper, calcium, and magnesium. Each year Jamie grows lacinato kale in our garden. It's also called Tuscan, Italian, and dinosaur kale. Lacinato has a dark blue-green color and it's sweeter, milder, and more tender than the curly leaf variety – making it my hands down favorite! Scroll to the bottom of this post to learn more about growing kale.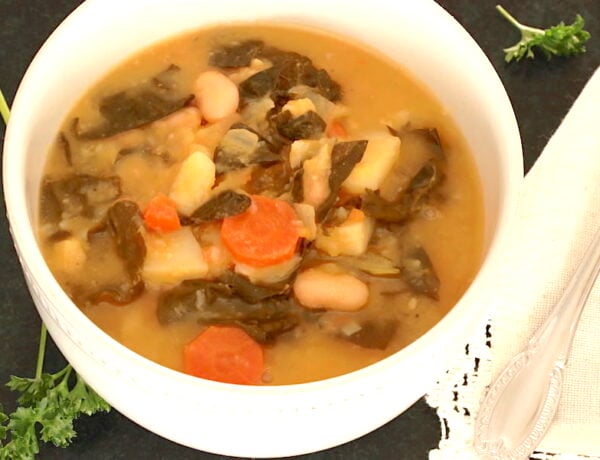 ---
Method Overview
Saute onions and garlic; season with pepper and salt
Add rest of ingredients to pot and cook for 30 to 40 minutes
Smash some of the potatoes to thicken the broth
---
Vegan Potato Kale Soup
This simple peasant soup recipe is easy, healthy, and delicious!
Ingredients
2

Tablespoons

olive oil

1

medium-large onion,

diced

4

garlic cloves,

diced

1/4

teaspoon

freshly ground black pepper

1/4

teaspoon

Himalayan sea salt

6

cups

low-sodium vegetable broth,

such as Pacific Foods brand

1-1/2

pounds

medium potatoes,

quartered then cut into 1/4-inch thick slices

2

large

carrots,

cut into 1/4-inch thick slices

1/2 to 3/4

pound

lacinato kale (or another variety)

tough stems removed, then chopped

1

15-ounce

can cannellini beans (do not drain), no salt added,

such as Eden Foods brand

Chopped parsley

for garnish, optional
Instructions
Heat the oil in a large soup pot over medium-high heat with a bit of the onion. When the onion begins to sizzle, add the rest of the onion and sauté for about 5 minutes, stirring often.

Add the garlic, pepper, and salt. Stir and cook for a couple of more minutes.

The idea is to sweat the onions; soften them and draw out their natural sweetness, but not brown them.

Add the broth, potatoes, carrots, and kale to the pot. Bring to a boil, lower the heat and cover so that it stays at a lively simmer. Stir often and adjust the heat if necessary. If the heat is too low, it will take longer to cook. If the heat is too high, you'll evaporate too much of the broth.

Cook for 30 to 40 minutes, or until the potatoes, carrots, and kale are all very tender. When the vegetables are all almost done, stir in the cannellini beans (including the bean juice from the can).

Remove from heat. Using a potato masher, smash about a third of the potatoes (right in the pot); this will thicken the broth. It's okay if other ingredients get smashed too. Stir well.

Taste and adjust the salt and pepper if desired.

Garnish with parsley when serving.
Notes
Nutrition
Calories:
181
kcal
|
Carbohydrates:
28
g
|
Protein:
7
g
|
Fat:
2.75
g
|
Saturated Fat:
1.75
g
|
Sodium:
253
mg
|
Potassium:
605
mg
|
Fiber:
6
g
|
Sugar:
3
g
|
Vitamin A:
7787
IU
|
Vitamin C:
56
mg
|
Calcium:
101
mg
|
Iron:
2
mg
Optional Omnivore Variation
Traditionally, sausage is added to potato kale soup. For the omnivores in the family, cut pre-cooked sausage, such as Applegate Organics brand, into 1/4-thick slices. Heat up the slices in a small skillet, then add to the omnivore's bowls when serving. Plan on about a quarter of a sausage link per serving of soup.
Omnivores may also enjoy this soup with a bit of grated cheese such as pecorino Romano or parmesan.
Thinking About Growing Kale?
If you're a kale lover, consider growing it since it's an easy crop to grow. Want to know the best part? When harvesting kale, the whole plant isn't picked. Instead, you cut off a couple of leaves at a time from each plant, and more will keep growing back for months! This is true for other leafy greens as well.
We've been growing several varieties of kale in our New England garden for decades. It is a very hardy plant that's easy to grow. It especially loves cooler weather, so it thrives in the spring and fall – but it can do fairly well even during the heat of summer. Plant it outdoors in the early spring and enjoy it until the cold days of Autumn. If you cover it with a plastic row cover, it will stay alive even in the winter. Once spring arrives it will perk back up and start growing again. It's such a blessing to have an early spring crop.
If you enjoy this vegan potato kale soup, you may also like my Butternut Squash Chili recipe.