Whether you grow your own or buy them fresh from the market, you may be wondering what to do with garlic scapes. This post explains how to store them, dry them, grind into garlic scape powder – as well as ideas for cooking scapes and making pesto.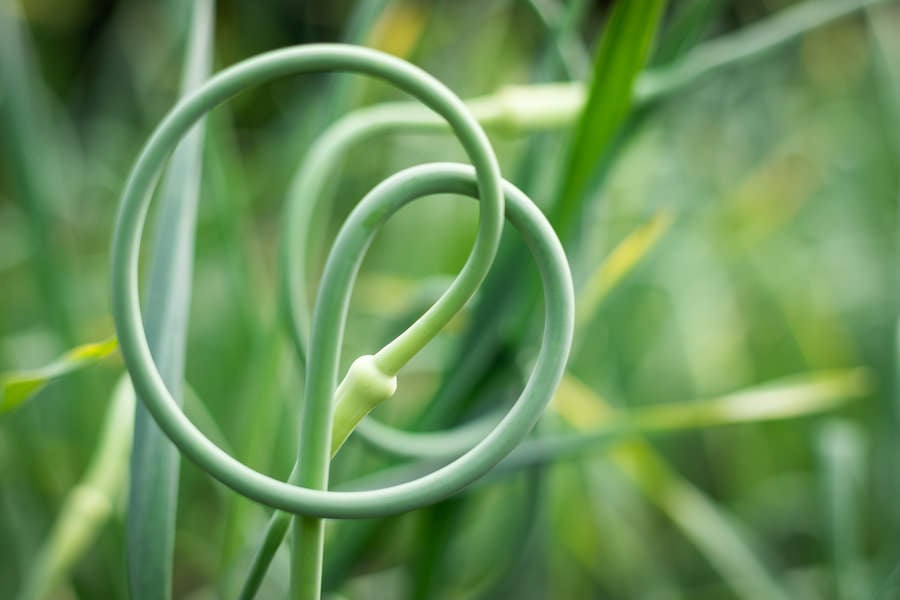 But first, garlic scape basics
What are garlic scapes?
In early summer, stalks shoot up from the center of each hardneck garlic plant. These are called garlic scapes; they are thicker than the plant's leaves. If they are left on the plant, each scape will form a flower and seeds. By cutting off the scapes, the plants stop growing flowers and seeds – and instead they direct their energy on growing nice fat garlic bulbs.
Do all varieties of garlic grow scapes?
Only the hardneck varieties grow garlic scapes; the softneck varieties do not.
How do you know when garlic scapes are ready to harvest?
Wait until the scapes have grown enough to curl and loop around, as show in the above photo. If left too long, they may become woody – and/or begin to grow flowers and seeds.
What time of day is best to harvest scapes?
Harvest them in late morning after the dew has evaporated.
How do you cut off the scapes?
Use a sharp knife to cut the garlic scapes as low down as you can without damaging the surrounding leaves.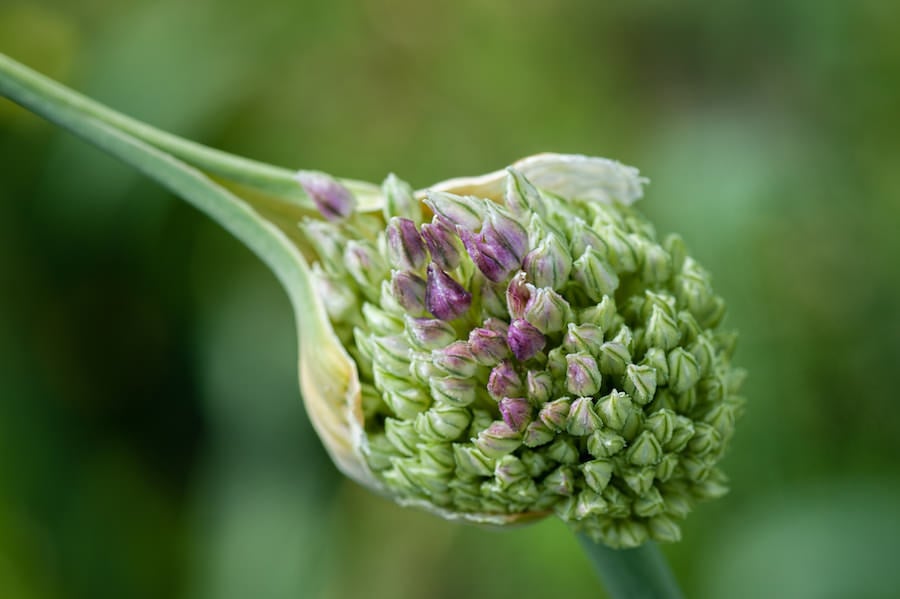 Overview of what to do with garlic scapes
My husband plants 300 to 360 heads of hardneck garlic each Fall, and has been doing so for the past 15 years or so. Each spring he harvests a huge crop of scapes. He basically plunks them on our kitchen island and says something to the effect of "there you go," and it's up to me to figure out what to do with them. I've gotten better at using them up in creative ways over the years. Here are some of my favorite ways to store and use them.
Refrigerate
As soon as the garlic scapes are picked, put them into BPA-free plastic bags or reusable silicone bags; don't seal the bags completely. I find they will keep stored this way for at least two months in the refrigerator. The ends will begin to shrivel up over time, but you need to trim them anyway before using. If the bags become full of moisture, wipe them dry, and/or add some paper towels to the bags to prevent the scapes from molding.
Add to various cooked dishes
Garlic scapes can be added to stir fries, soups, stews, and more. Use them anywhere you would like to add a garlicky flavor.
Grilled scapes
They are especially wonderful when cooked on a gas grill. Rub or brush a bit of olive oil, onto the scapes, sprinkle with a bit of salt, and grill over medium low heat until they brown and the ends just begin to char.
Garlic scape pesto
Garlic scapes make a wonderful pesto – with or without oil – and with or without basil. Here are two scape pesto recipes that I created.
Dehydrate scapes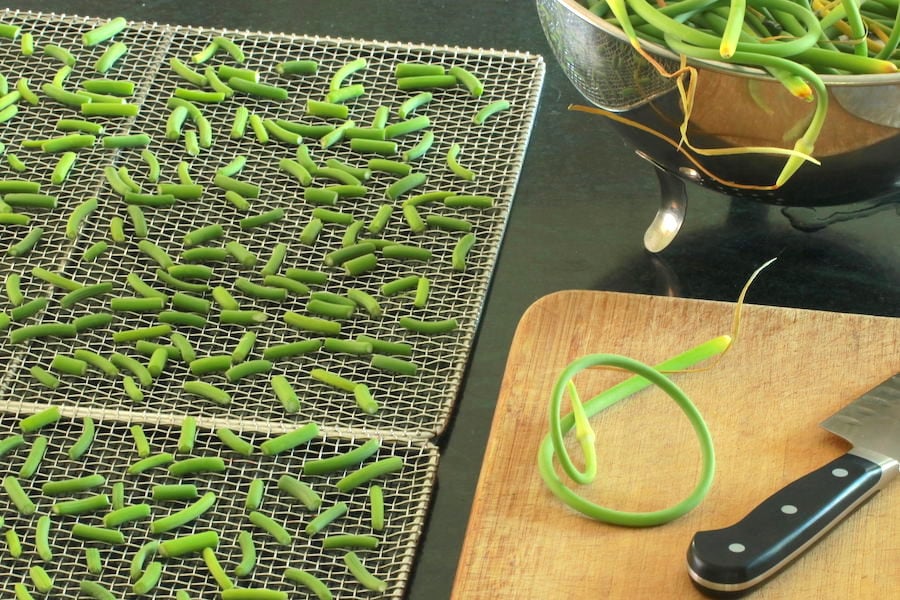 To extend their shelf life, consider dehydrating scapes. I explain "how to" in the recipe below. Please note, cut up scapes take a long time to fully dry. I include alternate instructions to speed up the drying process in the recipe notes.
Dried scapes can be tossed into soups and stews. If you want to saute them in oil or add them to stir fries, rehydrate them first in a bit of warm water. Add the garlic infused soaking water to your dish as well.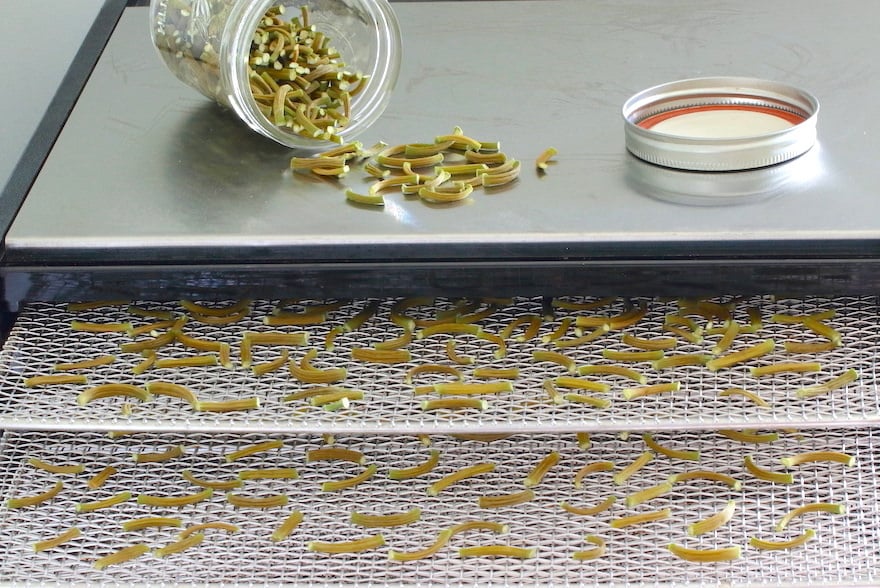 Grind into garlic scape powder
Dehydrated scapes can easily be ground into powder as explained below. Use garlic scape powder anywhere you'd use garlic powder.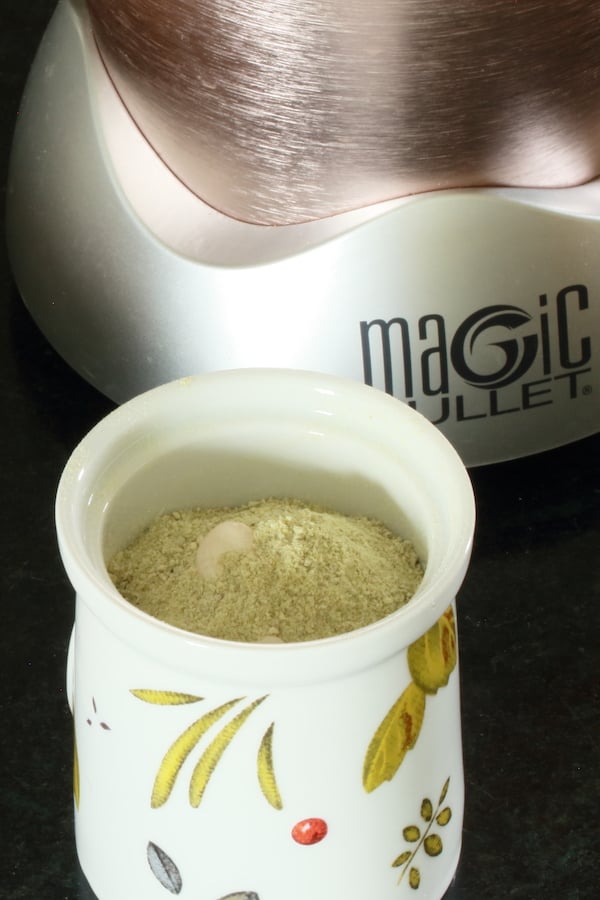 Drying Garlic Scapes and Making Garlic Scape Powder
This recipe explains how to dry garlic scapes and also how to grind it into powder
Equipment
dehydrator

bullet blender (or other blender)
Instructions
How to dehydrate scapes
Wash the garlic scapes and let them air dry.

Trim away the tip from each scape just below the flower bud (see photo). Discard the tips or save them for making vegetable broth.

Cut the scapes into 1/2" to 1" pieces. Arrange them single layer on dehydrator trays.

Dehydrate at 135º until dry and brittle; this will take about 24 hours.

Yes, they take a long time to fully dehydrate! To speed up the process, see the alternate step explained below.

Let the dried scapes cool down before placing them into a glass jars(s). Tighten the lid(s) and store in a cool, dry, dark location for best results.
How to make scape powder
To make garlic scape powder, grind about a cup of dried scapes in a bullet blender, or other blender. A coffee grinder used for this purpose would also work.

1 cup of dried scapes will yield about 3/4 cup of powder.

Store the powder in a small glass jar with a tight fitting lid. As an optional step, add a few small dried beans to the jar to help absorb any remaining moisture; this will also help to prevent clumping.
Notes
The actual length of time to dehydrate will depend on the following factors:
Moisture content of the scapes
Temperature of the dehydrator
Whether or not the dehydrator has a circulating fan to evenly distribute the heat
How often the dehydrator is opened and if it opens from the front or top
Humidity in the room
To speed up the drying process
As an alternative, after you cut the scapes into pieces, pulse them in your food processor to break them up, but don't process so long that they turn into a paste. Arrange on your trays and continue with the rest of the steps.
By breaking them up in this way, they will take less time to dehydrate. If you're planning on grinding the dried scapes into powder anyway, it makes sense to break them up so they dry faster. However, if you plan on adding them to dishes, you may want to keep them as intact pieces.
If you like "What to do with garlic scapes" you may also enjoy another of my posts "Planting Garlic in the Fall."