Garlic scapes are delicious when grilled, and can also be added to soups and stir fries – but they are especially well-suited for making pesto 🙂
This vegan garlic scape pesto recipe can be made in less time than it takes to boil a pot of water! Most pestos are made with basil and parmesan cheese. This recipe calls for garlic scapes and is dairy-free.
Ways to Serve Pesto
In addition to serving on pasta, this (and all) pestos are wonderful on pizza, slathered on tomato slices, as a raw veggie dip or sandwich spread. Or use pesto as a garnish for soups, potatoes, and casseroles. In the photo below, gluten-free penne was tossed with this vegan garlic scape pesto, chopped tomatoes, and olives. The tomatoes and olives were first warmed in a bit of olive oil.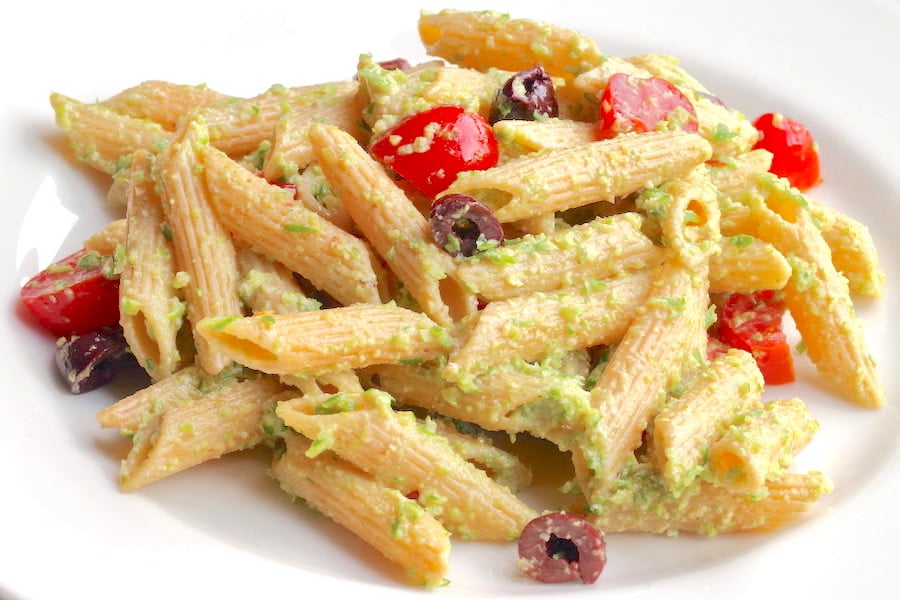 What are garlic scapes anyway?
In early June, the hardneck varieties of garlic send up stalks from the center of each plant. These are called garlic scapes; they are thicker than the leaves and are edible. The scape, if left on the plant, forms a flower and then seeds. Growers cut off the scapes so that the plants send all of their energy to the garlic bulbs, instead of putting energy towards the production of flowers and seeds.

My husband has been growing hardneck garlic and cutting off the scapes for many seasons. If you don't grow your own, you may be able to find scapes at your local market. Spring is the time to look; don't miss the opportunity to enjoy them! It's well worth the effort since scapes are very tasty – they have a delightful mild garlic flavor. Plus they boast many of the nutritional benefits of garlic, including being a powerhouse of antioxidants and cancer fighting properties.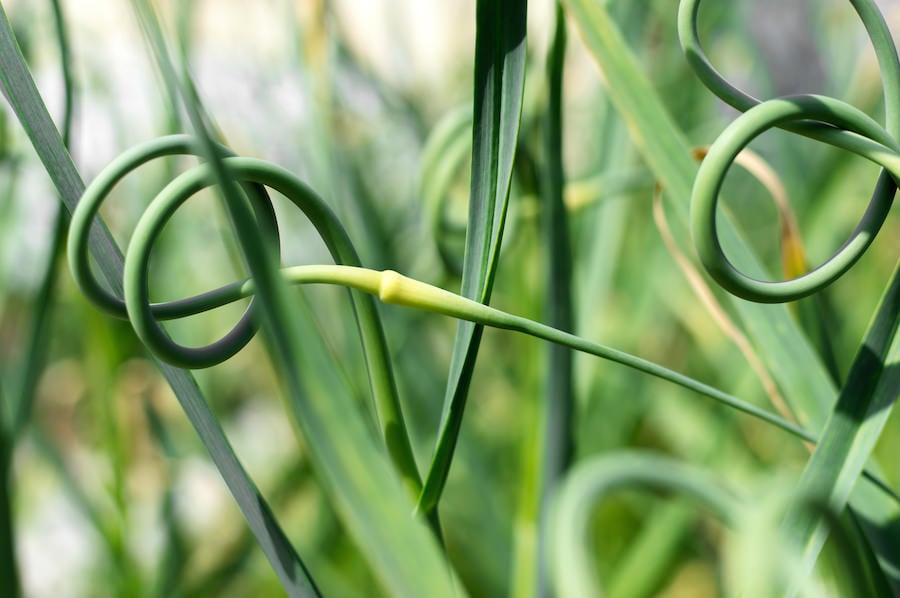 ---
Method Overview
Cut garlic scapes
Steam the scapes (unless they are young and tender)
Toast pine nuts
Blend scapes, pine nuts, water, and seasonings in food processor
Stir in olive oil
---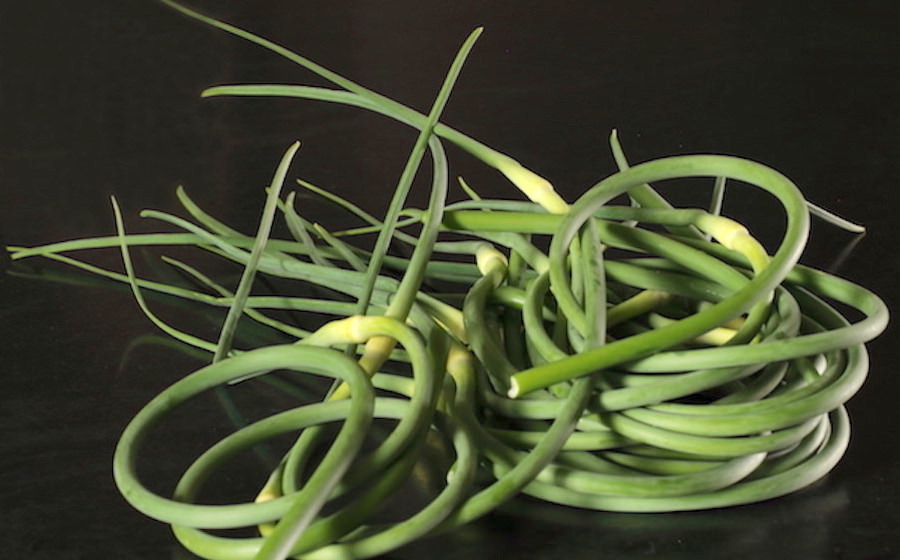 Vegan Garlic Scape Pesto
This recipe makes 1 cup of pesto which is enough to dress 12 to 16 ounces of pasta.
Equipment
Food processor, preferably one with a small bowl (or blender/bullet blender – see note below)
Ingredients
1

cup

chopped garlic scapes,

10 to 15 scapes

1/4

cup

pine nuts

1/4

cup

water

1

Tablespoon

freshly squeezed lemon juice,

optional

1/4

teaspoon

Himalayan sea salt

1/4

teaspoon

red pepper flakes

1/8

teaspoon

freshly ground black pepper

1/4

cup

olive oil,

extra virgin or virgin
Instructions
Prepare Scapes
Trim away the tip from each scape just below the flower bud (see photo below). Discard or save for making vegetable broth.

Cut the remaining scapes into 1-inch pieces.

Steam older scapes for about two minutes (see note below). Reserve the water to use in the recipe.
Toast Pine Nuts
Warm up a small, dry cast iron skillet (or other heavy-bottomed skillet) over medium-low heat. The idea is to warm up the skillet, but don't overheat.

When the skillet is warm, increase the heat to medium-high and add the pine nuts. Toast, while stirring and shaking, for about a minute, or until they begin to give off a nutty aroma and turn a bit golden.
Prepare Pesto
Add the scapes, pine nuts, water, lemon juice, salt, and peppers to the food processor.

Process for a few minutes, scraping the sides of the bowl with a soft spatula as needed.

Using a soft spatula, scrape the pesto into a bowl. Fold or gently whisk the olive oil into the pesto until well combined.
Notes
If you don't have a food processor, you can make this pesto in a blender or bullet blender – but you will have to stop blending every few seconds to scrape the jar or cup with a soft spatula.
Scapes develop a sharper flavor the longer they are left on the plant. Young and tender scapes are more mellow and even sweet. If you have young and tender scapes it isn't necessary to steam them when making pesto.
Nutrition
Calories:
228.25
kcal
|
Carbohydrates:
12.75
g
|
Protein:
3.5
g
|
Fat:
19.5
g
|
Saturated Fat:
2.25
g
|
Sodium:
154.25
mg
|
Potassium:
50.25
mg
|
Fiber:
1
g
|
Sugar:
0.74
g
|
Vitamin A:
37
IU
|
Vitamin C:
1.5
mg
|
Calcium:
62.5
mg
|
Iron:
0.75
mg
Optional Omnivore Variation
Add pecorino Romano or parmesan cheese to the omnivore's portion.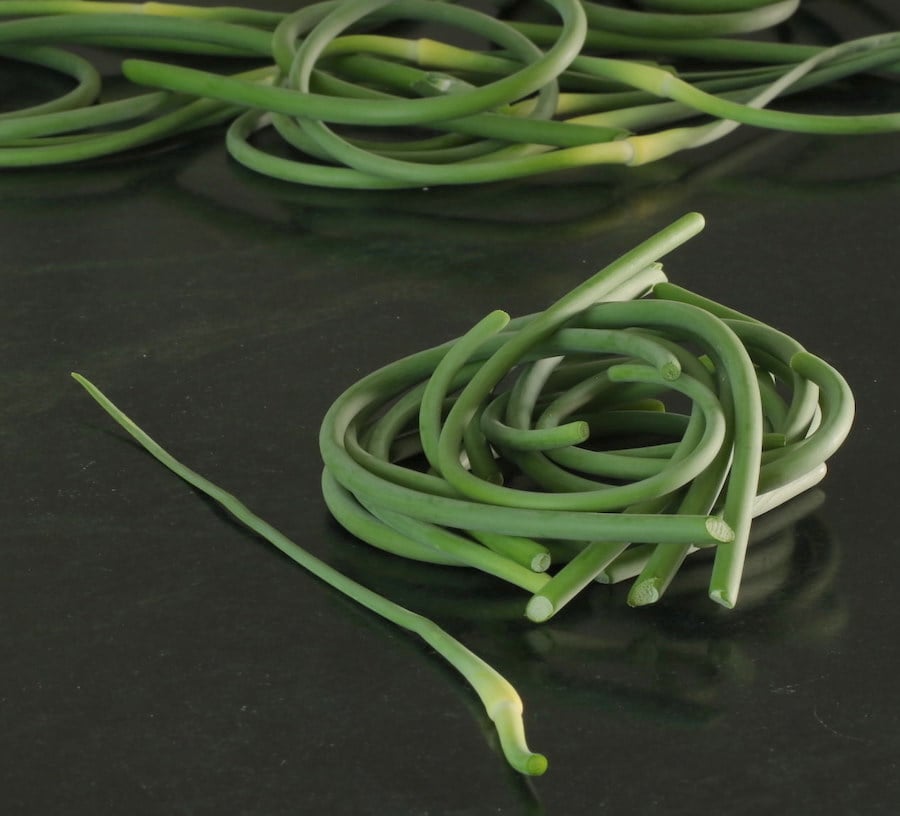 Trim away the tip from each scape just below the flower bud.
If you enjoy this recipe, you may also like my Vegan Nut-Free Pesto and my Oil-Free Vegan Pesto.