What was my inspiration for creating this vegan broccoli rabe pesto? Well, we have a very prolific crop of broccoli rabe, AKA rapini, in our greenhouse that we didn't even plant; it's a "gift" crop from seeds and roots of past years. This happens most springs and it's wonderful (I posted some photos of this early spring magic for your viewing delight). So needless to say we're knee deep in rabe, and it's going to be like this for awhile since my husband also planted a fresh bed, which will be ready late April!
Early Spring Garden Delights
I've been cooking and serving the broccoli rabe in our usual ways; sautéd with garlic, served with beans, in wraps, as a pizza topping, served with pasta/rice/quinoa, and as a side dish. My husband loves broccoli rabe, but he's been grumbling at how often it's gracing our table lately, so I decided it was time to prepare it in a novel way. That's when it hit me – broccoli rabe pesto – so I got busy creating this new recipe! I decided to add cannellini beans; they are so darn good when served with rabe so I figured it would be a good addition, and I was right. I find that when I add cannellini beans to pesto, I can cut back on the oil.
The rabe gets blanched quickly in boiling water; if you lift the rabe from the water with a slotted spoon, instead of draining it, you can use the same water to cook the pasta. You'll notice I blanch the garlic with the rabe to soften the sharpness, which means you can add more cloves than you normally would when making a raw pesto.
The first time I made it the flavors didn't pop as well as I wanted, but I soon realized it just needed more salt. Add more or less garlic, red pepper flakes, and salt to suite your tastes. Omnivores in the family? There is an "omnivore variation" described at the very bottom.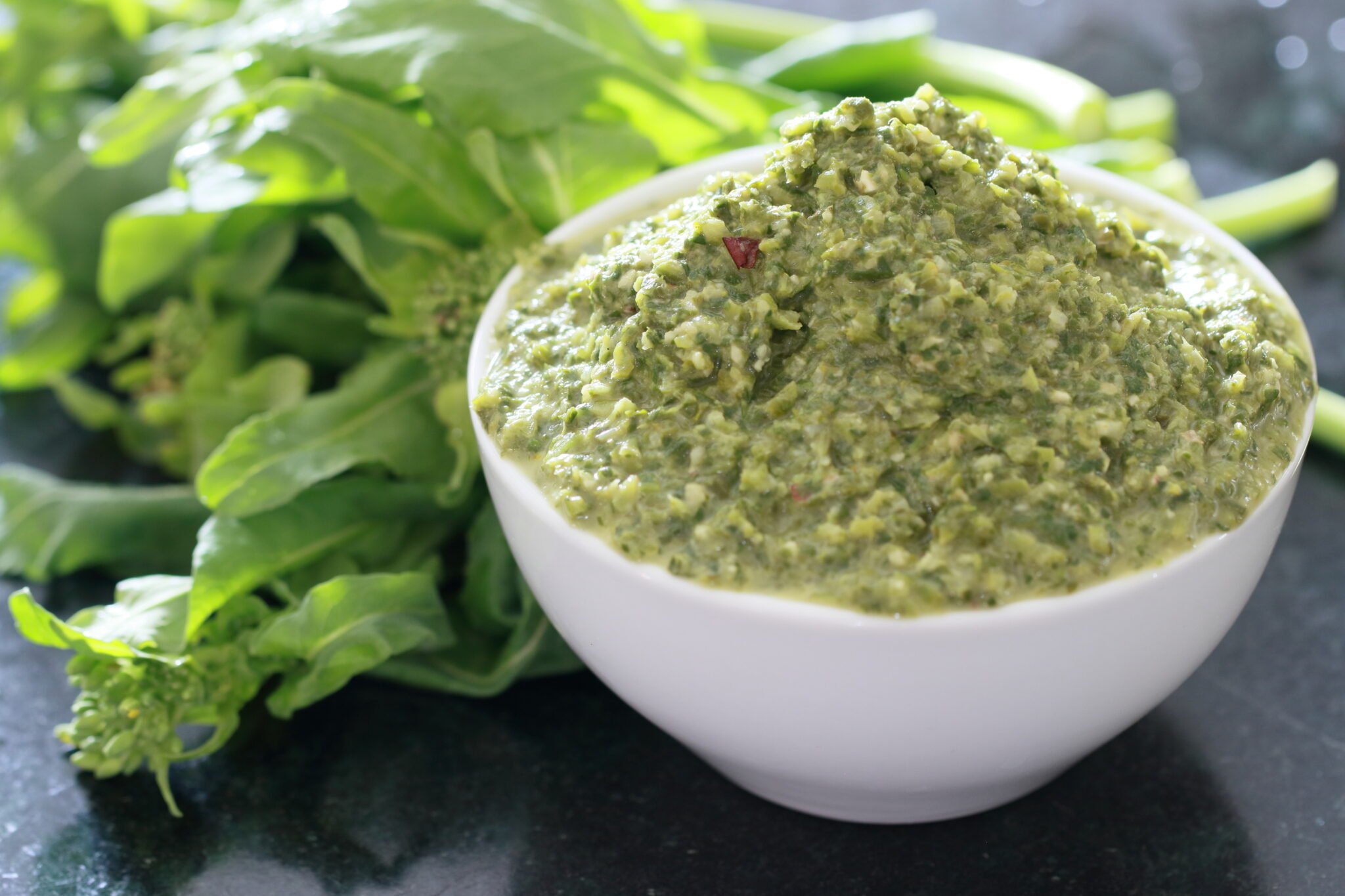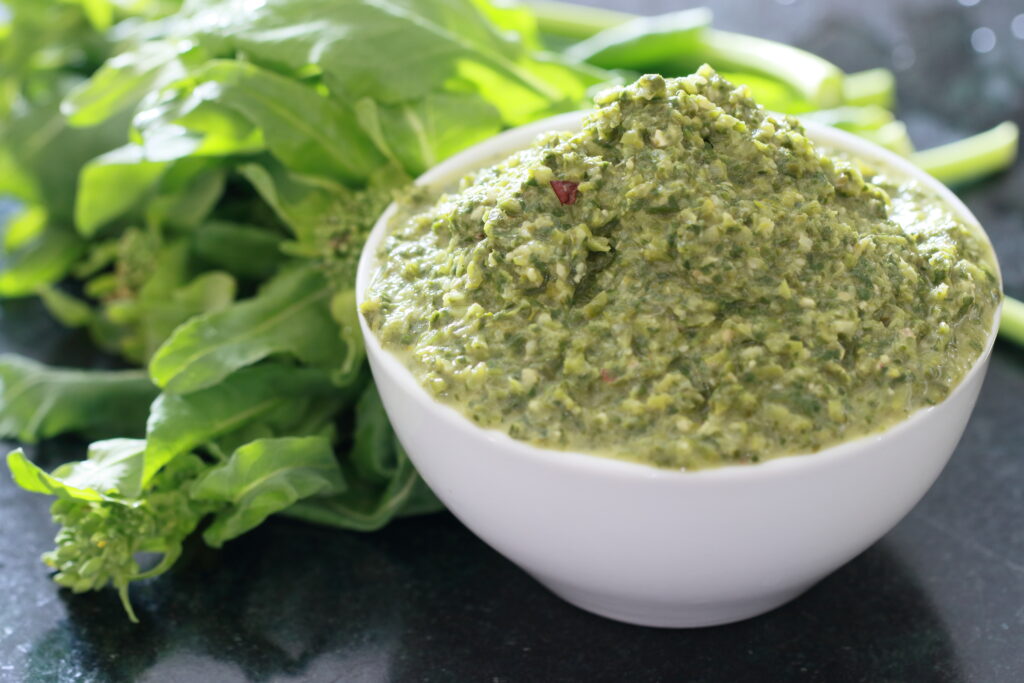 Method Overview
Blanch broccoli rabe and garlic
Blend all of the ingredients together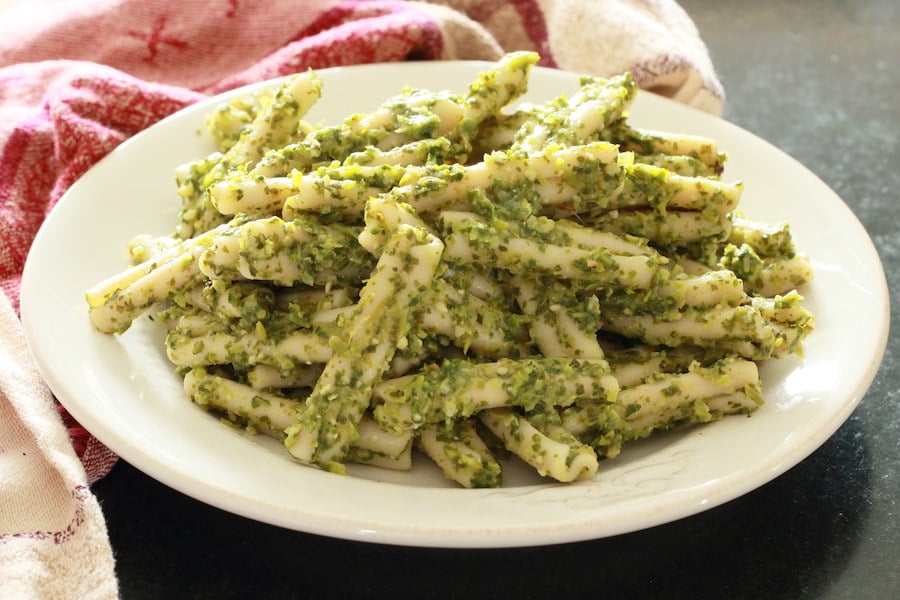 Broccoli Rabe Pesto
Servings:
8
1/4 cup servings
Equipment
large pot with lid

food processor (or full size blender if necessary)
Ingredients
1

lb

broccoli rabe,

washed and cut in half (discard large stalks)

4 to 6

cloves

garlic,

sliced in half

1/4

cup

walnuts or other nuts of your choice,

pan toasting optional

2

Tablespoons

olive oil

2/3

cup

cannellini beans,

mostly drained

1/4

teaspoon

black pepper

1/2

teaspoon

red pepper flakes

3/4

teaspoon

Himalayan sea salt
Instructions
Add the broccoli rabe and garlic to a large pot of rapidly boiling water. Boil for 3 minutes.

Place the rabe, garlic, and the rest of the ingredients into a food processor (or blender if necessary). Blend until it's at the desired consistency.

Alternatively, stir the olive oil into the finished pesto instead of blending it.
Notes
If making pasta, reserve the water the broccoli rabe and garlic were blanched in, so you can cook the pasta in the same water.
In addition to making a great pasta pesto – this recipe is also delicious served as a dip for veggies or crackers, as a pizza topping, over crusty Italian bread, mixed with quinoa or rice, in wraps, and more. 
Leftover pesto? My experience is that all pestos freeze well. I freeze several pint and half-pint jars each year of various pesto recipes. I place a small piece of parchment paper on the top of the pesto to keep the top layer from getting freezer burn. Be sure to leave space at the top of the jar to allow for expansion.
Nutrition
Calories:
81
kcal
|
Carbohydrates:
5
g
|
Protein:
3
g
|
Fat:
6
g
|
Saturated Fat:
1
g
|
Polyunsaturated Fat:
2
g
|
Monounsaturated Fat:
3
g
|
Sodium:
164
mg
|
Potassium:
137
mg
|
Fiber:
3
g
|
Sugar:
1
g
|
Vitamin A:
1525
IU
|
Vitamin C:
12
mg
|
Calcium:
77
mg
|
Iron:
2
mg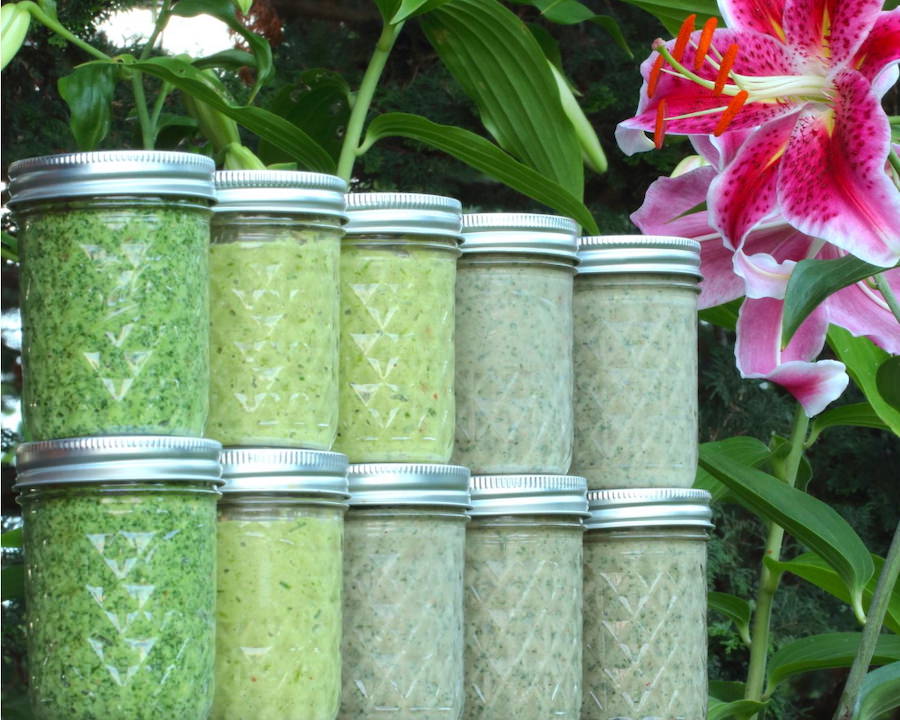 If you like this broccoli rabe pesto recipe, you may also enjoy my Oil-Free Vegan Pesto, Vegan Garlic Scape Pesto, and Vegan Nut-Free Pesto recipes.
Omnivore's Variation
Mix grated pecorino Romano or parmesan cheese into the omnivore's portion of pesto before serving.