This three bean chili recipe (vegan) tastes more complex than most. Why? It contains homemade chili paste made with dried chiles. It also includes fresh peppers and other full of flavor ingredients. As a bonus, it's pretty darn easy to throw together, even on a work night 🙂
I buy organic dried chile peppers (and dried mushrooms) from Terra Dolce; my husband also grows one or two varieties each year in our garden. For this recipe, feel free to use whatever medley of dried chiles you have available. The idea is to choose a variety, so the result is complex but not overly spicy.
Each type of chile pepper contains it's own unique combination of characteristics; they can be hot, medium, or mild – earthy, chocolatey, smokey, fruity, and even raisin-like. You can't get this complexity just using dried ground spices. If you haven't tried chili made with homemade fresh paste, you're in for a real treat!
Since this dish is low-cal, consider serving with my gluten-free tortillas, or pita (such as Sami's Bakery brand), or tortilla chips (such as Siete brand).
Chile Capsaicin Scoville Scale
Capsaicin gives peppers their pungency (heat) and also contains health properties. It is anti-inflammatory, controls insulin sensitivity, blood glucose levels, and more.
Chile peppers contain various levels of capsaicin; these levels are measured in Scoville heat units (SHU) on what is called the Scoville scale. The table below describes the heat and flavor profiles for the chile peppers suggested for this recipe. If you make substitutions, try to use chiles with an overall similar profile.
CHILES
SCOVILLE HEAT UNITS
FLAVOR PROFILE
Bird's Eye
50,000 to 100,000

hot and fruity

Cayenne
30,000 to 50,000

neutral hot flavor
(for this recipe I use either bird's eye OR cayenne)

Chipotle
2,500 to 8,000

smokey and earthy with hint of sweet

Jalapeños
2,500 to 8,000
jalapeños are bright and pungent;
chipotle and jalapeño are the same pepper
(chipotles are dried and jalapeños are fresh)
Pasilla
1,000 to 2,500
rich, earthy,
semi-sweet raisiny flavor
with hint of chocolate
Poblano
1,000 to 1,500
fresh green poblanos are mild
and a bit earthy;
fresh red poblanos contain more heat
New Mexico
800 to 1,400
earthy, sweet,
mild flavor
with hints of dried cherries and sage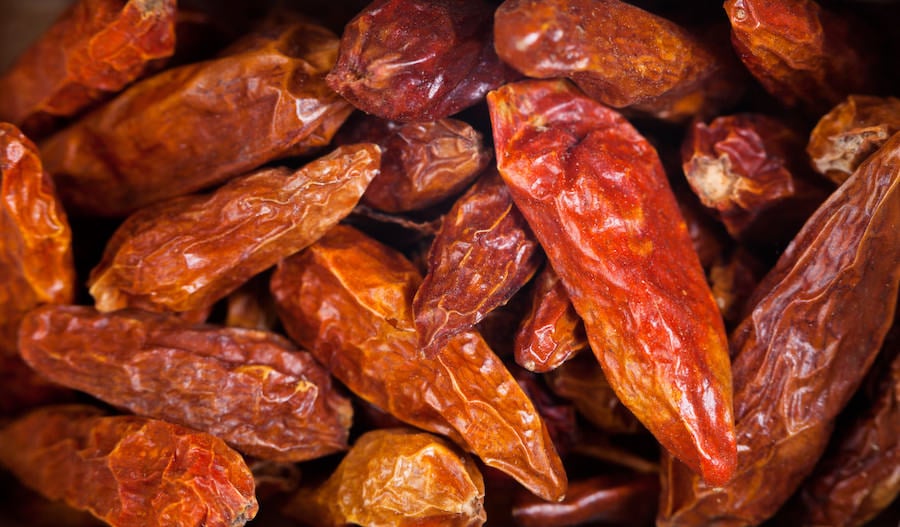 Method Overview
Pan toast/reconstitute dried chiles and porcini mushroom; make paste
Flame roast poblano peppers
Briefly saute vegetables, herbs, spices
Simmer all of the ingredients together
Chili Recipe (Vegan) with Complex Flavors
Contains a rich, complex, and satisfying flavor.
Equipment
gloves for handling the dried and fresh chile peppers

large stainless steel or cast iron skillet with lid

soup pot or Dutch oven

high-speed blender
Ingredients
Chili paste ingredients
1 or 2

dried bird's eye chiles (or 1 dried cayenne)

2

dried pasilla chiles

4

dried New Mexico chiles

4

dried chipotle chiles

Water

2 or 3

pieces of dried porcini mushrooms

1

teaspoon

unsweetened cacao powder or cocoa powder, optional

1

Tablespoon

coconut aminos
Chili ingredients
3

fresh poblano peppers

2

Tablespoons

olive oil

2

large onions,

diced

6

cloves

garlic,

diced

3

fresh jalapeño peppers;

remove stems and seeds, then dice

1/2

teaspoon

ground coriander

1

teaspoon

dried oregano

1

teaspoon

ancho chile powder

1

Tablespoon

cumin powder

3

Tablespoons

tomato paste

28-ounces

(approximately)

chopped tomatoes; fresh, jarred, or canned

3

cups

low-sodium vegetable broth

1

(1-inch)

square of dried kombu

1

(15-ounce)

can unsalted black beans

with liquid

1

(15-ounce)

can unsalted cannellini beans,

rinsed and drained

1

(15-ounce)

can unsalted red kidney beans,

rinsed and drained

1/2

cup

chopped cilantro
Instructions
I suggest wearing kitchen gloves when working with the dried and fresh chile peppers to protect your hands from the capsaicin; don't touch your face or eyes. Wash your hands with soap and water afterwards.

Remove all of the stems and seeds from the dried chile peppers. Cut or tear them into medium-sized pieces.

Put the pieces into a large stainless steel or cast iron skillet over medium-high heat. Dry toast for about 3 minutes or until the chiles become fragrant; do not burn.

Slowly pour just enough water into the pan so the chile peppers are submerged; add the porcini mushrooms. Bring to a simmer, cover the pan, and remove from the heat. Set aside while you continue with the recipe.

Roast whole poblanos over the flame of your gas stove or gas grill. Alternatively, roast them under your broiler.

Steam the roasted poblanos between two plates for 5 to 10 minutes – then peel off most of the charred skins; cut into bite-sized pieces.

I created another post that details the processes of roasting, steaming, and peeling poblanos.

Heat the oil in a soup pot or Dutch oven over medium-high heat with a bit of the onion. When the onion begins to sizzle, add the rest of the onion and sauté for about 5 minutes, stirring often.

Add the garlic, poblanos, and jalapeño peppers. Stir and cook for a few more minutes.

Add the coriander, oregano, ancho chile powder, cumin, and tomato paste. Cook, while stirring for another minute.

Stir in the chopped tomatoes, veggie broth, and kombu. Add the black beans, cannellini beans, and kidney beans. Bring to a simmer.

Now it's time to finish making the chili paste. Put the chiles, porcini mushrooms, and their soaking liquid into a high-speed blender. Add the cacao/cocoa powder, and coconut aminos. Blend on high for about one minute, or until hot and steamy.

Measure 1-1/2 cups of the homemade chile paste and stir it into the pot of chile (refrigerate the rest of the paste to be used in another recipe).

Simmer the chile, uncovered, for about an hour or until it is at your desired consistency. Taste and adjust seasonings and/or add salt if desired.

Before serving, remove and discard the kombu. Garnish each bowl with chopped cilantro.
Notes
Also delicious served with or garnished with:
lime wedges
dollops of plant-based sour cream or yogurt
chopped chives or scallions
sliced

jalapeños
Nutrition
Calories:
104
kcal
|
Carbohydrates:
15
g
|
Protein:
3
g
|
Fat:
4
g
|
Saturated Fat:
1
g
|
Sodium:
113
mg
|
Potassium:
272
mg
|
Fiber:
5
g
|
Sugar:
7
g
|
Vitamin A:
524
IU
|
Vitamin C:
48
mg
|
Calcium:
43
mg
|
Iron:
2
mg
Omnivore Variations
When serving, add bits of cooked beef or venison to the omnivore portions
Garnish with shredded Monterey jack cheese or cheddar cheese
Dollop with sour cream or yogurt made from cow's milk
If you enjoy this chili recipe vegan, you may also like my Tomatillo Chili, and Butternut Squash Chili recipes.