Sometimes substituting a recipe ingredient out of necessity creates a new and tasty flavor profile. That's how Chickpea Patties with Artichokes was born. I ran out of red peppers when making a veggie burger recipe from my cookbook. I substituted with artichoke hearts, adjusted the other ingredients, and voila – new awesomeness!
Gluten-free? Consider using grilled portobello mushrooms as a delicious and nutritious substitute for buns. Bunless burgers can rock!
As with all veggie burgers, be sure to slather with your favorite toppings such as creamy dill dressing, vegan tzatziki sauce, spicy tomatillo salsa, roasted golden beet hummus, and more.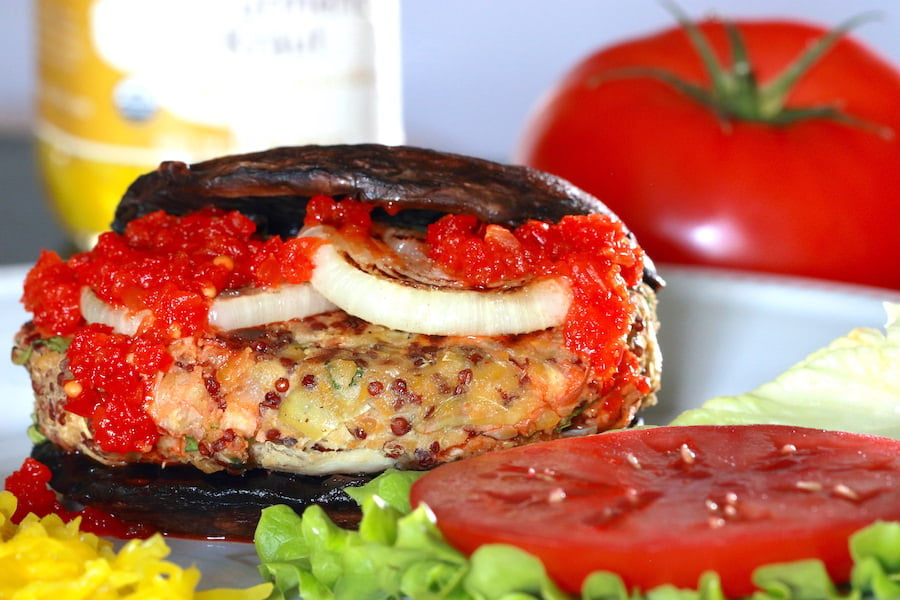 Method Overview
Cook quinoa
Make flax egg
Saute onions and garlic; season
Chop chickpeas, artichokes, and greens
Mix all ingredients together; form into burger patties and cook
Chickpea Patties with Artichokes
Ingredients
1/4

cup

dry red quinoa, rinsed

3/8

cup

water (1/4 cup plus 1/8 cup)

2

teaspoons

ground flax seeds

3

Tablespoons

water; measure carefully

1

teaspoon

olive oil

3/4

cup

diced red or white onion

3

cloves

garlic,

diced

1/2

teaspoon

Himalayan sea salt

1/2

teaspoon

smoked paprika

1

15-ounce

can unsalted garbanzo beans

(about 1-1/2 cups) rinsed and drained

3/4

cup

chopped artichoke hearts,

such as Native Forest brand

3/4

cup

chopped greens,

such as spinach, arugula, kale

3/8

cup

garbanzo bean flour (1/4 cup plus 1/8 cup)

or other flour of your choice

1

Tablespoon

plus 1 teaspoon refined avocado oil

for cooking the burgers
Instructions
Put the quinoa and water into a small saucepan over high heat. As soon as it starts to boil, reduce the heat, cover the pan, and gently simmer for about 12 minutes, or until the liquid is absorbed and the quinoa is al dente. Adjust the heat, if necessary, to keep it at a gentle simmer. When al dente, remove the pan from the heat but keep it covered for another 5 to 10 minutes.

In the meantime, put the ground flax seed into a large bowl with the water and set it aside; it will thicken to create a "flax egg."

Heat 1 teaspoon of oil in a ceramic nonstick skillet or cast iron skillet over medium-high heat with a bit of diced onion. When the onion begins to gently sizzle, add the remaining onion, garlic, salt, and paprika. Cook, stirring occasionally, for about 5 minutes, or until softened.

Put the garbanzo beans into a food processor and pulse until roughly chopped; do not blend smooth. Alternatively, you can smash the beans with a fork or potato masher. You can also opt to chop them with a chef's knife.

Add the cooked quinoa, cooked veggies, garbanzo beans, artichoke hearts, greens, and flour to the large bowl with the flax egg; mix everything together with your hands. If the batter isn't holding together, add a bit more of the flour.

Press the batter into 4 tightly formed patties; push against the edges of the patties with your hands or the flat side of a knife to compact.

Heat the oil in the skillet over medium-high to high heat with a bit of the batter. When it begins to sizzle, add the patties and cook until golden on both sides. You want the oil to be hot enough so they sizzle, but not burn.
Notes
The red quinoa can be substituted with white quinoa. White quinoa cooks a bit faster, so start checking after 10 minutes.
Nutrition
Calories:
153
kcal
|
Carbohydrates:
19
g
|
Protein:
5
g
|
Fat:
6
g
|
Saturated Fat:
1
g
|
Sodium:
355
mg
|
Potassium:
204
mg
|
Fiber:
4
g
|
Sugar:
3
g
|
Vitamin A:
218
IU
|
Vitamin C:
3
mg
|
Calcium:
30
mg
|
Iron:
1
mg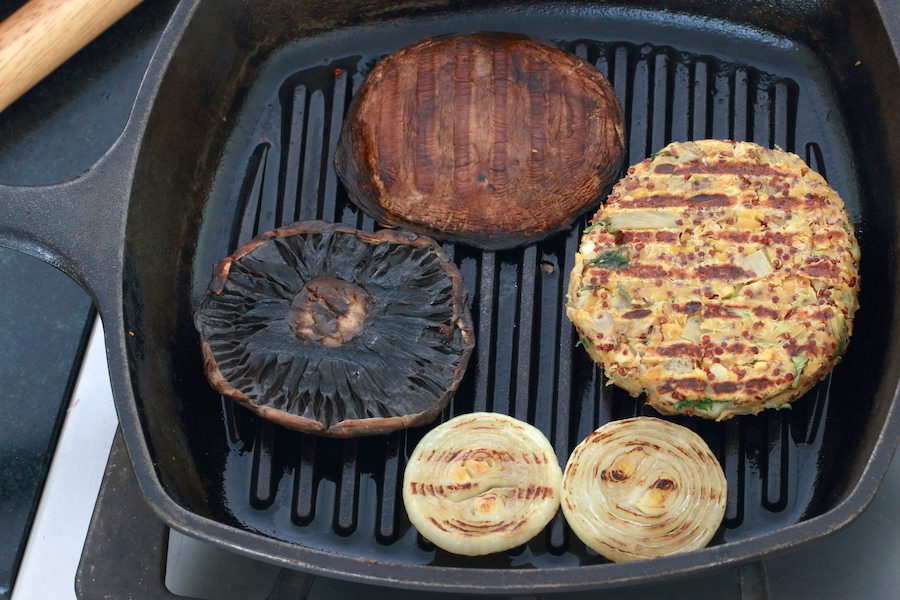 FAQs
Do jarred artichoke hearts contain citric acid?
Jarred artichoke hearts typically contain citric acid. If you're concerned about this ingredient, I suggest soaking (or at least rinsing) the artichokes, then shaking out the water before using.
What is the difference between chickpeas and garbanzo beans?
Chickpeas and garbanzo beans are two different names for the exact same ingredient in the legume family.
How do you get grill marks without using a gas or charcoal grill?
Using a cast iron ribbed pan is an alternative method for getting grill marks on your burgers (and more).
Can you cook Chickpea Patties with Artichokes in a stainless steel pan?
Yes, however, if you use a stainless steel skillet you will need to use more oil so the burgers don't stick to the pan.
If you enjoy this recipe you may also like another recipe I created called Grillable Veggie Burgers.