This vegan take on yellow rice with turmeric is simple to prepare, and pairs well with many cuisines. The warming spice, turmeric, creates the sunshiny color. Cumin and mustard add to the aromatic and earthy flavor. Easy, nutritious, delicious, and versatile – a rice side dish that's sure to please. Prepare with the optional sweet peas for a bit of visual, textural, and flavoral interest (did I just invent a word?).
I prefer to make this dish with white basmati rice, but it can also be made with brown rice. See the FAQs below for more information on sourcing clean rice.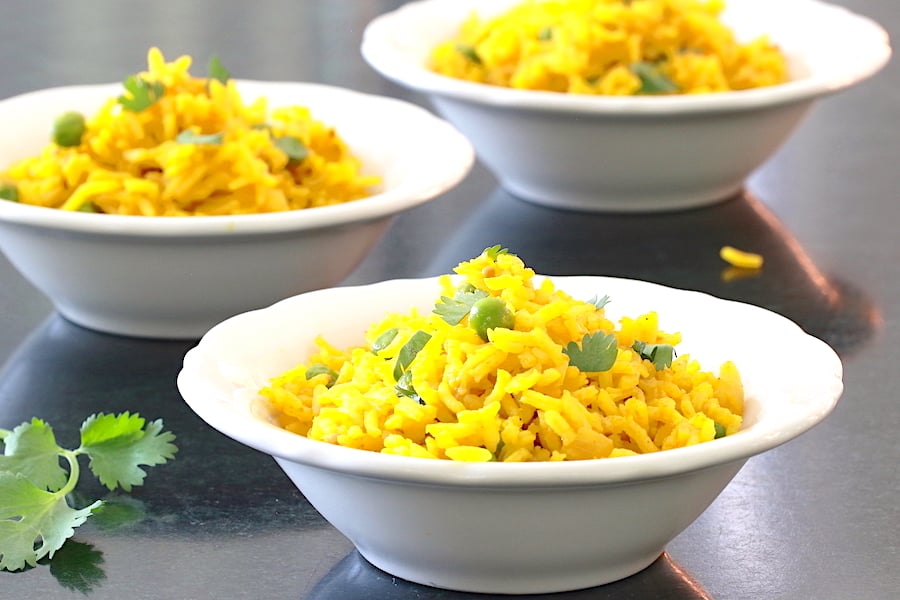 ---
Method Overview
Briefly saute onions, spices, and rice in a skillet
Add broth; simmer
When rice is halfway done, add peas
---
Rice with Turmeric
This vegan take on yellow rice with turmeric is simple to prepare, and pairs well with many cuisines.
Ingredients
1

cup

white Basmati rice

2

Tablespoons

olive oil

¼

cup

diced onion

¼

teaspoon

Himalayan sea salt

½

teaspoon

ground cumin

½

teaspoon

cumin seeds

½

teaspoon

mustard seeds

1

teaspoon

ground turmeric

2

cups

plus 2 Tablespoons low-sodium vegetable broth

½

cup

fresh or frozen peas

Chopped

cilantro or parsley for garnish,

optional
Instructions
Rinse the rice, then drain well.

Heat the oil in a large skillet over medium-high heat with a bit of the onion. When it begins to gently sizzle, add the rest of the onion, and cook, stirring often, for about five minutes or until softened.

Add the salt and spices and cook, while stirring, for about 30 seconds (be sure that the oil isn't so hot that the spices burn).

Next, add the drained rice to the skillet, and cook for two more minutes while stirring. It's okay if the rice is sizzling a bit.

Remove the pan from the heat, and let it cool down for a few minutes, then stir in the broth.

Put the skillet back over medium-high heat. When it reaches a lively simmer, give it a stir, then shake the pan, so the rice spreads out evenly.

Cover the pan and adjust the heat to the appropriate low setting so the rice continues to simmer (not boil). Be sure the lid is secured well, so steam doesn't escape.

Cook the rice for eight minutes, then gently stir. Evenly spread out the rice, sprinkle the peas on top, and recover. Do this step quickly, so the temperature doesn't drop.

Cook for eight more minutes, then taste the rice to check the consistency. If the broth is all absorbed, but the rice is chewy instead of al dente, add two more Tablespoons of broth, cover, and cook for a few more minutes.

When the rice is cooked al dente, remove the skillet from the heat but leave it covered for another five to ten minutes before serving.

Garnish with chopped cilantro or parsley if desired.
Notes
This recipe can also be made with brown rice. Just be sure to adjust the cook time.
Nutrition
Calories:
262
kcal
|
Carbohydrates:
43
g
|
Protein:
5
g
|
Fat:
8
g
|
Saturated Fat:
1
g
|
Polyunsaturated Fat:
1
g
|
Monounsaturated Fat:
5
g
|
Sodium:
171
mg
|
Potassium:
137
mg
|
Fiber:
2
g
|
Sugar:
2
g
|
Vitamin A:
152
IU
|
Vitamin C:
8
mg
|
Calcium:
27
mg
|
Iron:
1
mg
FAQs
Why does rice contain arsenic?
As I explain in my cookbook and healthy eating guide, "Arsenic-laden agrochemicals and various industries, especially coal mining, are to blame for polluting our land and waterways with this carcinogenic heavy metal. As a result, various forms of arsenic have made their way into our ground water, drinking water, and crops. Rice, in particular, tends to absorb arsenic more readily than other crops. As troubling as this may be, there are ways to safely consume rice. The key is to buy rice grown in low-arsenic zones, consume varieties known to inherently absorb less, and use prep and cooking methods that further reduce levels."
Is there a clean and sustainable rice brand?
My favorite brand of rice is Lundberg Family Farms because they test their rice for arsenic each year and share the results. They grow mainly organic and they use sustainable growing practices.
What variety contains the least amount of arsenic?
Basmati rice consistently tests as having the least amount of arsenic whether grown in California, India, or Pakistan.
Does white rice or brown rice contain more arsenic?
White rice contains less arsenic compared to brown rice, but it also contains less nutrients.
If you enjoy this Rice with Turmeric recipe, you should try my Fancy Quinoa Pesto recipe.