I recently had my first bowl of foul mudammas at a local Lebanese restaurant and it was love at first bite. I chatted with the cook and she shared the basics of her recipe; the star ingredients are fava beans and chickpeas. When I returned home I got busy researching how to make foul mudammas – this new flavorful and mysterious dish (don't you just love it when you find a brand new dish to add to your repertoire? ). I took the basics of her recipe, plus the info gleaned from the internet, then came up with my own version. I hope you give it a whirl; it's yummy comfort food.
This recipe makes 4 servings (be prepared to be full when you're done), or 6 servings if you serve with a light side dish such as a garden salad.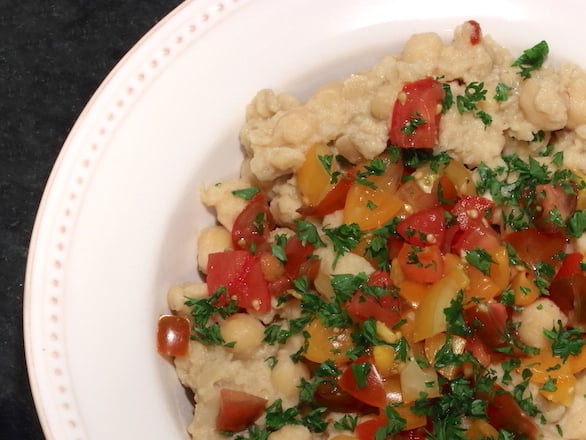 History of Foul Mudammas
Foul mudammas is also spelled foul moudamas, ful medames, ful mudammas, and foule mudammes. Historians and archeologists believe that it originated in ancient Eqypt.
It is notably a staple food in Egypt, especially in the northern cities of Cairo and Gizah. Ful medames is also a common part of the cuisines of many Arab, Middle Eastern, and African cultures, including Djibouti, Lebanon, Iraq, Syria, Libya, Israel, Palestine, Jordan, Ethiopia, Sudan, Yemen, Somalia, and Saudi Arabia.

Wikipedia
Variations of Foul Mudammas
As you can imagine with any recipe that is ancient and prepared in many countries – there are numerous variations.
Some prepare it loose like a hearty soup, and others make it thicker like a stew. It can also be prepared like a dip. Mine usually comes out somewhere between a stew and a dip. Whatever consistency you prefer, eat it with flatbread and enjoy!
When I make this dish I use dried beans that are soaked and cooked in advance before preparing the foul moudamas. If you prefer, you can substitute with canned beans.
Foul mudammas is traditionally made with small fava beans. The only organic fava beans I can find are of the larger variety sold by Shiloh Farms. If you use the smaller beans they will probably cook faster.
---
Method Overview
Soak and cook the dried fava beans and chickpeas (unless using canned)
Sauté onion, garlic, spices
Combine all of the ingredients and cook briefly
Garnish
---
How to Make Foul Mudammas
Equipment
2 sauce pans; 3-quart or larger for cooking the beans (unless using canned)

Dutch oven or large sauce pan for cooking the Foul Mudammas

potato masher
Ingredients
2

cups

dried fava beans,

or 2 (15-ounce) cans, reserve liquid

1

cup

dried chickpeas (AKA garbanzo beans),

or 1 (15-ounce) can, rinsed and drained

1

Tablespoon

olive oil

1/2

medium

red onion, chopped fine

4

garlic cloves, minced

1/8

teaspoon

freshly ground black pepper

1/2

teaspoon

crushed red pepper

2

teaspoons

ground cumin

1

teaspoon

Himalayan sea salt

1/2

cup

low-sodium veggie broth

1/8

cup

unsalted tahini

1/4

cup

freshly squeezed lemon juice

1

cup

chopped grape or cherry tomatoes,

or other tomatoes of your choice

1/2

cup

chopped parsley

1/4

cup

chopped scallions,

optional
Instructions
To Soak the Beans (if you are using canned beans skip this step)
Put the dried fava beans into a large-sized bowl or pot. Cover by 3 to 4 inches of water and refrigerate overnight. Do the same with the dried chickpeas in a separate medium-sized bowl or pot.

In the morning drain the water from the fava beans, rinse them, then recover with a couple of inches of fresh water and put them back into the refrigerator. Repeat this same process with the soaking chickpeas.
To Cook the Beans (if you are using canned beans, skip this step)
Drain and rinse the chickpeas one more time. Put them into a saucepan with enough fresh water to cover by a few inches. Mostly cover the pan and bring to lively simmer over medium-high heat. Simmer for about 1-1/2 hours, or until al dente. Adjust the heat if necessary to keep at a simmer and add more water if needed so the chickpeas stay submerged. Drain the water from the pan and set the cooked chickpeas aside.

While the chickpeas are cooking, drain and rinse the fava beans then peel away their skins. This step will take at least 20 minutes so enlist help! See video.

Put the skinned fava beans into a saucepan with enough fresh water to cover by a few inches. Mostly cover the pan and bring to lively simmer over medium-high heat. Simmer for about an hour or until the beans are very soft and breaking apart. Adjust the heat if necessary to keep at a simmer and add more water if needed so the fava beans stay submerged.

When the fava beans are very soft, strain over a heat-proof bowl and reserve the liquid.
To Prepare the Foul Mudammas
If a thick stew is desired, mash about one third of the cooked or canned fava beans with a potato masher. If your goal is to create the consistency of dip, mash all of the fava beans.

Put the oil in a Dutch oven over medium-high heat with a bit of the onion. When it starts to sizzle add the rest of the onion and sauté until softened. Add the garlic, peppers, cumin, and salt. Stir and sauté for about 30 more seconds.

Add the chickpeas, the fava beans, veggie broth, and tahini to the pan. Also add some of the reserved fava bean cooking liquid (or liquid from canned fava beans), more or less depending on the consistency desired; stir everything together. Simmer for about 5 minutes. Turn off the heat and stir in the lemon juice.

When serving, top each bowl with the tomatoes, parsley, and scallions.
Notes
Serve with flatbread such as my Vegan Gluten Free Tortillas.
As an option, drizzle a bit of extra virgin olive oil onto each bowl of foul mudammas right before serving.
 Mint and oregano also go well with this dish
Nutrition
Calories:
541
kcal
|
Carbohydrates:
81
g
|
Protein:
15
g
|
Fat:
13
g
|
Saturated Fat:
1
g
|
Sodium:
612
mg
|
Potassium:
1465
mg
|
Fiber:
30
g
|
Sugar:
13
g
|
Vitamin A:
1164
IU
|
Vitamin C:
27
mg
|
Calcium:
171
mg
|
Iron:
10
mg
Optional Omnivore Variation
In addition to the tomatoes and herbs, garnish the omnivore's bowl with sliced hard boiled egg.