This post explains how to make dark chocolate bark that's both healthy and incredibly delicious. My easy, dairy-free recipe contains only 5 ingredients: cocoa butter, raw cacao powder, sea salt, Medjool dates, and maple syrup.
I adorned this batch with pistachios, pecans, and rose petals – making it an ideal treat for Valentine's Day or other special occasions 💕 Feel free to vary the toppings.
If desired, this chocolate recipe can also be poured into candy molds.
Cocoa and chocolate act as functional foods, since both carry a number of substances contributing to beneficial health effects. Chocolate combines some organoleptic characteristics with aphrodisiac and antidepressant properties, extending its effects beyond the cardiovascular system, metabolic diseases, CNS diseases, and psychological profiles.

Chocolate, "Food of the Gods": History, Science, and Human Health
International Journal of Environmental research and public health
---
Method Overview
Melt cocoa butter wafers in double boiler
Stir in raw cacao powder, salt, dates, maple syrup
Pour onto parchment lined baking sheet
Arrange toppings; refrigerate
---
How To Make Dark Chocolate
I topped this batch with pistachios, pecans, and rose petals – making it an ideal treat for Valentine's Day 💕  Feel free to vary the toppings.
Equipment
double boiler

baking sheet

parchment paper
Ingredients
4

ounces

cocoa butter wafers,

such as Mountain Rose Herbs brand or Navitas brand

2

ounces

raw cacao powder

1

pinch

Himalayan sea salt

3

pitted

Medjool dates, minced

1

Tablespoon

real maple syrup, preferably grade B
For toppings
1/3

cup

raw nuts/seeds

(such as pistachios, pecans, walnuts, almonds, peanuts, pine nuts, pumpkin seeds), chop larger nuts in half or thirds.

1/4

cup

dried rose petals,

such as Mountain Rose Herbs brand, optional
Instructions
To make the dark chocolate
Melt the cocoa wafers slowly in a double boiler (uncovered), stirring often with a soft spatula. Remove from heat when almost all of the wafers are melted (they will continue to melt off-heat).

Stir in the cacao powder. Add the sea salt, dates, and maple syrup. Continue to stir and break up the minced dates with the spatula; they will partially melt into the chocolate. Stir until the mixture has cooled down to about 80ºF.

Slowly pour the chocolate mixture onto a parchment lined baking sheet. Using a soft spatula, help it form into a rectangle that's approximately 12-inches by 10-inches.

Evenly sprinkle with the toppings, then refrigerate.

Don't attempt to cut the bark until it is well hardened.

Slide the parchment with chocolate bark onto a cutting board. Using a chef's knife, cut it into 20 pieces that are each about 2-inches by 3-inches.

Keep the bark refrigerated in an air tight storage container.
Notes
Do not get any water or moisture into the cocoa butter or chocolate mixture. Even a drop of water may negatively effect the consistency and make it gritty.

Be sure your pan is completely dry before you add the cocoa butter wafers.
Use a dry spatula.
Don't boil the water so hard in your double boiler that steam escapes; the moisture could get into the cocoa butter.

FYI chocolate doesn't like to be temperature shocked. So for instance, don't put hot chocolate in a cold water bath or in the freezer.
I estimate that this chocolate is about 75% cacao. I find that it is flavorful, but not very sweet. It also isn't bitter. If you prefer a sweeter chocolate, add an extra Tablespoon of maple syrup.
You can substitute raw honey for the maple syrup if you prefer.
Nutrition
Calories:
41
kcal
|
Carbohydrates:
5
g
|
Protein:
1
g
|
Fat:
1
g
|
Saturated Fat:
0.5
g
|
Sodium:
5
mg
|
Potassium:
103
mg
|
Fiber:
1
g
|
Sugar:
3
g
|
Vitamin A:
14
IU
|
Vitamin C:
1
mg
|
Calcium:
12
mg
|
Iron:
1
mg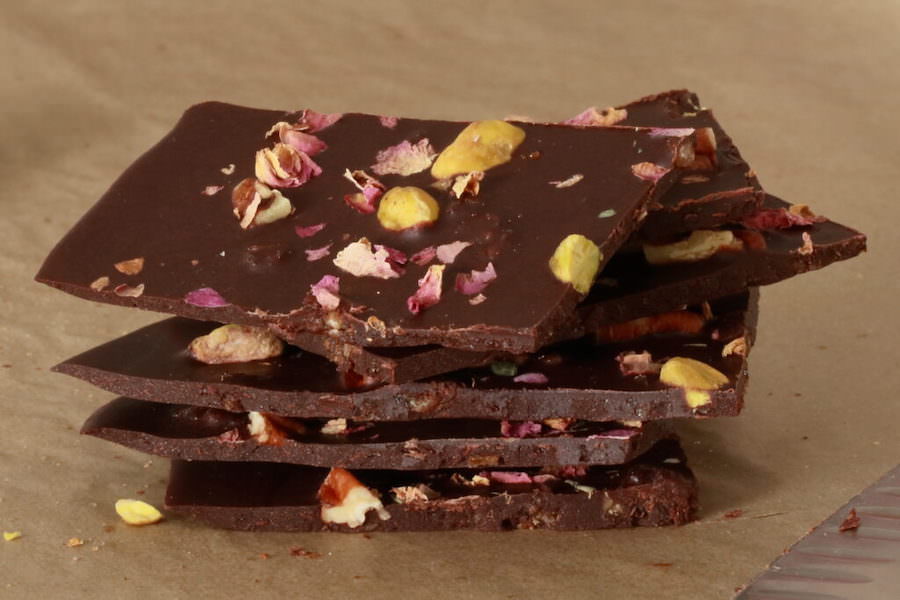 What is cocoa butter?
Cocoa butter is non-dairy fat, extracted from cocoa beans.
What's the difference between raw cacao and cocoa powder?
Both come from cacao beans; the difference is how they are prepared.
Raw cacao is made by cold-pressing cacao beans. Cocoa powder is made by roasting raw cacao using high temperatures before grinding; other ingredients are sometimes added.
Raw cacao contains more nutrients and beneficial enzymes than cocoa powder.
What nutrients are in cacao?
Cacao is a rich source of antioxidants, and contains a goodly amount of iron, magnesium and zinc.
What is tempered chocolate?
Tempered chocolate goes through a specific temperature process so that it remains solid even at room temperature. Tempering is a fairly tricky process that requires patience and practice.

This recipe does not create tempered chocolate, that's why it must be kept in the refrigerator until ready to eat.
If you like this post, How to Make Dark Chocolate, you may also enjoy my recipe for Decadent Chocolate Tart with Raspberry Sauce.