These amazing tortillas are made with cassava flour, a grain-free alternative. Over the past three weeks I plowed through five pounds of cassava flour and made about fifteen batches of these tortillas (I honestly lost count). All of the fun kitchen testing has run its course and now I'm excited to unveil my recipe – as well as all of the tips that I learned along the way for working with this flour and dough.
But first, let's cover some of the basics.
What is Cassava Flour?
Cassava flour comes from the starchy tuberous root of the yuca plant (yoo-cuh). The flour ground from yuca root is a whole-food, plant-based, grain-free, gluten-free, and nut-free substitute for wheat flour.
Not to be confused with the yucca plant, the yuca plant readily grows in tropical and sub-tropical climates. It is an important calorie-rich staple crop in many developing countries. It is also called manioc among other names.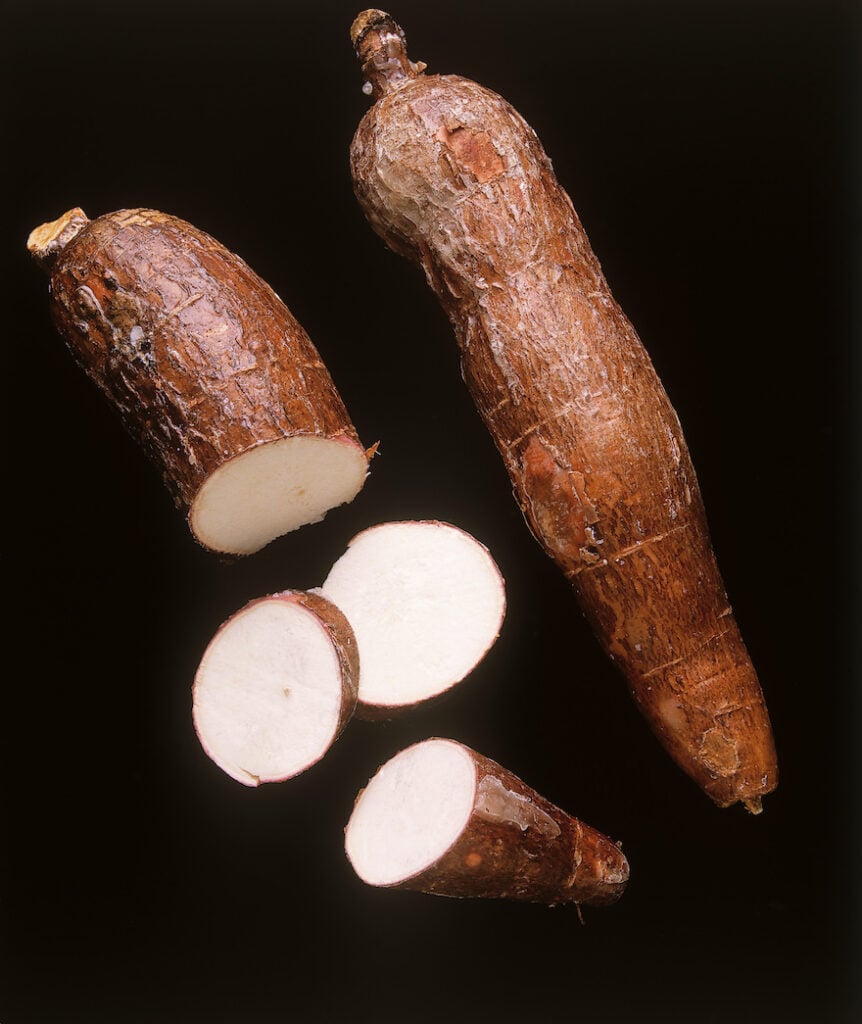 Cassava Flour vs Tapioca Flour
Cassava and tapioca both come from the yuca plant. However, there are differences – and I do not suggest using tapioca in place of cassava. Tapioca flour contains just the starch of the root, hence it is also called tapioca starch; it is often used as a thickener. Tapioca pearls are formed from this starch. Cassava flour, on the other hand, is made by drying and grinding the entire root and is a whole food. Cassava flour behaves differently than tapioca, especially when baking.
Health Benefits of Cassava Flour
Considered an allergy-free food
Low-fat
Contains some vitamin C and B vitamins
Some of the starch present in cassava flour is beneficial "resistant starch." Resistant starches travel through the upper digestive tract unchanged, then feed beneficial gut bacteria in the large intestines. Studies show resistant starches reduce the risk for obesity, colon cancer, and type 2 diabetes. Legumes (beans and lentils) are also resistant starches.
Even still, please note that cassava is high in calories and carbs, plus low in fiber – so it should be eaten in moderation. Consume with high-fiber protein-rich foods for a balanced meal. My tortilla recipe contains flax seeds, sesame seeds, and arrowroot to ramp up the fiber and protein content.
Cassava Flour Brands
My local health food store and healthy market carry Otto's Naturals brand cassava flour; it's the only brand that I've tested so far. It isn't organic but it is a reputable brand that is well tested to be sure it doesn't contain any arsenic. Yuca will absorb any toxins present in the soil, so be sure to purchase from a reputable source.
---
Method Overview
This dough is very easy to put together and work with!
Make dough.
Cut dough into 6 equal pieces.
Press or roll each piece into a six-inch round.
Cook briefly in a preheated dry cast iron griddle or skillet. Please note – if you plan on making quesadillas, or plan on filling and rolling the tortillas to make baked enchiladas or the like, slightly undercook them so they're easier to roll.
How to Press/Roll the Tortillas
I prefer to use my tortilla press. If the tortillas aren't thin enough after pressing, I also roll them a bit with a rolling pin.
No tortilla press? No problem. Simply use your rolling pin to create thin six-inch circles.
Always press or roll between two pieces of parchment paper to prevent the dough from sticking.
---
Grain-Free Tortillas
Servings:
6
six-inch tortillas
Equipment
tortilla press and/or rolling pin

cast iron griddle or skillet
Ingredients
1

cup

cassava flour,

such as Otto's Naturals Cassava Flour

3

Tablespoons

arrowroot flour

1

Tablespoon

ground flaxseed (golden)

1

Tablespoon

sesame seeds

1/2

teaspoon

Himalayan sea salt

1/4

teaspoon

garlic powder

1/8

teaspoon

freshly ground black pepper

3

Tablespoons

refined avocado oil,

refined without chemicals

2/3

cup

lukewarm water
Instructions
Begin preheating a dry cast iron griddle or skillet over the lowest heat setting.

Whisk or stir the dry ingredients together in a large bowl.

Massage the oil into the dry ingredients using your fingers until evenly distributed.

Add the water and knead with your hand until the ingredients are well combined. Form the dough into a ball; the dough will feel moist.

Cut the dough ball in half, then form each half into a log. Cut each log into 3 equal pieces. Form each piece into an even mound (see photo gallery). Cover all of the dough with a slightly damp kitchen towel (or paper towel) to keep from drying out.

By now your cast iron pan should be evenly warmed up. Turn the heat to medium-high so it gets hotter. The handle will even become hot, so use a pot holder and be careful.

While the pan is getting hot, press and/or roll the first mound into a thin six-inch circle Whether pressing with a tortilla press or rolling with a rolling pin, the dough should be between two pieces of parchment paper.

Place the round onto the griddle/skillet being careful not to wrinkle. After about a minute it will form bubbles; that's your signal to flip.

After you flip the tortilla, watch for more bubbles to form on the second side. When you see bubbles, flip again and cook for 5 to 10 more seconds.

At this point the tortilla will be floppy and easy to roll, albeit a bit undercooked. This level of doneness is perfect if you plan on making quesadillas, enchiladas, or a similar baked dish (if filling and rolling – do so while the tortillas are still warm since they will be a bit harder to roll when completely cooled).

If you don't plan on making quesadillas, enchiladas, or the like – I suggest cooking each side a bit longer until dark spots form. Remove the tortilla from the pan and cool single layer.

Repeat with the rest of the dough.
Notes
When making any kind of dough (or baked goods) it's important to accurately measure the dry and liquid ingredients.
How to Measure Flour
Fluff the flour with a spoon. Spoon the flour into a dry measuring cup (a cup meant for measuring flour and other dried goods versus liquids). Using the back of a straight knife, evenly scrape the excess flour from the cup.
Please be aware that when you measure and agitate flour it may go up into the air. Breathing in flours and powders in general is detrimental to your lungs, so be careful not to breath them in. Use a gentle touch when measuring, pouring, whisking, etc. so you don't send flours and powders airborne.
How to Measure Liquids
Use a glass measuring cup and read the measurement at eye level.
Nutrition
Calories:
161
kcal
|
Carbohydrates:
21
g
|
Protein:
1
g
|
Fat:
8
g
|
Saturated Fat:
1
g
|
Sodium:
145
mg
|
Potassium:
16
mg
|
Fiber:
1
g
|
Sugar:
1
g
|
Vitamin C:
1
mg
|
Calcium:
46
mg
|
Iron:
1
mg