I made pear vanilla jam for the first time this summer and was pleasantly surprised at how well pears and vanilla "pair" together! If you haven't tried this combination yet, you're in for a big treat! 🙂
I followed a recipe on the Pomona's Universal Pectin website – except I used less sugar, which is a safe allowable alteration. I also substituted organic vanilla extract for the vanilla bean pod, another approved alteration.
You can either freeze or can this recipe. Please note that per the folks at Pomona, this recipe was developed by a "master canner." They assured me that the acidity of the final product is safe to process in a boiling water bath; however, it wasn't officially kitchen lab tested.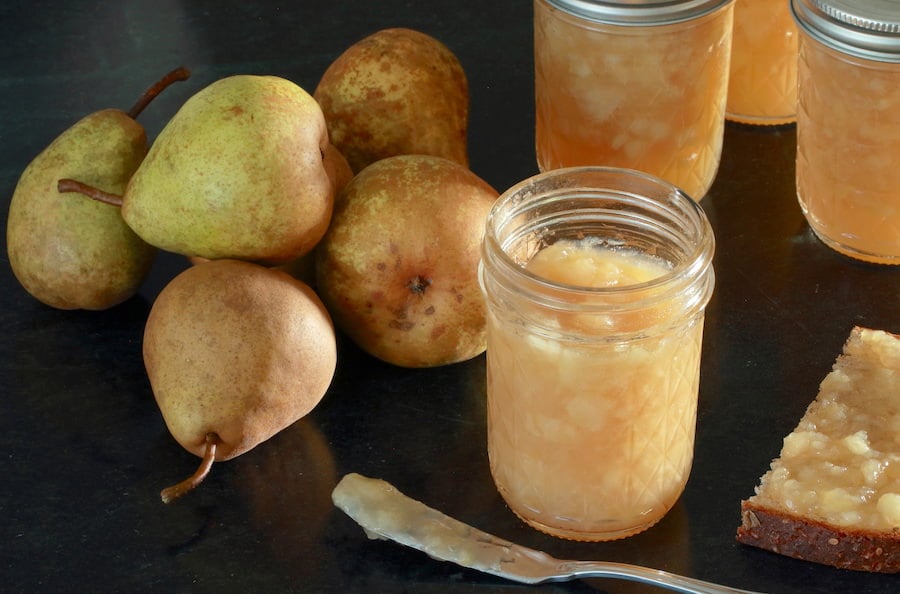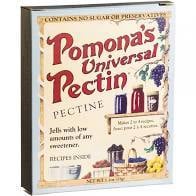 Why do I use Pomona's Universal Pectin? It's a cleaner product when compared to the other commercially available pectins on the market. In addition, you are able to reduce the amount of sugar when using this pectin and still end up with a properly gelled jam. And no, I do not make any money by promoting their product (I wish!).
Please note that the box contains two different pouches. One contains calcium powder for making calcium water, and the other contains the pectin.
Pomona's Universal Pectin contains only 100% pure citrus pectin, which is vegan, gluten free, and GMO free. There are no additives, preservatives, sugar, or dextrose. There are no corn or apple by-products.

The monocalcium phosphate powder that comes in its own packet when you purchase Pomona's is a food-grade rock mineral source of calcium made up of two minerals, calcium and phosphorous.

Pomona's universal pectin
Method Overview
Peel, core, chop pears; mash
Bring mashed pears, lemon, vanilla, and calcium water to a boil
Add sugar/pectin mixture
Freeze or process in a boiling water bath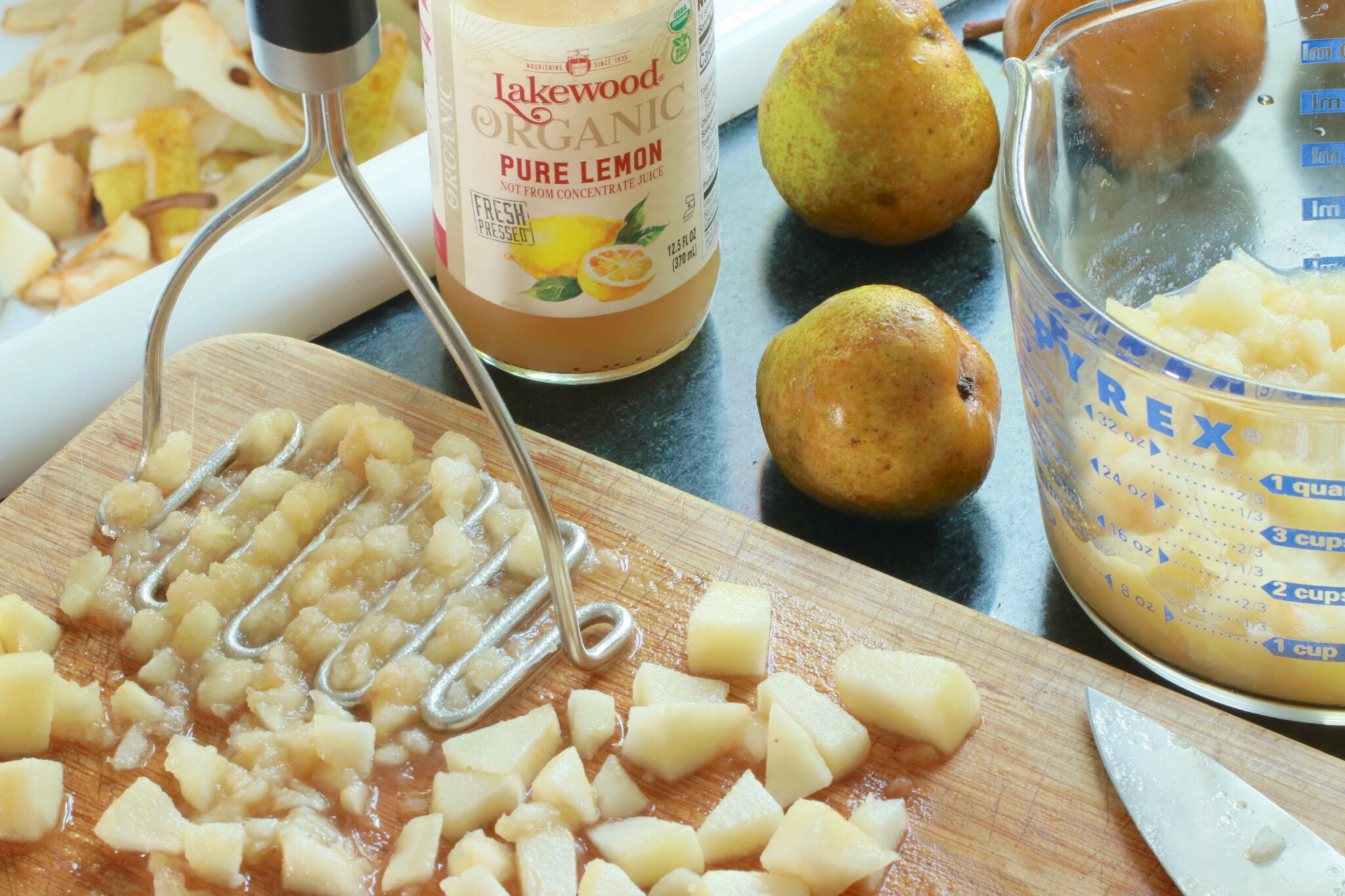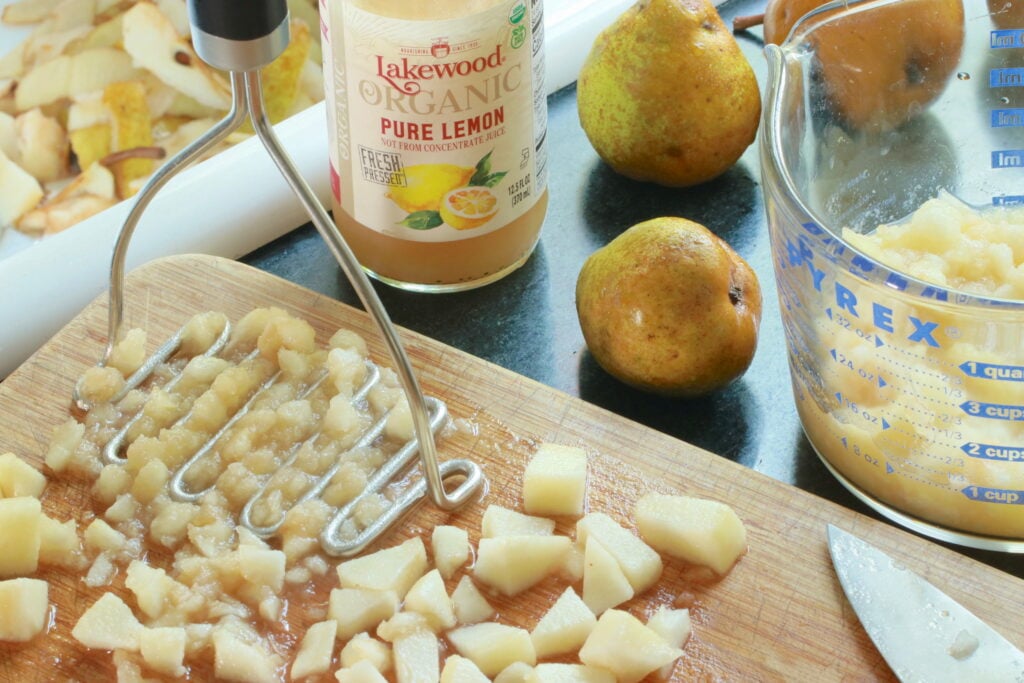 To safely can jam, you need to add bottled lemon juice (not freshly squeezed lemons). Why? Bottled lemon juice is consistently at 5% acidity; freshly squeezed lemons may or may not be at that level. Adding 1/4 cup of 5% acidic lemon juice to this recipe is what makes it safe to can in a boiling water bath. Fortunately, these days you can buy pure organic lemon juice without any additives. I use the Lakewood brand but there are probably others available. I like that they offer their lemon juice in a 12-ounce bottle in addition to a larger size.
What is a maslin pan?
It's a large pan with a heavy bottom, that evenly distributes heat. This prevent hot spots and scorching. The flared shape encourages evaporation, which comes in handy when reducing liquids from jam, tomato puree, and more.
Do you need a maslin pan to make jam?
If you do not have a maslin pan, use another heavy bottomed pan so that the jam won't scorch when boiling. Stirring often also helps.
Pear Vanilla Jam| Low Sugar
If you've never had pear and vanilla jam before, you're in for a real treat!
Equipment
potato masher

maslin pan, or other heavy bottomed pot
Ingredients
Instructions
Put 1/2 teaspoon of calcium powder into a small jar with 1/2 cup of water. Shake until combined and set aside. You will only use 1/2 teaspoon of this prepared calcium water for this recipe; the rest can be refrigerated for another day of making jam.

In a small bowl, stir the sugar and pectin powder together. Set aside.

Peel, core, cut up, and mash each pear. I find it is easier to mash them on my cutting board.

You need 4 cups of mashed pears for this recipe.

Add the measured mashed pears, lemon juice, vanilla extract, and 1/2 teaspoon of calcium water to a maslin pan, or other heavy bottomed pot; stir well.

Place over medium-high to high heat; stir often. When it reaches a rolling boil, stir in the sugar/pectin mixture. Keep stirring until the sugar/pectin dissolves and it returns to a boil, then remove from the heat.

Boiling water bathFollow an approved canning procedure and process for 10 minutes. Add 1 minute additional processing time for every 1000 feet above sea level.FreezingYou can freeze jam in half-pint or pint jars. Only fill to the "fill line" etched into the mason jars. This headspace allows for expansion. Alternatively, use a vacuum sealer to prepare flat packages for your freezer. I created another post, complete with video demonstration, explaining how to freeze liquids using a vacuum sealer.
Notes
If you are freezing this jam, you can use freshly squeezed lemon juice (or bottled). If you are canning this jam stick with the bottled lemon juice as previously explained.
You can mash the pears fully or leave them a bit chunky.
Store the leftover calcium water in the refrigerator to be used for future jam making.
If you enjoy Pear Vanilla Jam | Low Sugar, you may also like my Low-Sugar Freezer Raspberry Jam recipe.