Yes it is possible to make low-sugar raspberry freezer jam! I use a modest amount of honey to lightly sweeten the raspberries and the result is a slightly tart, slightly sweet, flavorful jam. If you don't eat honey – agave or crystalized sugar can also be used. Most jam recipes require an insane amount of sugar in order to get it to set up. This recipe sets up just fine with a fraction of the sweetener. Even still, low-sugar jam is best used sparingly as a condiment – as opposed to eating spoonfuls right out of the jar 😉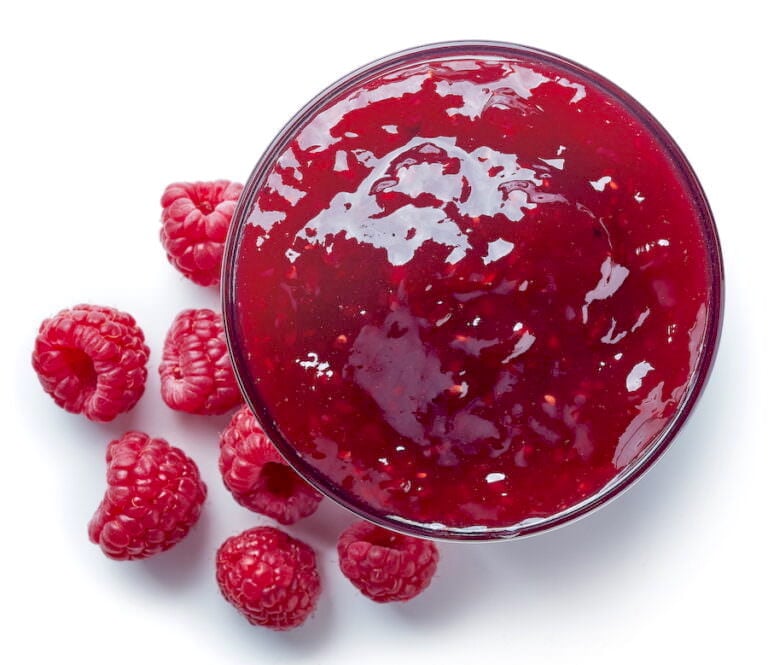 We've been growing a huge garden of an "ever bearing" variety of raspberries for the past 20 years; the name of the variety is called Caroline. They produce heavily for 6 to 8 weeks each summer, and then less heavily until frost. That's a lot of berries! We enjoy them fresh by the handfuls – and also add them to our morning oatmeal, cereal, non-dairy yogurt, fruit salads, and the like. I use them to make Fresh Raspberry Tart – and we also freeze dozens of 1-quart packages each summer to be enjoyed off season.
In addition, I've made countless jars of raspberry jam over the years using various methods and recipes. After years of experimenting, this low-sugar raspberry freezer jam is by far my favorite. I altered Pomona's Universal Pectin recipe slightly. The main difference is I remove half of the raspberry seeds, so the resulting jam isn't so seed heavy. Until I started doing this, I always felt that the jam was just too gritty. Removing half of the seeds creates the perfect texture.
My Low-Sugar Raspberry Freezer Jam Recipe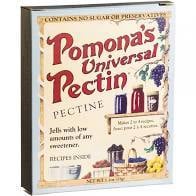 A modest amount of honey (or agave or crystalized sugar) is used as the sweetener.
Seeds are removed from half of the berries to create a better texture.
It is made with Pomona Pectin which I feel is a cleaner product compared to other commercial pectins. Most pectins require you add a high ratio of crystalized sugar to raspberries. This pectin allows you to add much less sweetener.
Pomona's Universal Pectin contains only 100% pure citrus pectin, which is vegan, gluten free, and GMO free. There are no additives, preservatives, sugar, or dextrose. There are no corn or apple by-products.

The monocalcium phosphate powder that comes in its own packet when you purchase Pomona's is a food-grade rock mineral source of calcium made up of two minerals, calcium and phosphorous.

Pomona's Universal Pectin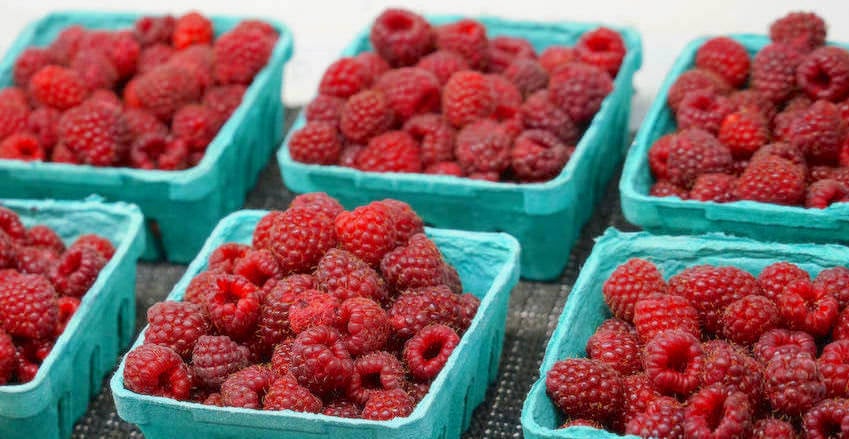 ---
Method Overview
Mix calcium powder with water (unless you already have some made up)
Stir pectin into sweetener
Mash half of raspberries; remove seeds from other half of raspberries
Combine ingredients and briefly boil
---
How to remove raspberry seeds
If you use a food mill to remove the raspberry seeds, place it over a bowl to catch the juice. Keep turning the crank (forwards and backwards) until no more juice is released from the berries.
No food mill? No worries. You can also remove the seeds by smashing the berries against a fine mesh strainer. Smash the raspberries against the strainer using the back of a spoon; catch the juice in a bowl. This method is harder than using a food mill, but it works in a pinch.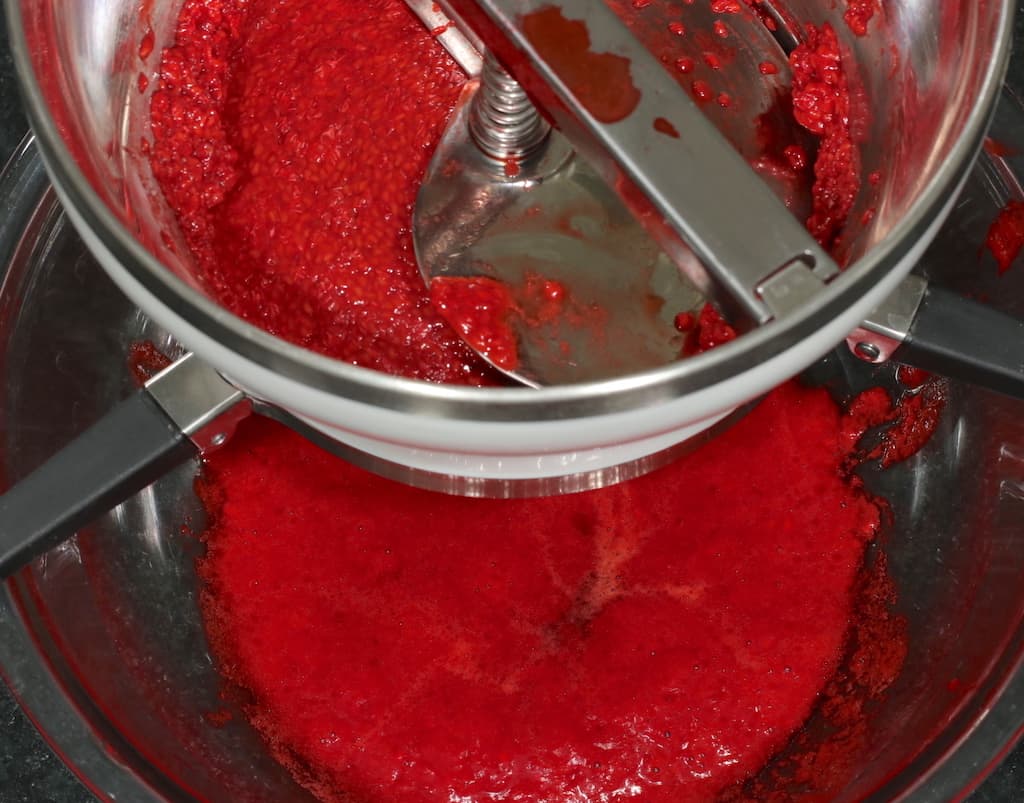 Low-Sugar Raspberry Freezer Jam
Ingredients
1/2

teaspoon

Pomona calcium

1/2

cup

honey or agave

(if you prefer crystalized sugar see note below)

2

teaspoons

Pomona pectin

8

half-pints

fresh raspberries
Instructions
To Prepare the Calcium Water
Put the 1/2 teaspoon of Pomona calcium powder and 1/2 cup of water into a jar with a tight fitting lid. Shake well and set aside.
To Prepare the Sweetener
Measure the sweetener and mix well with the 2 teaspoons of Pomona pectin. Set aside.
To Make the Jam
Put 4 half-pints of fresh raspberries into a large heavy bottomed pot. Mash using a potato masher. Cover and set aside.

Remove the seeds from the remaining 4 half-pints, reserving the juice. The easiest way to do this is to use a food mill such as the OXO brand. If you don't have a food mill, you can use a fine mesh strainer for this step.

Pour the reserved raspberry juice into the pot with the mashed raspberries.

Add 2 teaspoons of the calcium water to the pot (put the rest of the calcium water into the refrigerator for future use).

Cook over medium-high heat, stirring often, until the raspberry mixture begins to boil.

Add the sweetener/pectin to the pot. Stir well so the sweetener mixes into the raspberries.

Return to a boil. Continue to boil while stirring for another minute, then remove from the heat.

Skim any foam that has formed from the surface of the raspberry mixture.

Taste the jam at this point to be sure it is sweet enough for your liking. If you want a sweeter jam, add another 1/4 cup of honey (or agave). Stir well until well mixed.
To Freeze the Jam
Pour the hot jam into half-pint or 1-pint jars leaving 1/2" of headspace to allow for expansion; cap the jars.

Let the jars cool down to room temperature before putting them into the freezer (or refrigerator). Please note that the jam won't gel up until it has cooled.
Notes
You can substitute the honey with crystalized sugar. Sugar isn't as sweet as honey so you'll need to adjust the amount. Start with 3/4 cup and taste; if necessary add another 1/4 cup.
How many cups are in a pint of raspberries?
A half-pint of raspberries equals approximately 1 cup.
What's the difference between jam and jelly?
Jelly is made from just the juice which results in a it is a clearer product – and it is a firmly gelled consistency. Jam contains the seeds and pulp, and is of a looser consistency.
How long will the jam last once it is thawed?
It will last about three weeks if kept refrigerated. Use a clean spoon or knife when scooping it from the jar so crumbs, butter, etc. don't contaminate the jam.