We vacationed in Maine for many summers when the kids were young. These two-week holidays were always filled with lake swimming, canoeing, berry picking, hiking, board games, puzzles, and the like. We capped off each trip with a visit to a diner-style restaurant called Crossroads. Their specialty was fresh berry pie, and it was always amazing! This fresh raspberry tart is my take on their specialty – minus the gelatin, sugar, shortening, and wheat flour.
Surprisingly, even with all of the substitutions, my version comes pretty darn close. Honestly it's because both recipes highlight mile high berries, and the berries make the dessert.
The no-bake crust for this tart is delightful! I developed it when creating my Decadent Vegan Chocolate Tart recipe. The ingredients include raw cacao, dates, maple syrup, almond flour, sea salt, and coconut oil.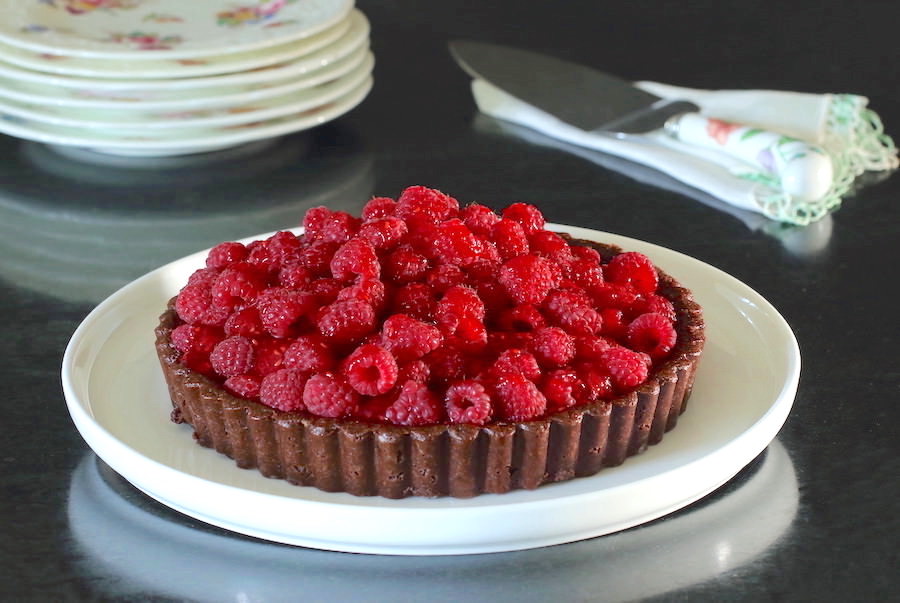 My husband Jamie has at least 300 raspberry bushes growing behind our greenhouse. They're an ever bearing variety called Caroline, and produce for six to eight weeks (as long as we keep picking)!
I typically make this recipe with just raspberries, since they're so plentiful around here. But fresh berry tarts and pies are also delicious with a combination of raspberries, blueberries, blackberries, and strawberries. That's how Crossroads Restaurant made theirs, with all four berries.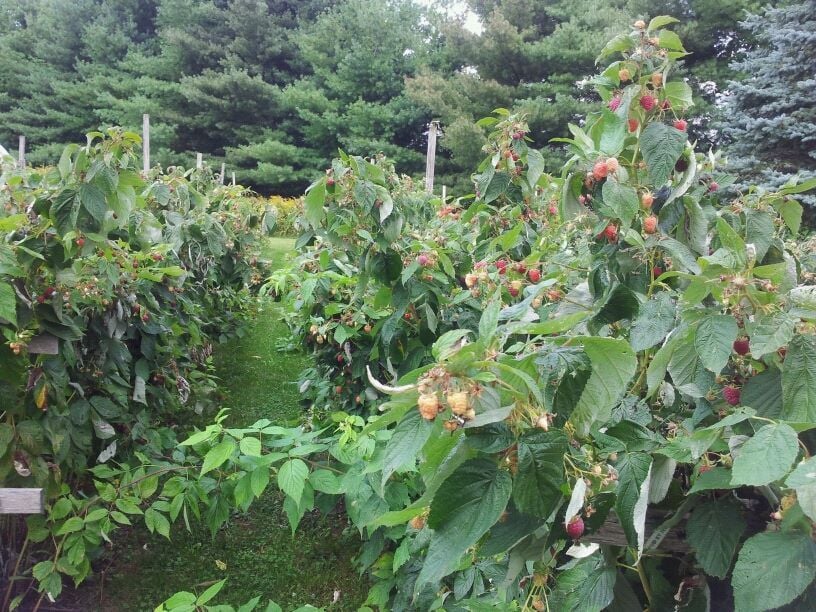 ---
Method Overview
Prepare the no-bake crust
Press the crust into the greased two-piece tart pan
Prepare the raspberry gel
Alternate layers of raspberries and gel
Refrigerate
---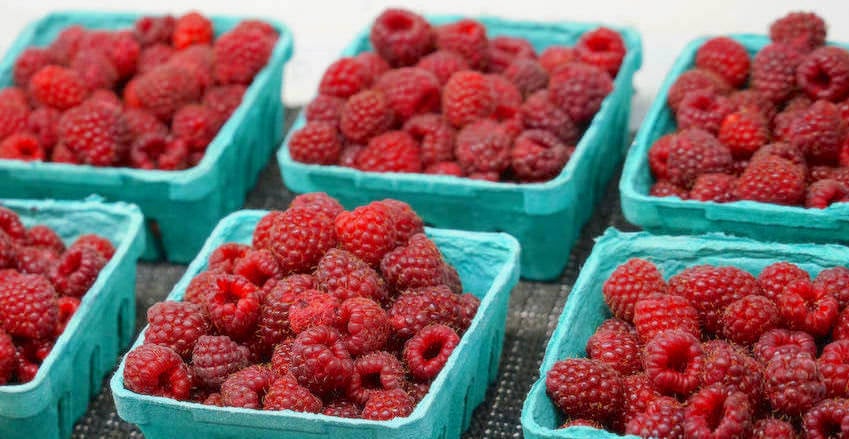 Fresh Raspberry Tart (vegan, sugar and gluten-free)
Fresh raspberry tart – minus the gelatin, sugar, shortening, and wheat flour.
Equipment
two-piece tart pan with removable bottom
Ingredients
For the crust
1-1/2

cups

almond flour

1/4

cup

raw cacao powder,

or unsweetened cocoa powder

1/4

teaspoon

Himalayan sea salt

1/4

cup

refined coconut oil,

melted but not hot

4

Medjool dates,

pitted and minced

2

Tablespoons

maple syrup
For the filling
1

cup

water,

divided

1/3

cup

honey (or agave or maple syrup)

1/8

teaspoon

Himalayan sea salt

6

cups

(6 half-pints) fresh raspberries,

divided

2

Tablespoons

arrowroot powder
Instructions
For the crust
Stir the dry ingredients together in a medium-sized bowl.

Add the rest of the crust ingredients to the bowl and stir well.

Grease the tart pan (sides and bottom) with refined coconut oil using a pastry brush or your hands.

Evenly press the crust mixture into the pan; press into the sides first and then the bottom.
To prepare the raspberry gel
Put 2/3 cup of water into a small saucepan with the honey and salt. Stir over medium heat until the honey and salt are dissolved. Remove from the heat. Add 1 cup of raspberries to the pan and mash well using a potato masher.

In a small bowl or cup, stir or whisk the arrowroot powder into the remaining 1/3 cup of water until it is dissolved. Add this arrowroot slurry to the saucepan and stir over medium heat. As soon as the raspberry mixture begins to thicken, remove from the heat.
To assemble the tart
Arrange a scant 2 cups of raspberries on the bottom of the crust. Pour about a third of the raspberry mixture over the berries; try to coat each one. Continue in this way two more times. If the raspberry gel becomes too thick, thin with a bit of water; vigorously stir (or whisk).

Refrigerate for at least an hour, or until the crust hardens.
To serve
Carefully remove the tart from the two-piece tart pan. Slice and enjoy!

Return any leftover tart back to the refrigerator.
Notes
The top layer of raspberries needs the least amount of raspberry gel.
Nutrition
Calories:
327
kcal
|
Carbohydrates:
43
g
|
Protein:
6
g
|
Fat:
18
g
|
Saturated Fat:
7
g
|
Sodium:
84
mg
|
Potassium:
279
mg
|
Fiber:
10
g
|
Sugar:
27
g
|
Vitamin A:
48
IU
|
Vitamin C:
24
mg
|
Calcium:
83
mg
|
Iron:
2
mg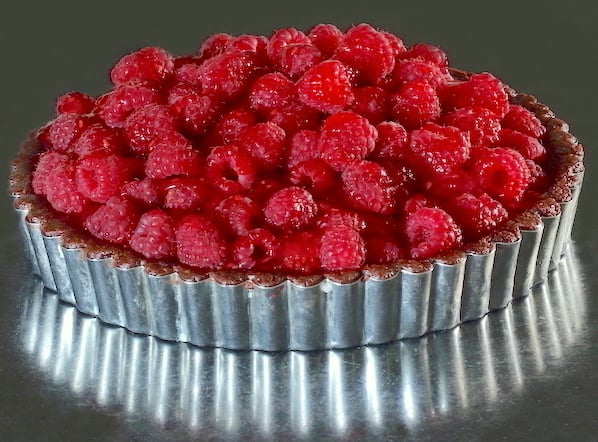 How to remove tart from pan
Place on pedestal (or wide-mouth mason jar)
Gently press down on rim of tart pan
The ring will fall downwards, leaving the tart resting on the pedestal (or jar)
The pedestal diameter needs to be smaller than the diameter of the tart pan in order for this trick to work (otherwise just use a wide-mouth mason jar)
If the tart won't release, wait a few minutes so the crust softens a bit, and try again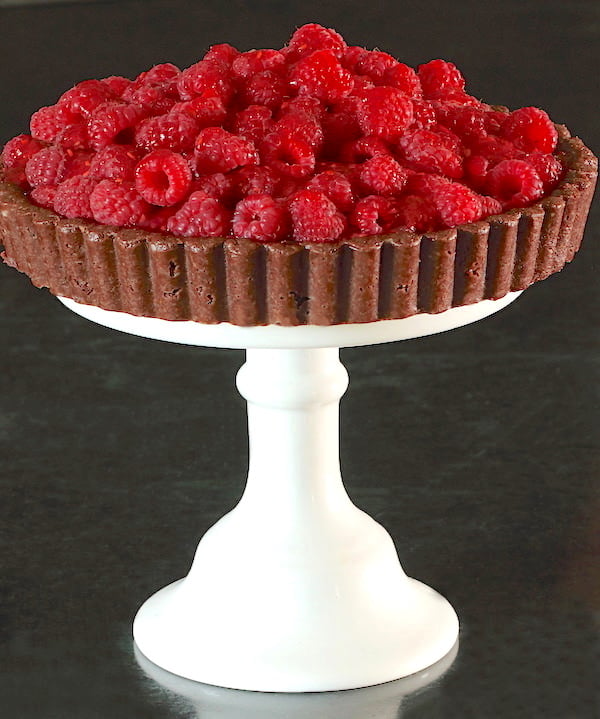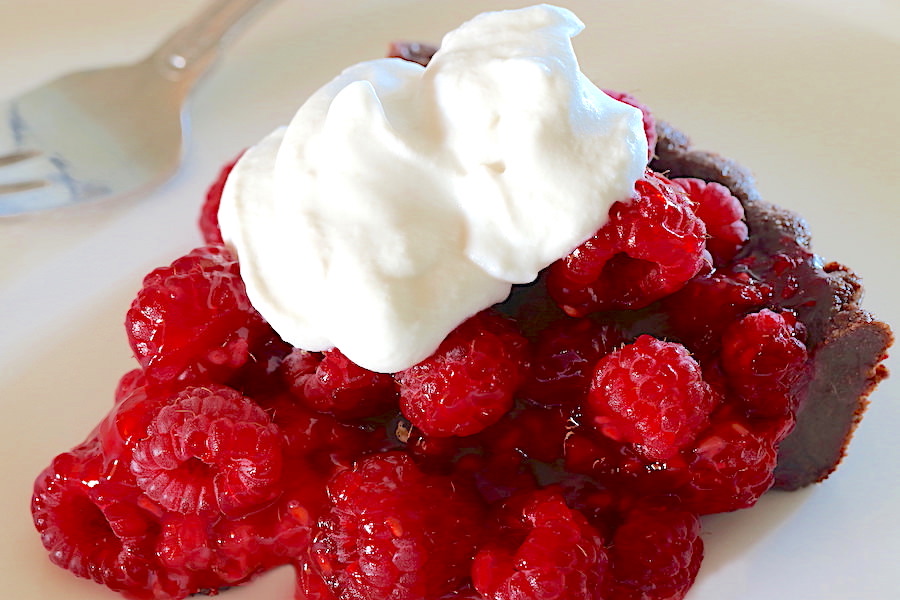 FAQs
What's the difference between raw cacao and cocoa powder?
Both come from cacao beans; the difference is how they are prepared.
Raw cacao is made by cold-pressing cacao beans. Cocoa powder is made by roasting raw cacao using high temperatures before grinding; other ingredients are sometimes added.
Raw cacao contains more nutrients and beneficial enzymes than cocoa powder.
Difference between a pie and a tart?
A pie is baked in a pie pan and typically has a top and bottom crust.
A tart only has a bottom crust; it is usually made in a tart pan with fluted or straight lines and a removable bottom. It's a freestanding more showy version of the more rustic pie.
---
If you enjoy this recipe you may also like my post explaining How To Make Dark Chocolate.