Did you ever think you'd hear the words moist and fluffy to describe GF vegan zucchini muffins? Well it is possible and yes they are delicious! Not only are these muffins gluten-free, they are also grain-free. Sit back and let me tell you the story behind these sweet gems.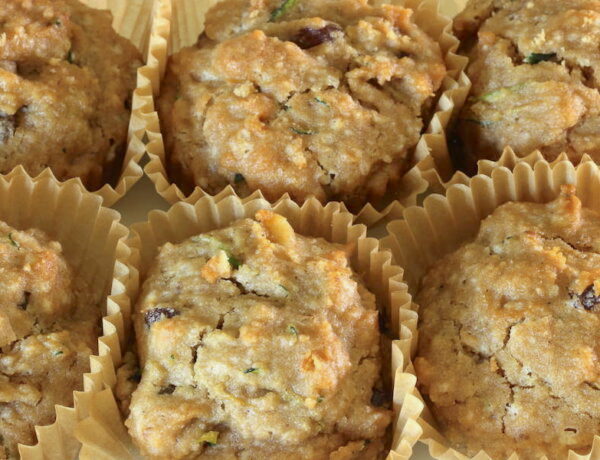 Inspiration for moist and fluffy zucchini muffins
Back in the early '80s, Jamie and I had the good fortune to live next door to an elderly couple, Charlie and Louise Botsford. They didn't have kids of their own and took us under their wings; we were young and eager to learn from their experiential wisdom. Charlie was 79-years-old when we met him, but still grew huge organic gardens. Louise was just as spry as her husband and cooked all of their meals from scratch plus put up the garden's bounty. Jamie learned so much about large scale home gardening during those two years living next to this vibrant couple – and I learned a great deal about canning, freezing, pickling, and dehydrating. Louise even graciously shared her personal recipe for zucchini bread and muffins with me 🙂 I froze countless loaves and trays of muffins using our garden zucchini and her beloved recipe for over 30 years.
Altering Louise's recipe to be plant-based and wheat-free
After I became plant-based and wheat-free in 2012, I tried to alter Louise's recipe many times without great success. I tried substituting the eggs with various vegan options such as flax eggs, applesauce, and bananas. I tried replacing the wheat with oat flour, and also with various store bought and homemade gluten-free flour blends. The result was always eh, just okay – I was never really happy with how the texture came out. Sometimes it would come out too dry or dense, other times too gummy or runny. Even more disappointing, they never fully tasted like Louise's recipe.
Fast forward to THIS summer! When the zucchini started to explode out of the garden I decided to give it another whirl. This time I subbed the wheat flour with a combination of cassava and almond flours – and I subbed the eggs with whipped aquafaba (the juice from canned chickpeas). Eureka, I finally struck gold – perfect moist and fluffy zucchini muffins!!
Now I can once again put up our zucchini harvest like in the good ole days, packing our freezer with plenty of this fairly healthy dessert for the off season – honoring Charlie and Louise in the process. I'm delighted to share this special recipe with you 🙂 If you give it a try, please leave a comment below.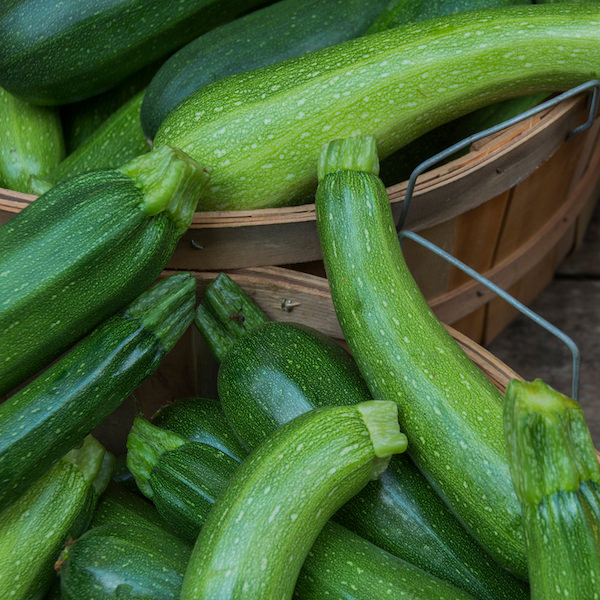 ---
Method Overview
Mix dry ingredients together
Mix wet ingredients together
Fold dry into wet
Beat aquafaba into a stiff meringue
Fold meringue into batter
Spoon into muffin pans and bake
---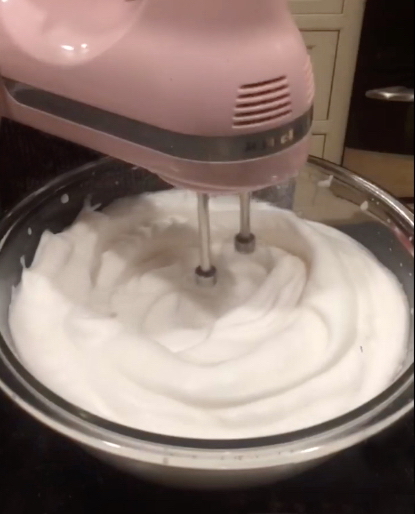 FAQs
Can you bake this batter into loaves? I'm sure it's possible but I haven't tried it yet. Once I do, I'll report back with the bake time and photo 🙂
What is cassava flour?
Cassava flour comes from the starchy tuberous root of the yuca plant (yoo-cuh). The flour ground from yuca root is a whole-food, plant-based, grain-free, gluten-free, and nut-free substitute for all-purpose wheat flour. If you want to learn more, check out my post What is Cassava Flour? which goes into more detail.

Does aquafaba give you flatulence?
Legumes contain oligosaccharides, complex starches that are hard for some people to digest – resulting in flatulence. The brine that beans are cooked in (aquafaba) contains a lot of these oligosaccharides. The good news? These fermenting oligosaccharides are considered to be important prebiotics because they feed beneficial microflora during this process. Slowly introducing legumes and aquafaba helps your body adjust to these complex starches.

Can you freeze zucchini muffins?
Yes! Zucchini muffins and loaves freeze well. For best results, use a vacuum sealer such as the FoodSaver brand with BPA-free bags.
Moist and Fluffy Zucchini Muffins (GF Vegan)
Equipment
muffin pan(s) and liners

2 large-sized bowls

1 medium-sized bowl

hand mixer or immersion blender
Ingredients
Dry Ingredients
2

cups

cassava flour

1-1/2

cups

almond flour

1

teaspoon

baking soda

1

teaspoon

baking powder

1

teaspoon

Himalayan sea salt

1

teaspoon

ground cinnamon

1

teaspoon

ground allspice
Wet Ingredients
1

cup

refined coconut oil,

soft or liquidy

1/2

cup

unsweetened coconut milk from carton,

such as So Delicous brand

1-1/2

cup

turbinado sugar or coconut sugar

1

teaspoon

alcohol-free vanilla,

such as Simply Organic brand

1

cup

raisins

1

cup

chopped walnuts

2

cups

grated zucchini
Meringue
3/4

cup

aquafaba,

juice from can of chickpeas
Instructions
Preheat the oven to 350°F. Line standard 12-muffin pan(s) with parchment liners.

Measure the cassava flour by scooping it directly out of the bag using a dry measuring cup, then use the back of a straight knife to evenly scrape the excess flour from the cup. Cassava flour tends to go airborne easier than other flours. Be careful not to breath it in while scooping or stirring.

Gently add the rest of the dry ingredients to the bowl and stir until combined.

Put the first four wet ingredients (oil, coconut milk, sugar, vanilla) into another large bowl and stir or whisk well. Fold in the raisins, walnuts, and zucchini.

Add about 1/3 of the dry ingredients to the bowl with the wet ingredients and fold. Repeat until all of the dry and wet ingredients are folded together.

Beat the aquafaba in a medium-sized bowl using a hand mixer or immersion blender until it turns into a stiff meringue. You'll know it's ready when you can turn the bowl upside down without the meringue sliding out of the bowl.

Gently fold the meringue into the muffin batter (see notes below).

Fill the muffin liners 3/4 of the way. Bake until a cake tester or toothpick comes out clean; this will take about 20 minutes.
Notes
How to fold aquafaba meringue with rest of batter
Move the spatula or spoon around the side, then along the base of the bowl. Fold the mixture over onto itself. Rotate the bowl, and repeat until the ingredients are just combined. Do this gently so the air whipped into the aquafaba is retained.
You may find this quick video clip helpful; it shows how to beat aquafaba into a meringue and fold it into a savory batter to make Veggie Au Gratin. Although it's for a completely different recipe, the principals of how to work with aquafaba still apply.
Nutrition
Calories:
258
kcal
|
Carbohydrates:
28
g
|
Protein:
3
g
|
Fat:
16
g
|
Saturated Fat:
8
g
|
Sodium:
133
mg
|
Potassium:
105
mg
|
Fiber:
2
g
|
Sugar:
13
g
|
Vitamin A:
24
IU
|
Vitamin C:
3
mg
|
Calcium:
56
mg
|
Iron:
1
mg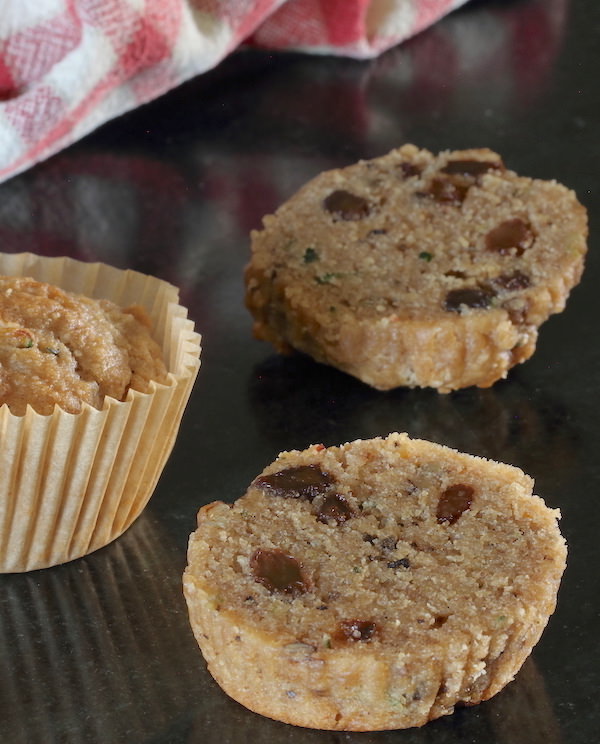 ---
If you enjoy this recipe you may also like my Power Balls Recipe and Variations.