This yummy, healthy, vegan cream of mushroom soup is like medicine in a bowl – and it's delicious served with or without wild rice. A full pound of mushrooms – plus cashews, cauliflower and other veggies are blended into creamy nutrient-dense goodness. A generous amount of garlic, ginger root, paprikas, cayenne pepper, sage, rosemary, and thyme boost the flavor and healing properties. It's oil-free, gluten-free vegan, and contains no coconut milk or cream – yet it's still full of that yum factor!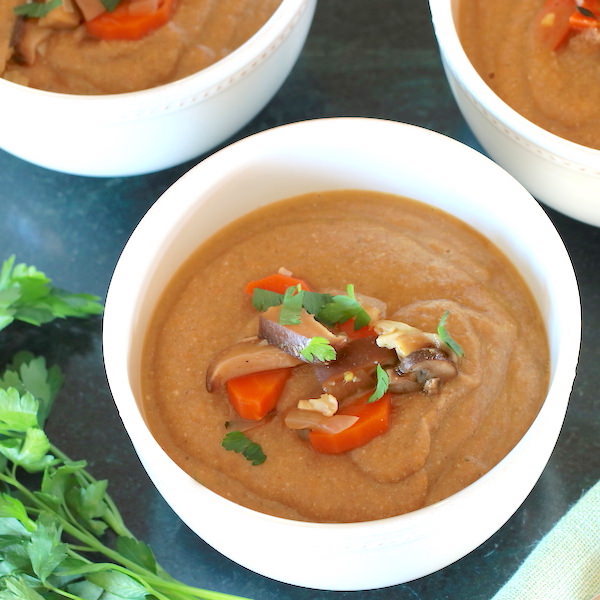 Method Overview
Prepare wild rice (if using)
Simmer cashews, mushrooms, veggies, herbs, and spices in vegetable broth
Reserve 1-1/2 cups of mushrooms and carrots to be used for garnish
Blend the soup
Cream of Mushroom Soup Vegan
Enjoy this creamy soup with or without wild rice
Equipment
large soup pot

immersion blender, or full-size regular blender
Ingredients
1/2

cup

dry wild rice, or wild rice blend,

such as Lundberg Family Farms brand, optional

4

cups

(1-quart) low-sodium vegetable broth,

such as Pacific Foods brand or homemade

1/2

cup

raw cashews

1

medium onion

2

celery stalks

2

medium

carrots

1

pound

fresh mushrooms

1/2

small

cauliflower

2

Tablespoons

coconut aminos

4

garlic cloves, diced small

1

Tablespoon

minced fresh ginger root

1/4

teaspoon

Himalayan sea salt

1/4

teaspoon

freshly ground black pepper

1

teaspoon

smoked paprika

1

teaspoon

sweet paprika

1/2

teaspoon

cayenne pepper

1

teaspoon

Sage and Rosemary Blend, optional but wonderful

(see below)

1-1/2

Tablespoons

fresh thyme leaves,

or 1-1/2 teaspoons dried

1 to 2

Tablespoons

freshly squeezed lemon juice (add right before serving)

Snipped parsley for garnish
Instructions
Prepare the rice following the package directions.

Put the broth and cashews into a soup pot and set aside.

In the meantime, prepare the veggies and mushrooms as follows. Dice the onion and celery. Cut the carrots into 1/4-inch half moons. Halve each mushroom then cut into 1/4-inch-thick slices. Break or cut the cauliflower into fairly large florets.

Add the veggies and mushrooms to the pot. Also add the coconut aminos, garlic, ginger root, sea salt, peppers, and herbs.

Bring to a simmer over medium-high heat. Cover the pan and cook for about 20 minutes; stir often. Adjust the heat if necessary to keep at a simmer.

Using a slotted spoon, remove about 1-1/2 cups of the mushrooms and carrots.

Blend the soup until smooth using an immersion blender. Add more water if necessary; the soup should be thick but not so thick that it won't blend smooth. If you don't have an immersion blender you can use a regular blender by following the directions below.

Right before serving, stir in the lemon juice.

Add about a 1/4 cup of rice to each bowl and ladle the soup over top. Garnish each bowl with the reserved mushrooms/carrots and parsley.
Notes
Use any mushroom or mix of mushrooms. I usually use half cremini and half shiitake. Cremini are also called baby bellas.
Nutrition
Calories:
174
kcal
|
Carbohydrates:
37
g
|
Protein:
7
g
|
Fat:
6
g
|
Saturated Fat:
1
g
|
Sodium:
214
mg
|
Potassium:
562
mg
|
Fiber:
6
g
|
Sugar:
6
g
|
Vitamin A:
3864
IU
|
Vitamin C:
17
mg
|
Calcium:
37
mg
|
Iron:
2
mg
Wild Rice
Not technically a grain, wild rice comes from semi-aquatic grasses native to North America. It's gluten-free, unrefined and has a woodsy flavor; seeds open and "bloom" when cooked. Wild rice was a staple for many Native Americans.
Authentic wild rice – as opposed to cultivated "paddy rice" – is higher in most nutrients (except for manganese) compared to brown rice and is lower in calories. True wild rice is hard to grow and harvest, thus it's usually expensive and isn't as available as cultivated rice. Most wild rice sold in stores isn't actually wild, but rather cultivated in paddies. If you know where it grows you can harvest some yourself. More than once, my son and family friend took their canoe to harvest wild rice growing along the banks of a river in New England.
Health Benefits of Mushrooms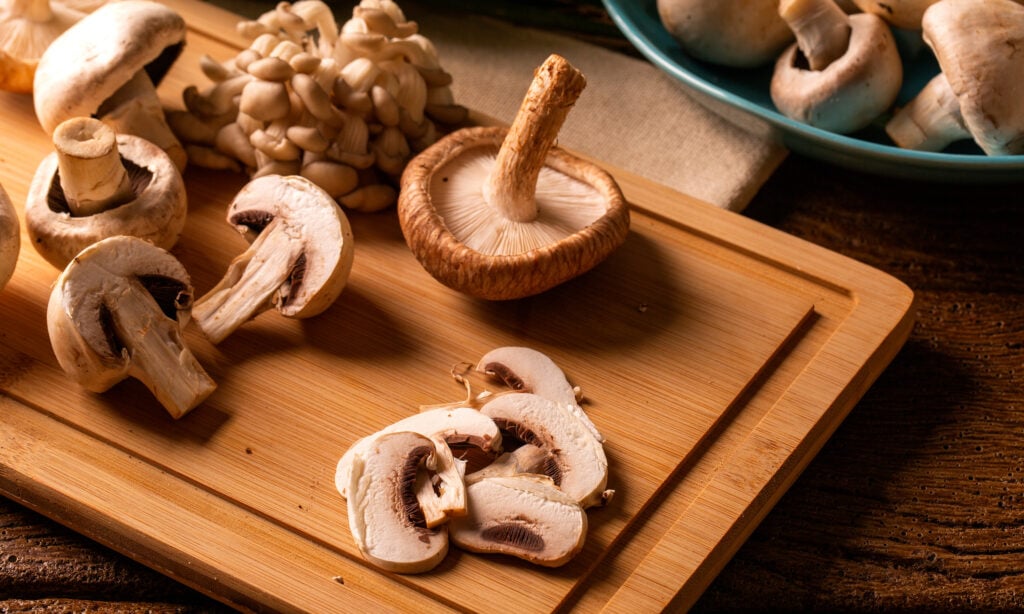 Mushrooms contain an array of unique myconutrients that may boost our immune function and trigger a dramatic rise in antibody production.

Mushrooms may also have an anti-inflammatory effect. In vitro studies have shown that a variety of mushrooms, including the plain white button variety, appear to blunt the inflammatory response, potentially offering a boost in immune and anticancer function without aggravating diseases of inflammation.

Dr. Michael Greger
Judy's Sage and Rosemary Blend
Thoroughly blend equal amounts of dried sage and dried rosemary using a spice grinder or bullet blender (some have a milling blade).
No immersion blender? No problem.
If you don't have an immersion blender, you can use a full-size regular blender; however, follow these three steps so you don't end up with hot soup exploding everywhere.
Cool the soup down a bit.
Fill the jar no more than halfway.
Remove the blender lid's center insert and hold a kitchen towel over the top.
Now you are ready to blend. Return the blended soup back to the pot. Do not try to blend this soup using a bullet blender.
If you enjoy this Cream of Mushroom Soup Vegan recipe, you'll probably like my warming anti-inflammatory butternut squash soup recipe.