If you've been following my posts you know that our garden produces A LOT of asparagus each spring, and I'm always looking for novel ways to prepare it. This week my daughter came up with the bright idea of making easy vegan asparagus risotto. Why hadn't I thought of that!?
When creating this recipe we applied the easy risotto cooking method that chef J. Kenji López-Alt developed and generously shares online. I had already incorporated this ingenious method when creating my mushroom risotto recipe for my cookbook, so applying the same principles for asparagus risotto was pretty easy.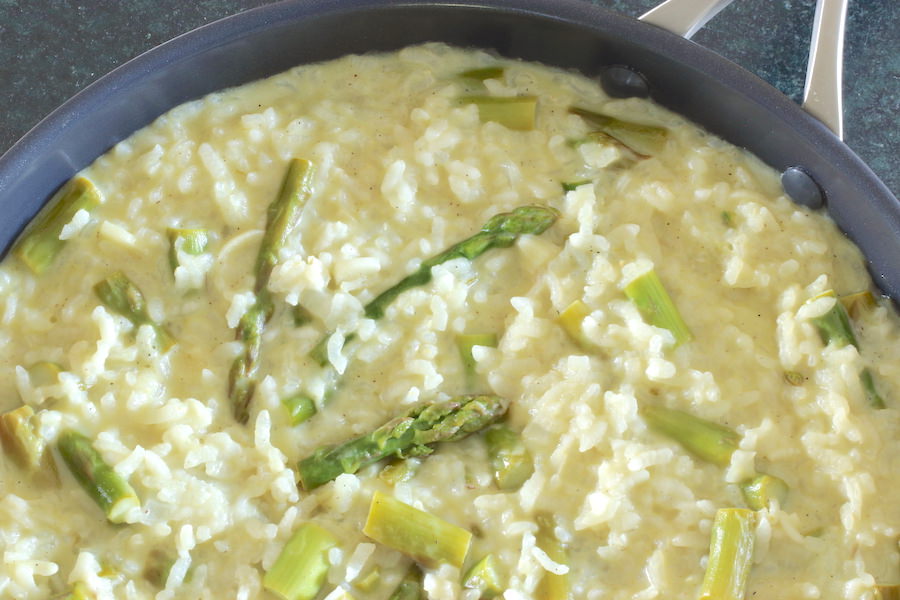 Risotto recipes typically stipulate constant stirring while adding hot broth a half cup at a time. But a forward-thinking chef, J. Kenji López-Alt, challenged that assertion; he realized stirring is actually unnecessary, as is the process of slowly adding broth. Heating the broth isn't even necessary. The truth is delightfully simple: risotto becomes creamy because certain varieties of rice contain high amounts of a specific starch molecule (amylopectin), which is released when submerged in liquid – period. So get ready to learn a new risotto recipe and method, one that is dairy-free and easy, but just as delicious. The goal is to create a creamy, saucy, flowing dish – while still keeping the rice al dente. Per chef López-Alt, the best rice varieties to achieve this result include carnaroli, vialone nano, bomba, and Arborio.

From chronically ill to vibrantly well: recovery through a plant-based diet
Mead Surprise
I wanted to add white wine to this recipe as an optional ingredient. I opened what I thought was a bottle of wine; instead it was homemade mead that a friend had gifted us! I used it anyway and was very pleased with the results 🙂 So feel free to use mead or wine in this recipe – or skip the alcohol completely and use additional broth.
What Is Mead?
Mead is an alcoholic beverage created by fermenting honey and water. It's often referred to as "honey wine" and can be fermented to be dry, semi-dry, semi-sweet, or sweet. Dating back to ancient times, mead is thought to be the first fermented beverage. The alcoholic content can vary widely from 5% to 20%. Not all liquor stores in the US stock mead, although lately it is becoming more popular.

---
Method Overview
Whisk rice with broth
Strain rice, reserving liquid
Saute onion, garlic, and asparagus
Pan toast rice; stir in the mead and cook off
Simmer everything together for 15 minutes
Add lemon juice and coconut cream; simmer while stirring for a bit longer
---
Easy Vegan Asparagus Risotto
Servings:
4
main course servings
Equipment
12-inch skillet with lid

2 large-sized bowls

fine-mesh strainer
Ingredients
1-1/2

cups

Arborio rice,

such as Lundberg Family Farms brand

4

cups

vegetable broth,

preferably the Asparagus End Broth from my cookbook

1

pound

asparagus

2

Tablespoons

olive oil,

divided

1/4

cup

diced onion

2

garlic cloves, diced small

1/4

teaspoon

freshly ground black pepper

1

teaspoon

Himalayan sea salt

3/4

cup

mead, optional

(or white wine, or another 3/4 cup of vegetable broth)

1

lemon, juiced

1

(5.4-ounce) can

unsweetened coconut cream,

such as Native Forest brand

1/4

cup

chopped parsley
Instructions
Put the rice and broth into a large bowl. Whisk briefly to release the starch from the rice. Set a fine-mesh strainer over another bowl and strain the rice, reserving the liquid. Continue with the recipe, but shake the strainer occasionally so all of the liquid drains into the bowl.

Prepare the asparagus. Discard the tough ends or save for making Asparagus End Broth. Cut about 2-inches from each tip, then cut the rest of the spears into 1-inch pieces.

Heat 1 Tablespoon of the oil in a large 12-inch skillet over medium-high heat with a bit of onion. When it begins to gently sizzle, add the remaining onion and cook for 5 minutes or until softened, stirring often.

Add the asparagus (1 and 2-inch pieces), garlic, and seasonings to the pan. Cook, stirring often, for 2 minutes. Scrape everything from the pan into a bowl.

Heat the second tablespoon of oil in the same skillet over medium-high heat. Add the well-drained rice and cook for about 4 minutes, stirring and tossing, until the rice begins to turn golden and release its aroma. Turn up the heat, if necessary, so the rice gently sizzles.

Remove the pan from the heat for a couple of minutes to let it cool down; slowly pour in the mead and scrape the bottom of the skillet with a wooden spoon so any stuck bits are released. Simmer for about 2 minutes or until the mead is almost fully evaporated.

Pour the reserved liquid into the pan and return the cooked vegetables. Give it a stir and put it over medium-high heat. When it just reaches a lively simmer, give it another stir, then shake the pan so the rice spreads out evenly. Cover the pan and adjust the heat to the appropriate low setting so it continues to gently simmer.

Cook the rice for 15 minutes, stirring once midway through. After stirring, give the pan a shake so the rice spreads out evenly, and recover. Do this step quickly so the temperature doesn't drop.

Add the lemon juice and the coconut cream – then cook uncovered, stirring. Keep tasting so you know when the rice is al dente. The final texture should be creamy and flowing –– not sticky and clumpy. Add more broth or water if necessary to achieve this texture.

Serve on plates, ideally warmed plates, and garnish with parsley.
Notes
Omnivore Variation:
Add grated cheese, such as pecorino Romano or parmesan cheese, to the omnivore's portion.
Leftover Risotto
If you have leftover risotto, form it into patties. Heat up refined avocado oil in a ceramic nonstick skillet (or seasoned cast iron skillet) over medium-high to high heat with a bit of the rice. When it begins to sizzle, add the patties and cook until both sides are golden brown and crispy. You want the oil to be hot enough so they sizzle, but not burn.
Nutrition
Calories:
323
kcal
|
Carbohydrates:
35
g
|
Protein:
6
g
|
Fat:
15
g
|
Saturated Fat:
7
g
|
Sodium:
351
mg
|
Potassium:
383
mg
|
Fiber:
5
g
|
Sugar:
8
g
|
Vitamin A:
1173
IU
|
Vitamin C:
26
mg
|
Calcium:
41
mg
|
Iron:
4
mg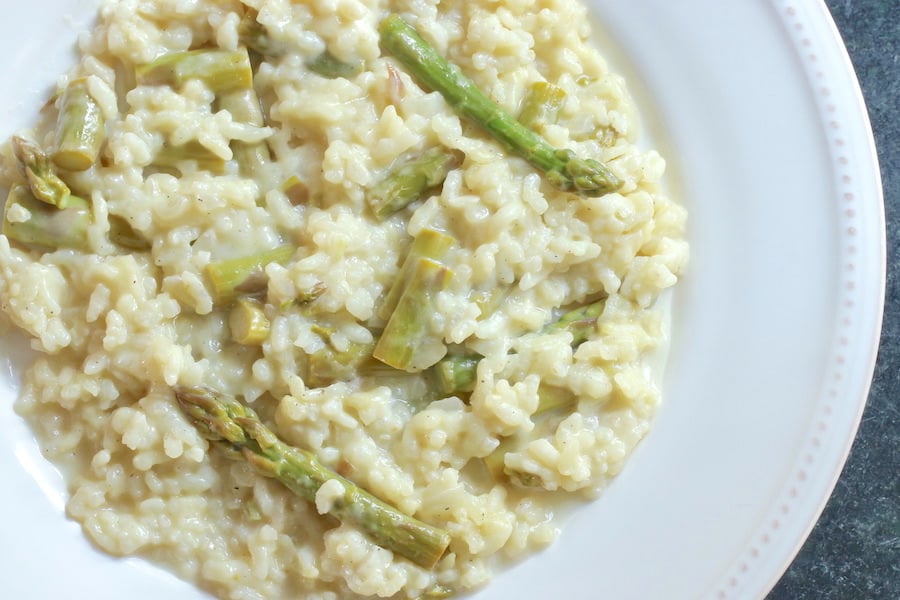 If you have an abundance of asparagus, consider also making asparagus pickles.