On March 6th, I posted my homemade gluten-free gnocchi recipe. The recipe describes how to boil them and serve with sauce. Tonight I experimented further and pan fried the gnocchi, then served with broth sautéed diced veggies. They came out great! Now we (and you) have two ways to serve this grain-free and easy-to-make version of these Italian fluffy pillow dumplings.
So how are you faring during these difficult times?
Like everyone else, I've been busy adjusting to the realities of our new normal. I own a rather large childcare facility; this January marked our 30th year. Even though the governor has recommended the closing of all schools, he is asking that childcare centers remain open to serve the needs of those who must go to work including our brave health care workers, pharmacists, public safety employees, grocery personnel, school and government officials, post office and package delivery service employees, and more. So I've been coordinating the effort to keep my childcare center open in the safest way possible, communicating with my three adult children (two in college) to help them remain healthy, while also trying to keep my husband and me virus-free, especially since my dear
90-year-old mother lives with us and has COPD.
Everyone will surely be coping with much in the weeks to come, with so much uncertainty. It's important to take good care of ourselves. If possible stay home – and take care of yourself by eating well, sleeping well, and de-stressing through gentle exercise and meditation. Enjoy your loved ones. Try to laugh and sing often and out loud.
We all need to balance the dire warnings in the news with the positive messages people are circulating to keep our spirits high – and to remind us that yes we can do this – if we all work together for the greater good just as the "greatest generation" accomplished when faced with WWII and the Great Depression.
There is no better time than now to routinely prepare clean, healthy, nutrient packed meals to nourish your body, heart, and soul. As you isolate at home, try to find enjoyment by lovingly preparing home-cooked meals to nurture you and your family. This is definitely NOT the time to indulge in junk foods or nutrient depleted ingredients. Assist your immune system by making every mouthful count.
Be well my friends.
---
Pan Fried Gnocchi with Sautéed Diced Veggies
Method Overview
Prepare homemade gnocchi, or buy frozen
Dice and broth sauté veggies
Briefly boil the gnocchi
Pan fry the gnocchi
Serve with the sautéed veggies
---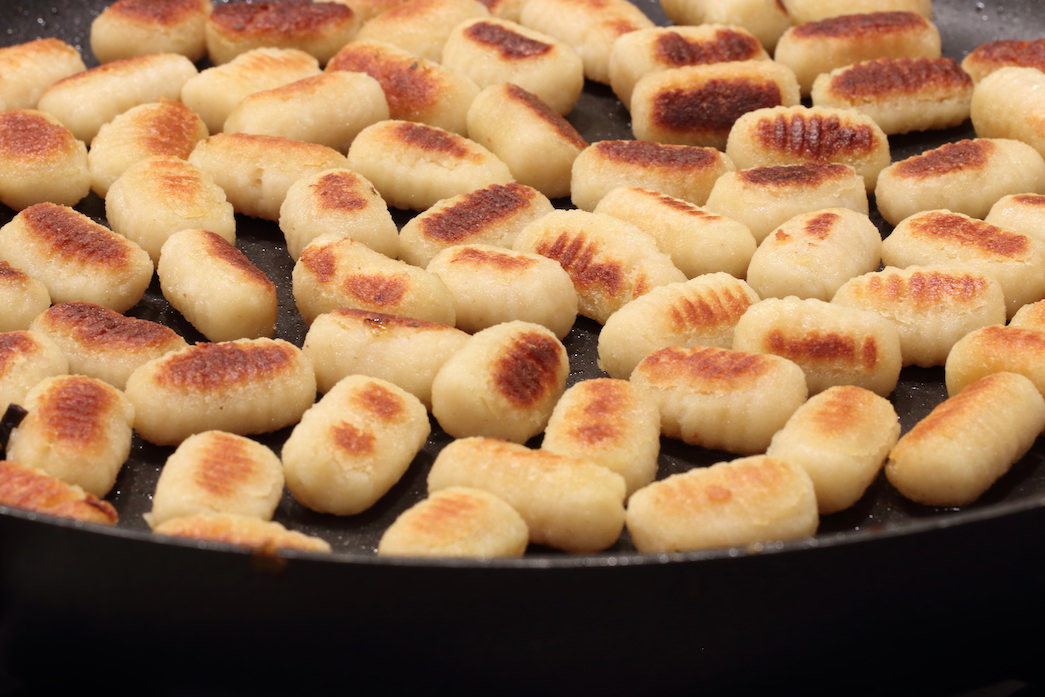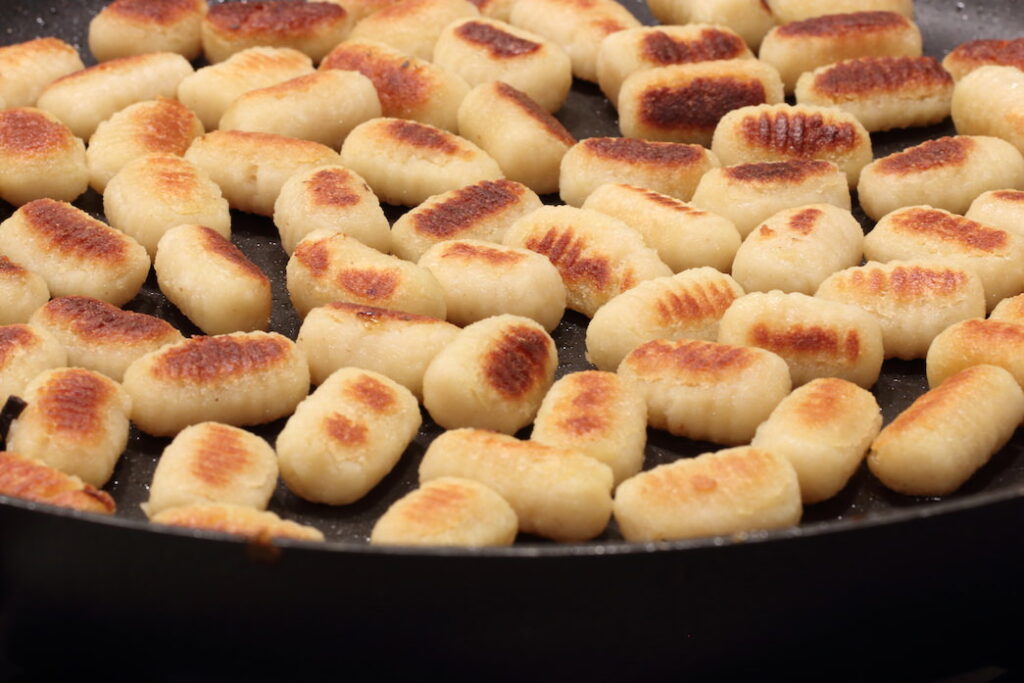 Pan Fried Gnocchi with Sautéed Diced Veggies
Equipment
large pot

large skillet (preferably non-stick)
Ingredients
1/3

cup

low-sodium veggie broth,

such as Pacific Foods brand

1

medium-small onion, small-diced

2

large shiitake mushrooms, small-diced

1/4

large red bell pepper, small-diced

3

garlic cloves, small-diced

2

Tablespoons

olive oil

1

pound

gnocchi, homemade or frozen

1/8

teaspoon

freshly ground black pepper

1/4

teaspoon

crushed red pepper

1/4

teaspoon

Himalayan sea salt

1/4

teaspoon

dried oregano

1/4

teaspoon

dried basil
Instructions
Put a large covered pot of water over high heat to be used for cooking the gnocchi.

Pour 1/4 cup of veggie broth into a large skillet and place over medium-high heat with the diced veggies. Broth saute until everything softens and the mushrooms shrivel a bit and begin to turn golden. Add more broth, one or two tablespoons at a time, if needed, to keep the veggies from sticking.

Scrape the cooked veggies into a small bowl using a soft spatula or wooden spoon; cover with a plate to keep warm.

Add the oil to the skillet and place over medium-high heat so it begins to heat up.

Pour the gnocchi into the boiling water and give it a gentle stir. The gnocchi will begin to float after a minute or two; remove them using a slotted spoon and place into the hot oil.

Pan fry until golden on both sides.

Return the cooked veggies to the pan then sprinkle with the peppers, salt, and dried herbs. Gently stir everything together and cook for 1 or 2 more minutes.
Optional Omnivore Variation
Serve with grated cheese such as pecorino romano or parmesan.